Ajay Singh Chaudhary Wants Better Content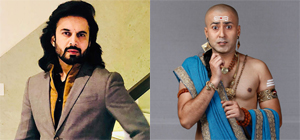 Ajay Singh Chaudhary, who has been away from the public eye for almost two years, returns to small screens with a negative role in Tenali Rama. Chaudhary is known for his work in shows like Uttaran and Rishton Ka Chakravyuh, but stopped working in response to the stagnation that he felt had seeped into social dramas.
Chaudhary expressed disappointment at the abrupt end of Rishton Ka Chakravyuh that despite a promising start, fizzled out and lost nuance in its characters and plot. Chaudhary is determined to chase and be part of projects that is high on content. He is hopeful that with the steady rise of streaming platforms like Hotstar, Netflix, and Amazon, actors will find more opportunities to be part of layered narratives.
Chaudhary returns to television because he is excited to pursue a role in the historical/mythological genre. He is aware that mythological/historical dramas have a specific appeal to Indian audiences and comes with a set time limit. The pre-determined timeline ensures that the content remains engaging and nuanced and allows actors to play larger-than-life characters.
Chaudhary implores television writers to experiment with content and new ways to tell stories.
Other Desi TV Duniya
Ajay Singh Chaudhary Amazon Prime
Ajay Singh Chaudhary Netflix
Ajay Singh Chaudhary Hotstar
Desi Tv Show Rishton Ka Chakravyuh
Desi Tv Show Uttaran
Tv Show Tenali Rama
Desi Tv Actor Ajay Singh Chaudhary