Nehha Pendse Defends New Husband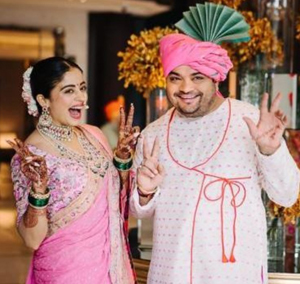 Nehha Pendse's recent wedding to businessman ShardulBayas on January 5, 2020 became a target for social media trolls. Bayas's two divorces and his two daughters from previous marriages became a subject of mockery and mean tweets.
Pendsee, who is known for her roles in Indian dramas like Bhagyalakshmi and May I Come In Madam? defended her new husband's past. She reminded trolls that the focus on career in modern day life means that most people marry late in life and have multiple relationships.
Pendsee asserts that she isn't a virgin either and does not hold Bayas's divorcees against him. She finds his faith in love and marriage inspirational. Pendsee lashed out against the trolls on social media by posting pictures of her working out in a gym. She asserts that she intends to work and live indifferent to a troll's opinion who isn't happy for her and only seeks her attention.
Pensee and Bayas got engaged in August 2019 and married after five months of courtship. The couple are scheduled to go on their honeymoon in April 2020. Pendsee's fans wish her a happy married life.
Other Desi TV Duniya
Pensee and Bayas Marriage
social media trolls on neha pendse
Indian drama May I Come In Madam?
Indian drama Bhagyalakshmi
businessman Shardul Bayas
Nehha Pendse's recent wedding