ARRANGED MARRIAGED
An experience to remember
Arranged Marriage which my friends labeled as – 'an act of coercion for the benefit of the parents!'
On the hindsight, I think that was the time I first started to like him. I always wanted to be with someone who understands me, and this guy has hit the bull's eye on the very first day…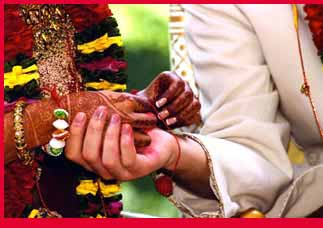 As I stood in the balcony over looking the prepara tions go ing on in the lawn, a stream of thoughts flowed through my mind. Here I am – making all sorts of arrangements for tonight's party to celebrate our second marriage anniversary; and there was a time just a few years ago, when I was so apprehensive about marriages, esp. arranged marriage – which my friends labeled as – 'an act of coercion for the benefit of the parents!'
I was born in India, but came to the US at a very early age. Since then, though I was allowed reasonable freedom and liberty in my schooling and college days, yet there was a traditional Indian conservatism surrounding me in the form of my immediate family environment. Unlike my other American or even some Indian friends, I was not the 'adventurous-type' girl and my father always kept me reminding that – we may be residing in the United States, but we are Indians in the truest of sense and have a distinct set of culture, values and ethics, which we must respect and abide to.
When I grew up and the possibility of my marriage set in, it was more than obvious that it had to be an arranged marriage – and I have to marry and be for the rest of my life with someone who I do not know in advance, and who will be chosen by my parents. I was indeed very skeptic about the whole thing and wondered whether it is really possible, esp. in the present day US – to successfully maintain this type of relation?
Ultimately, the seemingly best proposal came from my father's lawyer Mr. Desai – who happened to know Rahul, my eventual husband, and their family since long. They were based in Minneapolis, while we were staying at Boston. Initially, it was my father who spoke to Rahul's parents about the matter and once he felt things are hopeful – he called me up one day and told that he wants me to meet Rahul and have a first hand feel of the prospect.
Our parents arranged a vacation trip to New York in the next month, and it was there where I first saw him. He was indeed good-looking and can be said 'handsome' in every aspect! I said to myself, "Okay, Not a bad start, but now what?" Actually, I was a bit nervous too, because I have never met any boy with such an intention of evaluating him. I was thinking as how I can make a conclusion about this person in such a short time, that too for such an important decision of my life. However, it was Rahul who promptly understood my state of mind and told me that though we are 'made to meet' for a specific purpose, let us not shadow the first introduction with such heavy thoughts. Instead why don't we get to know each other and try becoming friends?
On the hindsight, I think that was the time I first started to like him. I always wanted to be with someone who understands me, and this guy has hit the bull's eye on the very first day. The ice broke as we started talking and chatting casually in an effort to 'become friends'.
As the days passed, I found Rahul to be an extremely intelligent and compassionate person. Despite being born and brought up here, he did not behaved strangely like some of my Indian male friends. His conduct and appearance gave a clear reflection of his upbringing, and the responsible and dependable person he is. Finally, when the vacation ended, I believe, a certain bond was beginning to develop between us.
Rahul was an MBA from the Iowa University, working with Ernst & Young as Security Auditor for the last four years. As we stayed hundreds of miles apart, it was not possible to meet every now and then. After our first meeting, it was Rahul who first called me and then began to do so every week. Slowly, the chemistry between us started to work favorably and I strongly started to believe that he is the guy with whom I can stay for the rest of my life. The more I was in touch with him, my apprehensions and fears for the so-called arranged marriage began to fade away. Within the next three-four months, it so happened that we spoke to each other every day and night on a regular basis; if not over the phone, then we were chatting on the net. My parents were pretty buoyed up seeing all these and they arranged a trip to Minneapolis, so that I can again meet Rahul. The visit turned out to be very captivating as Rahul and I made rounds of the city and had quite a few whirlwind short tours to nearby places – being just together.
Ultimately, on the day we were supposed to return, Rahul proposed to me in the most theatrical manner – kneel down and a rose in his hand. I was moved and certainly not that stupid to say 'No'!
The marriage was scheduled within two months, and the time passed in a jiffy. However, by that time, I was deeply in love with Rahul and I am sure, he too was. For us, the two months seemed a never-ending wait. The number of phone calls increased by leaps and bound, to the extent of inviting amusement and laughter among my family members.
Finally, the long cherished event took place and we became partners for life.
It has been two years since then, and our love for each other has multiplied infinitely. I really sometimes fail to remember that ours was actually an arranged marriage, the stage of which was set by our parents. It seems that we had an affair that has been continuing since eternity. I am extremely fortunate not only to have Rahul as my husband, but also to get an extended family in the form of his parents, brother and sister.
Suddenly, my thoughts are interrupted, as I heard Rahul coming up to me with a smile – and just like the manner he proposed to me, he knelt down, whispered "Happy Anniversary !" and handed me a beautiful diamond necklace set. Oh dear! I'm impressed and I would certainly like to have my husband of two years for another two hundred years!