Atlanta MyShadi Bridal Expo 2012
The MyShadi Bridal Expo is designed with the needs of brides in mind. Exhibit areas are planned to allow foot traffic and enable couples and their families with direct access to booths and vendors. Exciting promotions, raffle drawings, and the chance to win a free trip to India draw large crowds giving businesses an opportunity for face-to-face marketing. For brides and vendors alike, face time with one another is important, and shows like the MyShadi Bridal Expo make it easier for those connections to happen.
This year, the MyShadi Bridal Expo in Atlanta is well on its way to becoming yet another unique and hands-on experience for all attendees. For the first time ever, vendors directly from India will be joining the Expo, including two clothing boutiques (one for brides and another for grooms) and a prominent jeweler. Mehndi and make-up artists will be doing live demonstrations once an hour to give brides ideas of looks for their wedding day. Brides and their families can also enter raffles for fabulous prizes, including a free honeymoon trip to India, provided by Platinum Sponsor Qatar Airways.
Attendees will also be dazzled by a unique fashion show that will highlight the latest trends in wedding and formal fashions. A wide range of event planning vendors will be on hand to showcase their products and services. Mandaps and reception table settings will be on display to guide brides and their families in their wedding planning decisions. Photographers will be available to present their work and discuss their style, which is sure to put couples and their families at ease. Caterers and bakeries will be offering guest delectable samples. Guests will even be able to shop on site for clothing, jewelry, and accessories.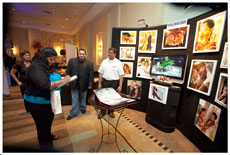 Join us at this one of a kind bridal event, which will include 100 booths placed in a classy and elegant layout designed to create an ambiance of splendor will be appealing to brides-to-be and their families.
The MyShadi Bridal Expo will be held on March 25, 2012 at the Renaissance Atlanta Waverly Hotel (2450 Galleria Parkway, Atlanta, GA 30339) from 12 noon to 5 pm. Admission to the show and parking is free for all attendees, who can pre-register online at www.myshadibridalexpo.com. Registered guests will be entered into raffles for fabulous prizes including the opportunity to win four free round trip tickets to India, provided by Qatar Airways and 7M Tours.
MyShadi Bridal Expo welcomes the opportunity to work with Platinum Sponsors Renaissance Atlanta Waverly Hotel, TV Asia, Qatar Airways, and The Arpan Group.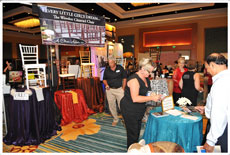 Free trip to India: Four free round trip tickets to India (two tickets available for brides/grooms and two tickets available for other attendees)
Quality: From the moment you enter the MyShadi Bridal Expo, you know you are in for a special day! Wide aisles and a well-planned floor plan make it easy to navigate among the areas' premier wedding vendors. The atmosphere is fun and energetic as well as professional.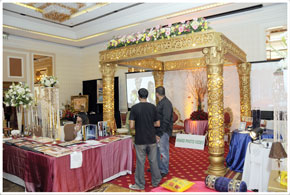 Variety: You will have the opportunity to meet with a variety of major vendors, which include venues, photographers, florists, bakers, bridal boutiques, tuxedo shops, DJs, beauty experts, videographers, among others. The opportunity to collect brochures, information and money saving offers from hundreds of wedding professionals is truly invaluable.
Live Demonstrations: Industry experts will provide mehndi makeup, and hairstyle services to Expo attendees. Walk way from the MyShadi Bridal Expo looking like a model.

Dazzling Fashion Shows: See the latest in wedding attire and bridal jewelry designs presented during lively, breathtaking fashion shows.
Prizes: Register online or at the registration desk for a chance to win multiple door prizes and the Grand Prize trip to India.
Goody Bags: Filled with insight on some of the latest wedding trends, a vendor directory, money saving offers, and special goodies, you don't want to be without one. Each bride will receive a program booklet, which includes an Expo floor plan, list of exhibitors by category, and fashion show details. The booklet serves not only as a vendor resource, but as an informational guide to help you plan an exceptional wedding.
To learn more about the
Atlanta MyShadi Bridal Expo
or to register to attend, visit
myshadibridalexpo.com
See you on
March 25 in Atlanta!