The Long and the Short of Life Shivani Weds Samir
Some romances ignite instantly. Others take some time before the acquaintance transforms into friendship, and then grows into a deeper love that lasts for life. While whirlwind romances and tumultuous love works for some couples, others like their romance to age like wine. Consider into which category you fit as you learn more about Samir and Shivani.
A seemingly short Shivani (she measures five feet nothing) and Samir (who claims he's tall, but Shivani didn't think so)met in 2008.After long months of being in touch through messages and phone calls, and a little over two years of courting, Samir proposed just before New Year's Eve in 2010. However, that only happened once Samir was sure he had blessings from both families. After recreating their first date, Samir got down on one knee and presented Shivani with the ring to make the conventional love story even more beautiful.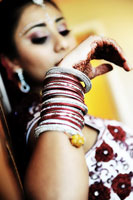 Before wedding planning even begun, the parties brought in Shiv Priya LLC and Hameant Raghubir stepped in as wedding consultant. He was the eyes, ears and soul of the wedding, arranging and coordinating everything from adistance.Hameant introduced the couple to vendors and prospective sites, and he took them through the food and ceremony arrangements meticulously.
A small mehndi and garba was arranged in Kingland, Georgia, where Shivani's uncle owns a motel.Although simple and intimate, it brought the family together and allowed them a chance to bond without being tied down by wedding rituals.
Shivani and Samir enjoyed a destination wedding. Most celebrations related to the wedding were held at the Jacksonville Hyatt Riverfront. Shivani's desire to have an outdoor wedding with water being the main element made this an ideal choice, coupled with the advantage of having an uncle reside in the area. Having attended BAPS functions in the hotel previously, the family was comfortable hosting the wedding at this venue.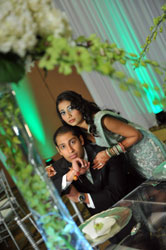 Festivities began with a raas garba, that was decorated with candles, lamps, ethereal pinks and lights all over. With flowers, fountains and statues of Radha and Krishna, the venue transported you to a different time and place. To add to the appeal, Samir and Shivani were seated on a decorated swing. Ace DJ's Satbir Singh provided the music while food was catered by BAPS. Shivani stuck with the pink and purple in her ensemble, while Samir wore a black and purple kurta with dhoti pants to add to the Krishna theme.
The bharat arrived with Samir's closest cousins following the family on November 19, 2011. There was dancing and happy music, and Samir just couldn't stay away. At the wedding venue, arrangements made the most the glorious Florida weather and also of the Jacksonville skyline. Crystals were predominant though accompanied by traditional wedding decor. A mix of the modern and conventional, it was a unique theme, with red and white accents adding to the beauty of the locale. With lamps and flowers, and soothing pina coladas and fruit punches, the guests were a scroll, which detailed the ceremony in Gujarati and English. The foyer was to be the backup venue in case of bad weather as well as the bar and service area for appetizers. A sumptuous Gujarati lunch was served to guests, catered by BAPS. White and red were the colors of the bride, with a corset lehnga complementing her beautifully. Samir wore a sherwani in cream and silver.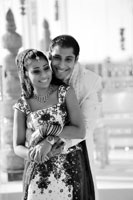 At the reception, surprises awaited everyone. The first was a live performance by the Steelpan artiste, which was arranged for by Hameant. He set the mood perfectly with Caribbean beats as the appetizers made rounds. The guests also enjoyed novel drinks, and a special tribute called Samvani, a lychee martini. Along with drinks was a chaat station that no one could stay away from.
Pistachio green was the color of the evening, with lights, crystals and a Lucite mandap. Center pieces with calla lilies, vases with beads and orchids, a special Ganesh decoration and white-lighted monikers were just some of the glamorous elements. One of the highlights of the evening was the magical wedding cake flavored with vanilla and almonds that was decorated in green and orange. To make a difference, a corner of the venue was set up to show pictures from Samir and Shivani's childhood and time together as a couple.The bride wore a pistachio green lehnga with silver embroidery and workmanship. She accessorized with silver and green stones set in exquisite jewelry. Samir wore a tuxedo with a green vest. The man and wife made their entry to Usher's O.M.G. Their first dance was to to Khuda Jaane and then with the peppy Mauja Mauja. Emcees kept the audience in raptu- re, and then there were toasts and speeches.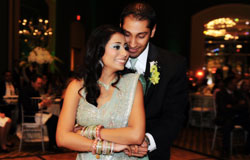 If you talk to Shivani and Samir, you may not this couple was destined to be. While pharmacy and finance are a great match,Shivani's family from Trinidad had not the faintest idea that this was where she would be at this stage in life. Both suggest that you embrace the occasion and make the most of it, and overlook small eventualities, which are bound to occur.