Bollywood Today
First, the quarterly results are out!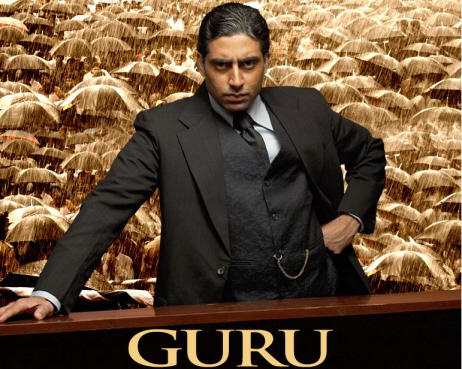 The performance of Bollywood films over the first three months of 2007 doesn't seem rosy at all. Almost resembling the disappointing act of the Indian cricket team in the World Cup, the Box Office shows that only one film – Guru – has been a declared hit, while a few others have managed average business and have been able to recover the investments. Such films include Honeymoon Travels Pvt. Ltd, Madhur Bhandarkar's Traffic Signal, Vipul Shah's Namastey London and Meera Nair's English film Namesake.
However, some big budget films that raised the expectations of one and all have not done so well this period. Amitabh Bachchan starring in Eklavya and Nishabd could not satisfy the audience quite like the multi-cast of Salaam-e-Ishq or reality films like Parzania, Black Friday or Undertrial. While Namesake managed to hold an average audience, the other English film Water, despite its reach to the highest level of Oscars, failed to create any magic.
Some international news about Indian film industry
While the film is running steady in Indian theatres, Indian-American director Mira Nair's latest venture, The Namesake, has made it to the North American Top 20 in only its second weekend of limited release, with gross earnings of $1.1 million at the box office. The film about an Indian immigrant family torn between tradition and modernity debuted on March 16 in several theatres in the United States and Canada.
Internationally famed Director Jagmohan Mundra directed Aishwarya Rai in Provoked, and it will be the opening film in the Indian Film Festival of Los Angeles that begins on April 17th. Provoked, is the true life depiction of Kiranjit Ahluwalia (played by Aishwarya Rai), the Asian woman who overturned the British judicial system and transformed the meaning of "provocation" in the case of physically abused women, winning justice for women subjected to domestic violence, rape and sexual abuse. The film also stars Naveen Andrews, Miranda Richardson, Robbie Coltrane, Rebecca Pidgeon, and Nandita Das. Back home, a special screening of the film Provoked was organized for the Prime Minister's wife, Mrs. Gursharan Kaur, in New Delhi recently. Visibly touched by the sensitive film, Mrs Kaur wrote a letter to the producers applauding their effort and the film.
In the aforesaid Indian film festival, a retrospective of talented actress Dipti Naval's films will be displayed and she will be congratulated at the same time for her contribution to Indian cinema.
In a recent press to announce the cast of the female lead of Hollywood's Bill Bannerman's Unveiled, it was informed that Bollywood Mallika Sherawat will don the role of the protagonist in the film. Bill is Clint Eastwood's Second Unit Director and Unveiled is his directorial debut. This is the first time that an Indian actress is cast in a lead role in a mainstream Hollywood project. Unveiled is a film about a South Asian woman who has two husbands and a lover. It is supposed to be a dark drama.
The Badshah of Bollywood – Shah Rukh Khan became the latest Indian to be featured in the Madame Tussauds museum when his life-size wax statue was unveiled in early April. Shah Rukh is the third Indian actor to figure in the popular tourist attraction – the other two are Amitabh Bachchan and Aishwarya Rai. The actor was present with his family when his statue was unveiled. A spokesman of the museum said that Shah Rukh's statue reflected the growing popularity of Indian films in Britain, which are now watched not only by British Asians but others as well. Interest in Bollywood has grown significantly in the UK, with 2.6 million visits to Hindi films in the last year, making Indian film the most popular foreign language film in the country.
Ajay Devgan has his hands full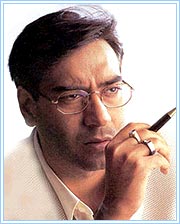 Ajay Devgan is having his hands full these days. Along with Suneil Shetty, with whom he had delivered hits like Dilwale and Qayamat, Devgan is all set to set the screens ablaze with their dynamic performance in CASH. Directed by Anubhav Sinha, CASH is a popcorn entertainer that also stars Riteish Deshmukh , Zayed Khan, Shamita Shetty, Esha Deol and Dia Mirza.
At the same time, Devgan will be heading to Delhi for a 20-day shooting schedule for Rohit Shetty's next venture titled Sunday. The film is an action comedy and is produced by Kumar Mangat and stars along with Ajay Devgan, Irfan Khan, Ayesha Takia, Anjana Sukhnani and Arshad Warsi in the lead roles.
On the homefront, the talented actress Kajol, who made a comeback with Aamir Khan in Fanna last year, will now be seen with Devgan in their home production You, Me and Hum.
At last, the Abhi-Ash marriage is going to happen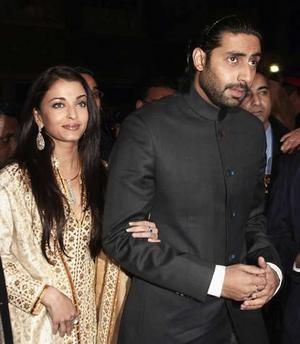 Will they or won't they marry next month? The question that was doing the rounds for a long, long time finally seems to have an answer. It is expected that Bollywood's hottest couple Abhishek Bachchan and Aishwarya Rai will tie the knot on April 19 at the Bachchan residence Prateeksha in Mumbai. News sources have confirmed that preparations for the marriage is going on at a fast pace with items such as the wedding dress being sorted out. It is also known that the marriage will actually have a very limited list of invitees – people extremely close to the Bachchan and Rai family, while the reception will be a gala affair.
On the other hand, Aishwarya's signing new projects have put speculations to rest that she may not be working in films after her marriage. Ash is said to have given her nod for Ramgopal Verma's Sarkar-2, Shridhar Raghavan's Happy Birthday and a few others.