Teenage Perspective
Sometimes it's hard to know whether I'm coming or going. It's tough enough being a teenager – you're trying to fit in and blend in to the crowd. And, yet, I can't. My tan skin and dark hair give me away. I was brought up in a modern, American world by parents who (rightfully) try to give me the best of both worlds. Plenty of Indian culture with a western twist.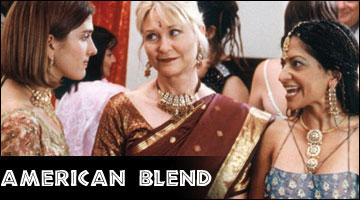 Last week, I met my half-American cousin at a wedding for the first time. Talk about perspective. Everything I felt showed on her face. The way I feel when walking down my small town's high school was written all over her face. She was being scrutinized under a microscope. The scandal in the family when her father married an American was brought back to life. She was in the worst possible situation. If she spoke in English she was 'showing off.' If she attempted to speak in our mother tongue, then she was being artificial. If she wore a western outfit, then she clearly did not have a clue about Indian culture. Oh, but if she wore a sari or lengha like the rest of us, it didn't suit her western looks.
All of this brought a host of questions in my mind. Why was she being judged for her parents actions? Instead of being the proud bearer of two different cultures, she was being forced to justify her every action. She was made to feel as if she didn't belong to either of her two cultures. Funny, I sometimes feel that way.
In my cousin's case, her father, like my parents, didn't bring her up as a wholly "American" kid. She was brought up with stories of India and our relatives. She was brought up listening to the same bedtime stories of Ramayana and Mahabharata, just as we did. And yet. She failed to be completely accepted by her Indian relatives.
My cousins who grew up in India often call my sister and I, "confused Desis." There are a multitude of terms out there to express the fact Indians growing up in the US are a bit confused. Actually, I am confused. It's hard trying to balance between two different cultures. I think about my half-American cousin, and I realize life is even harder for her.
Why do we have to be labeled as anything? It is difficult enough to balance two different cultures and the angst of being a teenager. We sometimes have to deal with not being accepted. What does it mean to be "Indian?" What does it mean to be "American?" Sometimes, we are expected to fit into a narrow mold, and when you don't fit into that mold, you've got problems.
If it's alright with you, I think I would just like to be "me." Would that be okay? Accepted? I think it's ideal. I'm Indian. I'm American. Both cultures have benefited me in wonderful ways. I have been a student of Bharatanatayam for years, since I was five years old. It's beautiful and peaceful, and I would like to think that every weekend during practice, I am a little closer to my heritage. At the same time, I have so many chances and opportunities that my parents didn't many years ago.
I hope my half-American cousin and I will be able to stay in touch. I have a feeling we have a lot more in common than she may think. Maybe we will find solace in being "different" together.