Celebrating Ramadan in the United States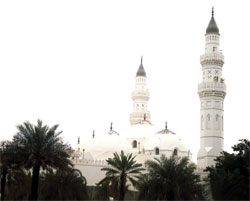 Observed by more than one billion Muslims around the world, Ramadan is a time for spiritual purification achieved through fasting, self-sacrifice and prayers.
Celebrated during the ninth month of the Islamic calendar, the fast is observed each day of the month from sunrise to sunset. Fasting during Ramadan is one of the five Pillars of Islam, the Islamic belief that requires that Muslims perform five central duties in order to strengthen their faith.
Ramadan concludes with a festival known as "Eid" or "Eidul-Fitr," which literally means "the feast of the breaking/to break the fast." The holiday marks the end of Ramadan, the holy month of fasting and is a culmination of the month-long struggle towards a higher spiritual state.
Ramadan in the United States is being shaped by the different cultural influences of Muslim immigrants from all corners of the world and is thus evolving into a truly American Ramadan experience. Mosques all over the United States are playing a central role in shaping the lives of the Muslims. As a place where Muslims gather to pray, mosques have also become a community center where members come to interact and break fast with one another. Most Mosques provide free Iftar (dinner for opening the fast) for all parishioners and encourage people to come and partake of the joys of sharing and caring for each other.
Children are taught at an early age to be extra kind and giving during this month, and when they reach puberty, they are encouraged to fast. The first Roza (fast) that a child keeps is a cause for big celebration for him/her, and family and friends celebrate the occasion after If tar with gifts for the child.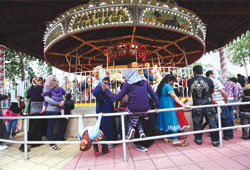 Given the environment, special care is given to educate the children about the benefits of this month. It becomes difficult for them when they have to go to school and explain to their friends and teachers that they cannot eat or drink till sunset. Where food is advertised constantly and everyone around them is eating, it is truly a wonder to see their resolve. The general American public cannot fathom the level of dedication and discipline that is required and sometimes these very kids teach a lesson of self-restraint to their elders.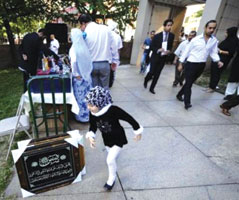 Kids in the United States have adapted so well with their beliefs and their American culture that they tend to plan ahead if the month of Ramadan is obstructing their sports schedule or any other activities that might hinder them from fasting. Akbar, a seventh grader made sure that he practiced for soccer late at night after Iftar so that he could remain on the team. Similarly, Ayaan, when in 6th grade, adapted his schedule so that he was always in time for Iftar even though he had to exercise his polo horses on a daily basis. These kids may complain and whine, but they are reinforced with the fact that children, like them and even younger, are subjected to even worse conditions in less developed parts of the world. Ultimately, God will reward them for their self-sacrifice and steadfastness.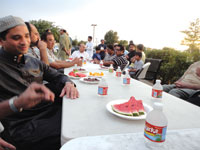 When parents set an example and provide an atmosphere at home where it is seen as a joy to fast, children automatically imbibe these habits. It is such a delight to see families come closer as a unit and have Sehri (meal an hour before sunrise) and Iftar together at home or at the Mosque. The families that go to the Mosques to pray give their kids a sense of camaraderie and community along with an understanding to be cognizant of the needs of others. It is common practice to feed the poor more during this month, and parents encourage their children to participate in this special act as it is only by example that kids learn the greatest of lessons. Instilling these good virtues and generous actions, kids are brought up to do the right thing, and in their later years, they will continue to perform good actions, whether it is in the month of Ramadan or just on an average day.
Ramadan Mubarak to all.
AniqahQuraeshi has been a resident of South Florida for the last 20 years and is deeply involved in community related affairs..
Children in the United States have adapted so well with their beliefs and their American culture that they tend to plan ahead if the month of Ramadan is obstructing school schedules.