Reshaping Destiny with Swami Swaroopananda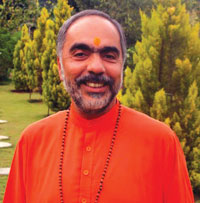 When Swami Swaroopananda stormed through Tampa and Miami ten years ago, over 1,500 listeners in the two cities were uplifted, mesmerized, and blown away by the treasure of wisdom and devotion found in his five-day Hanuman Chalisa talks. Chinmaya Mission is now pleased to welcome Swamiji back after a long hiatus. This year, the whirlwind of wisdom and self-unfoldment is sure to be all the more powerful through his four-day talks at the Miami Airport Marriott – "Reshape Your Destiny" (August 18-21, 7:30-9pm) and one-day workshop on "Strength" (August 19, 9am-12:30pm).
Find Your Strength and Make Your Destiny
These thought – provoking questions have puzzled thinkers and laypersons, alike, for generations: What, really, is destiny? Can we change it all? We talk about fate, yet we make plans and promises. But if what is to happen will happen regardless, then why do we bother making any effort? What is the secret of changing or going beyond destiny—without fighting it? In his "Reshape Your Destiny" talks, Swami Swaroopananda reveals the answers with impeccable logic and witty humor, providing a bridge from the wisdom of the ancients to the confusion of our disbelieving times.
The "Strength" interactive life management workshop is a creative blend of eye-opening teachings and hands-on applications. The vibrant topics of Mind, Wealth, and Relationships delve into the inner psyche, and focus on where and how to find the strength to make a successful, harmonious life.
Swamiji has conducted numerous seminars, retreats, and public lectures, touching the lives of a vast cross-section of humanity. His talks reveal the subtle and universal Vedantic teachings of scriptures such as the Upanishads, Bhagavad Gita, and Ramayana. Addressed are life issues that find timeless solutions in the teachings of great saints, such as Adi Shankaracharya, Ramana Maharishi, Guru Nanik Dev, and Swami Chinmayananda.
Audiences around the world are held spellbound by his practical and contemporary approach to spirituality, and the merging flow of jnana (knowledge) and bhakti (devotion) in his talks.
About the Speaker
Swami Swaroopananda is a prominent disciple of the legendary sage and Vedantic master, His Holiness Swami Chinmayananda, founder of Chinmaya Mission, and a direct student of His Holiness Swami Tejomayananda, the present Head of Chinmaya Mission worldwide. Inspired by his guru's discourses and lofty vision, a young man left a successful business career in Hong Kong and joined Chinmaya Mission's Sandeepany Sadhanalaya institute of Vedantic studies in Mumbai, India. The intensive residential course provided the study of Sanskrit and scriptural philosophical and devotional texts, including the Upanishads, Bhagavad Gita, Brahma Sutras, and Ramayana, and Shrimad Bhagavatam. After serving for some years as a brahmachari in Chinmaya Mission's monastic order, he was initiated into sannyasa as Swami Swaroopananda in March 1992, by Swami Chinmayananda himself.
A widely traveled spiritual teacher, Swamiji is a world-renowned public speaker and author. He has inspired many successful business leaders around the world and countless spiritual aspirants to greater heights in their inner unfoldment. His versatility spans a range of subjects and fuses the ancient spiritual truths of Vedanta with the fast-paced lifestyle of modern day. His seminars and workshops, in particular, offer practical and insightful techniques that have helped many to increase their efficiency and live a more dynamically balanced, purposeful life.
Swami Swaroopananda is presently the Regional Head of Chinmaya Mission Australia, United Kingdom, and Far East (includes Hong Kong, Singapore, Malaysia, and Philippines). He resides in Coimbatore, India at the prestigious Chinmaya International Residential School as its in-charge Director.
Admission is free for the "Reshape your Destiny" talks.
Miami: August 18-21, 7:30-9 p.m., Grand Ballroom, Miami Airport Marriott (parking $3)
Tampa: August 13-16, 7:15-9 p.m., Community Hall, Hindu Temple
Register online for the "Strength" workshop.
Miami: August 18-21, 7:30-9
– Miami: August 19, 9 a.m. – 12:30 p.m., Grand Ballroom, Miami Airport Marriott (parking $3)