Chinese Medium after Hindi and Angrezi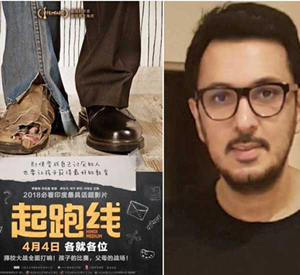 Acclaimed film producer Dinesh Vijan recently shared his intention to produce Chinese Medium after the release of the upcoming movie Angrezi Medium. Tackling the important matter of education with levity, humor, and heartfelt emotions, Hindi Medium starring Irrfan Khan and Saba Qamar has become a cult classic since its release in 2017. Its sequel Angrezi Medium is slated for release on March 13, 2020, and will see the long-awaited return of Irrfan Khan to the big screen. He plays a single father to debutant Radhika Madan.
Hindi Medium was extremely well received by international audiences, especially audiences in China. Language as a barrier to education is a problem that resonates deeply with many Chinese parents. Vijan is certain that children and young adults from China travelling abroad for higher education and the differences in language and cultural norms that they face is a solid premise for a profound and witty film.
Angrezi Medium takes the narrative from smalltown India to cosmopolitan London. The franchise can now expand to address problems with education that both parents and children face across countries and generations. Vijan, a longtime friend and collaborator of Irrfan Khan, hopes to cast the incredibly talented actor for the rest of the franchise and showcase the different nuances that education has on different generations. A creative choice that Irrfan's fans will undoubtedly support.
Other Bollywood News
film producer Dinesh Vijan
Chinese Medium
Angrezi Medium
education with levity
Hindi Medium
Irrfan Khan
Saba Qamar
Radhika Madan
international audiences
Chinese parents
China travelling abroad
higher education
smalltown India
cultural norms
witty film
cosmopolitan London
longtime friend