Ibrahim's pictures remind us of a younger Saif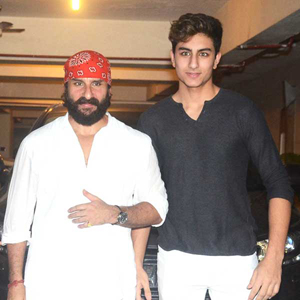 Pictures surfaced online of Ibrahim Ali Khan's first professional photoshoot and his striking resemblance to his father Saif Ali Khan has fans swooning with nostalgia. Posing for the cameras in a black hoodie in one picture and a white polo neck sweater in another, Ibrahim looks like a replica of a younger Saif.
Referring to his son as the "better looking Pataudi," Saif has often expressed his support if Ibrahim were to choose to act. Despite the impressive acting lineage that Ibrahim comes from, Saif is firm on his son completing his higher education.
Sara Ali Khan, Ibrahim's sister is equally supportive of her sibling's ambitions to become an actor. The actress of Simmba speaks fondly of her brother's deep interest in the process of filmmaking and his pragmatic approach towards the craft. Ibrahim is grounded and well-aware of the hard work that goes behind the glitz and glamour of Bollywood.
Ibrahim debuts as a professional model as he comfortably poses for a clothing brand in pictures that have sent much of India's female population at twitter. However, it isn't his first time facing down the lens of a camera. Ibrahim, alongside sister Sara Ali Khan, appeared on the cover of a fashion magazine recently. Effortlessly charming, stylish, and an illustrious lineage of acclaimed actors, Ibrahim Ali Khan has all the best cards in the game. Audiences await his grand debut on the big screen with bated breath.
Other Bollywood News
Ibrahim Ali Khan
professional photoshoot
Saif Ali Khan
nostalgia
Posing for the cameras
black hoodie
polo neck sweater
younger Saif
better looking Pataudi
Simmba
Sara Ali Khan
Ibrahim's sister
glitz and glamour of Bollywood
fashion magazine
charming
stylish
an illustrious lineage
acclaimed actors