Delhi: Mask fines fetch cops Rs 2.4 Crore since April 1
While doctors and experts stress the significance of wearing masks in the instance of the Novel Coronavirus, many Delhiites show to be least concerned about covering their faces. According to the Delhi Police data, South Delhi had the utmost number of violators with 5,539 cases registered till date. This was followed by southwest Delhi, where 4,564 cases were registered in several areas. Only three people without masks were caught in northeast Delhi.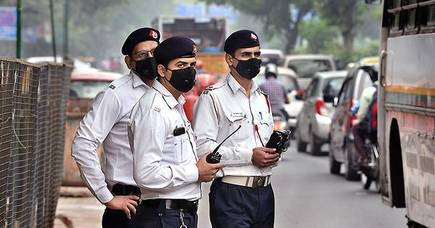 "People not wearing masks when outdoors may also have to pay a fine of Rs 500 and Rs 1,000 for subsequent violations," said Mandeep Singh Randhawa, Delhi Police spokesperson.
Another official added that not wearing a mask while stepping out of the house can even land a violator in jail for up to six months.
Almost 90% of the violators are caught while driving cars or outside residential colonies. "While they come up with several lame excuses, we tell the violators how a mask can keep them safe from the infection," said a police officer.
"There is a standard for masks, which requires double-layer protection. It should cover the nose and the mouth till the chin. Not following the set standard will attract a fine," said the officer.
The cops have so far distributed 1,35,083 masks amongst the violators.
South Delhi
Doctors
Delhi Police
Mask
Delhi
Novel Coronavirus