Grand Romance – Naiya Weds Rahul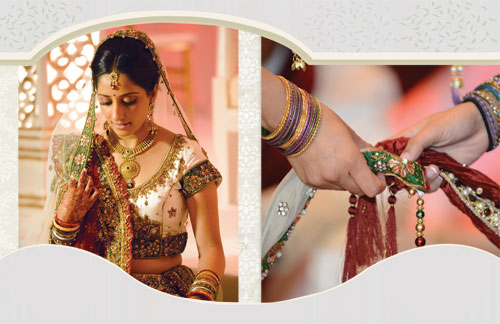 When you are in love, it is impossible not to say 'yes' when the question of marriage arises. Even if it comes in the form of an informal question over dinner or as a part of conversation, the moment is always special. When Rahul proposed during a vacation to Italy with violinists playing in the background, the setting was perfect. A large diamond ring just added to the glamour. Even though Naiya was expecting their relationship to progress in this direction, she was still charmed.
Having fully enjoyed the magical moment, Naiya and Rahul soon realized there was a wedding to be planned and arrangements to be made! After scouring for venues, Naiya decided on celebrating at the Wyndham Grand Orlando Resort. Orlando made for a good choice since it was closest to where her parents lived. For its class and sophistication the Wyndham Grand was perfect, and it was the resort's first opportunity to host an Indian wedding.
Hameant Raghubir stepped in as the man in charge, and he handled the wedding coordination perfectly. The sangeet ceremony embraced the Indian mela atmosphere, with little stalls that dished out items typically seen at a bazaar. Food was served in huts made of bandhini fabric. The favors were all grand and Indian – bindis, anklets and bangles. A photo booth ensured that priceless moments would be captured and cherished forever.
The grand ceremony took place against a lavish palace setting that called to mind theepic movie, Jodha Akbar. While the mandap was the center of activity, there were peripheral arrangements made using flowers and lights to complete the look. To match the theme, Naiya walked in every bit the queen of everyone's heart, and Rahul came in on a grand elephant creating a moment that was certainly one of the highlights of the day. Combined with special songs that were played in the background for the bride and groom as they came in was traditional shehnai music.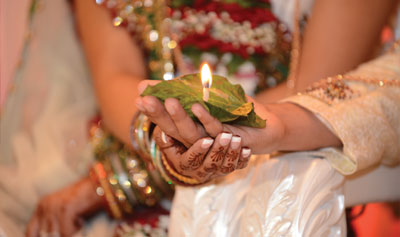 To give a feeling of warmth and intimacy during the reception, the couple chose white, ivory and gold as predominant colors, all of which were reflected in the drapes and flowers. An air of romance was accentuated with the use of roses and candles. Amber lights elevated the feel to a new level.
With special dances and speeches, the cake was cut and the celebration began as people took to the dance floor heartily. Complementing the DJ was renowned saxophonist Naty Rico who added a new dimension to the magic of the evening.
Now settled in wedded bliss, the couple advises you to let go of the small things that you have little control over. Time goes by all too quickly and the wedding will be over before you know it, so you might as well make the most of the moment as you can.