Virtually in Love – Kaveri Weds Baadal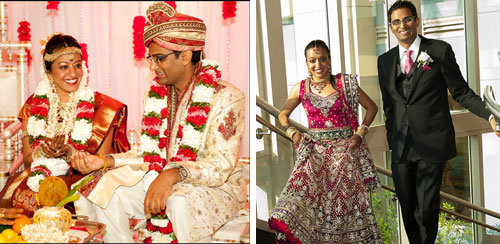 Love can strike at any time, anywhere. It happens when you least expect, and embraces you only after you have searched long and hard. No matter what it takes to meet your one true love, it is always worth the wait.
In a world that has advanced so rapidly, Kaveri's journey for love has truly kept pace. Although she and Baadal were rather apprehensive about the prospect of online dating, destiny took them both there. On the insistence of both their families they registered online profiles. Coincidentally, Baadal was the first person with whom Kaveri started talking. Ten months later on a glorious Christmas morning, they were engaged. On bended knees before a family gathering, Baadal proposed with a ring, and Kaveri found every reason to accept.
Since both families lived in Orlando, there was little doubt where the wedding would be held. Hilton Bonnet Creek lent the perfect ambience, and offered off a swanky new dazzle none could resist.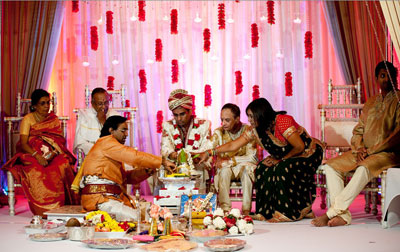 With both families participating in the planning, Kaveri and Baadal had plenty of support. Combined with the wedding coordinator at the Hilton Bonnet Creek, they were a full team. With so many taking on a fair number of tasks, the couple began to understand just how much went into organizing a wedding.
The wedding ceremony was held indoors to save everyone from the summer heat. A raised aisle decorated with lights and rose petals led to the mandap. Ceremony programs that were fashioned in India were placed on each chair, and detailed every stage of the ceremony. Dudha Productions was in charge of all musical arrangements. Soon, Baadal arrived from the skies in a helicopter accompanied by his brother and best friend, and the wedding was underway.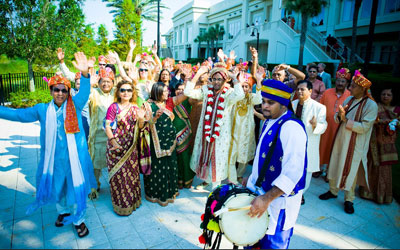 The reception really took the wedding to a whole new level. A peacock theme brought in vibrance and colors giving the event a royal, luxurious feel. Tables were decorated with flowers and candles, and blue and white lights brought everything to life. Following a special performance by Kaveri and Baadal, the dance floor was filled with eager friends and family members, all of whom danced the night away. Drinks flowed freely, and a giant dessert and candy station only heightened the sweetness of the moment.
In hindsight, there are only nostalgic memories that both Kaveri and Baadal have of their wedding days. There are no glitches or disasters that can be recounted. Kaveri advises that all couples enjoy their wedding fully just like she and Baadal did. After all, no duress or worry can quite match the moment that you are preparing for, and eventually, everything seems trivial when you look back. The only thing that remains is that you married your best friend.