Honeymooners: Discover Colorful India and its Beauty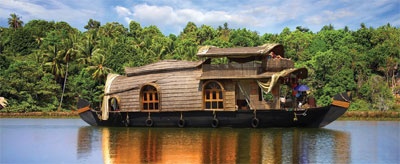 Whether you want to visit the sun-baked beaches in the south or go hiking on an adventure trail, India has it all. India even offers you one of the best holy shrines in the world and many serene mountaineering locales, which can transport you and your partner to a world of bliss and serenity. In other words, India has something for everyone. Moreover, India renders you the best cost-effective vacationing splendor for you. As such, India attracts tourists from all walks of life. With diversity in its beauty and splendor, India is indeed Incredible India!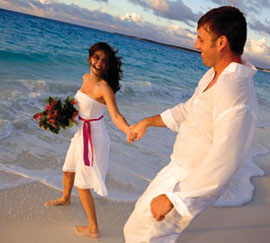 The honeymoon may certainly be the most special event in your life, which is why it deserves to be celebrated by touring on of the best exotic locations with your significant other. For some, the word exotic surely brings to mind fond memories of India. India can certainly be a place to enjoy every moment of its well-diversified beauty. In fact, the best part of India as your optimal honeymoon destination lies in its diversification.
Honeymooning couples can enjoy the splendor of some of the best beaches, hill stations, and wild life destinations in India.
Soak up the sun in the sandy beaches
India has a plethora of pristine beach destinations from which to choose to make your honeymoon experience memorable. India's blend of sand and sea is sure to keep couples enthralled.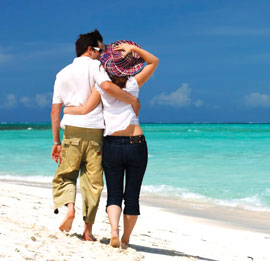 Kerala
Kerala is simply enchanting, which is why it is termed "God's own country." Apart from its romantic landscapes and seascapes, Kerala renders honeymooners the opportunity to experience backwater cruising as well as the delight to roam beneath the picturesque palm trees. Kerala provides newly married couples in love the perfect backdrop for an all-new beginning of a life together. Whether you prefer cottages, hotels, luxury resorts, or even cruise boats, Kerala has it all. The state is home to eye-catching houseboats, wildlife sanctuaries, waterfalls and even hill stations. Beaches there are sure to offer the serenity needed after the stress of wedding planning.Apart from scenic locales, Kerala brings you the best in local cuisine and seafood delicacies to spice up your romantic getaway.
Goa
Honeymooners in Goa can also enjoy local delicacies as well as locales such as gothic churches, green forests, paddy fields, and of course, the golden beaches. Visiting Goa is sure to ignite and sustain romance between two people in love, rendering a unique dimension to your honeymoon. There are so many beaches to visit in Goa, that each day of your honeymoon can be enjoyed on a different beach altogether. Apart from its popular beaches, Goa has the best churches, museums, and temples.
For those looking for more adventure, water sports are aplenty in Goa. To experience the architectural magnificence of Goa, churches should be a must-visit in your agenda. Goa also has the best nightspots to quench your desire to party and enjoy life. Beach parties that go on all night long are nothing new in this ever-happening place.
Picturesque destinations
If you and your partner prefer to enjoy cooler, crisp environments, then India renders you an array of hill station honeymoon opportunities. Popular not only for the serene climate, hill stations also offer scenic beauty. Moreover, cable car rides as well as several mind-blowing landscapes are sure to inject fresh appeal to your honeymoon venture.
Ladakh
"Land of High Passes"is another name rendered to this incredible honeymoon destination. This place provides honeymooners with a combination of tranquility, beauty, and bliss. Ladakhoffers unique landscapes, very different from those found in all of the India. Most of Ladakh is at an elevation of 10,000feet above sea level, so you are sure to provide you and your partner the most memorable chilly nights.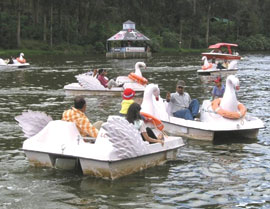 Ooty
If you want to experience pristine beauty with your partner, Ooty should be definitely on your agenda of must-visits. Ooty is a ravishing small town situated in the Niligiri district of Tamil Nadu. This hill station is sure to render ample privacy for any newly married couple, making your honeymoon experience completely fulfilling. In Ooty, you can visit mesmerizing lakes, botanical gardens and parks that are serene and perfect sightseeing options for a honeymoon.
Adventure unlimited
If you and your partner love adventure, certain wildlife destinations, India offers some ideal destinations.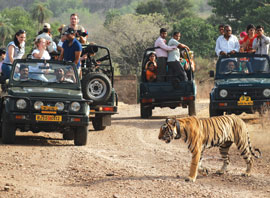 Ranthambore (Rajasthan)
Topping the charts as one of the best and globally renowned wildlife sanctuaries of India. Your honeymoon in Ranthambore will show you a completely different aspect of life, completely different from the monotony of churches, beaches, and hill stations. Visit the hunting grounds of the maharajas that once ruled to have a nostalgic royal experience. The best wildlife flora and fauna can be found near and around your accommodation. Moreover, many honeymoon packages for Ranthamborealso include visits to the majestic and historical palaces of Rajasthan.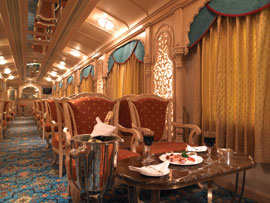 A sophisticated tour Palace on wheels
As the name suggests, this option offers couples a truly magnificent experience. Meant for elite rulers of the past, this passenger coach is no less than an actual palace. The interiors speak of the rich heritage of royal India. This train houses 13 saloons, two popular restaurants, and one bar and lounge apart from four service cars. The total trip lasts seven days, during which you visit some of the most enchanting places in the north of India, all this while you and your better half are treated like a royal king and queen.