Love in the Fast Lane Mattie weds Naresh
While love may take years to grow on some, a meeting at work soon grew into friendship and then a relationship with love playing catalyst in this story. Mattie and Naresh had a whirlwind romance, and were soon to be wed. It can be somewhat easy when you are so at ease and so reassured. Knowing fully well how women can be lured into anything with shopping, Naresh decided he would take Mattie on an innocent visit to the mall where he could buy her a ring and propose. And although he tried to hold the surprise back for as long as he could, Mattie's growing impatience made him spill the bean a tad too soon. That, however, did nothing to take the magic away from the moment, and they were soon on their way to the walk down the aisle.
Although the formal engagement followed only four months later, preparations for the wedding began much earlier. With a decision to enjoy a wedding at home, it may have seemed like the going was going to be easy, but there was plenty to do. Luckily for them, there were enough family member and friends all pitching in to help.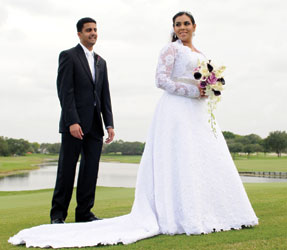 While July 1st was the Big Day, there were intimate ceremonies that took place before it. The haldi ceremony that took place at the bride and groom's residence simultaneously, followed by a night of entertainment. While the decor for both events was relatively simple, plenty was going on towards getting ready for the all-important wedding ceremony.
Rakesh Anand and his team managed gold pillars with a red dome as the basic framework, with up lighting and delicate scrollwork accentuating the design. The tables too reflected the colors in the tablecloth and overlay. There was entertainment in the form of a live band, treats in the wedding favors and a carefully crafted program all awaiting the guests. The aunts, meanwhile, chopped, mixed and spiced tirelessly to bring together an overwhelming feast of vegetarian foods and dessert. Before the time could be checked, the bride was ready and the wedding was set to begin.
Naresh, clad in a cream Sherwani, arrived in a grand limousine, and after a three day wait, got to meet his wife to be at her home in Lauderhill. Amid religious prayer and glamorous outfit changes, the bride and groom went through a seamless ceremony, and Naresh and Mattie left in the limo after the bidaai ceremony.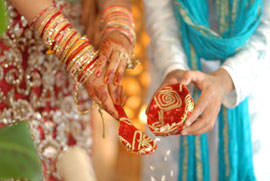 The reception was taken over completely by Mattie and Naresh, who planned and went through details personally. The Weston Hills used its natural beauty and combined it with the judicious use of carefully chosen flowers to look sublime. Ready to welcome close to 300 guests, the venue reflected the purple and ivory theme radiantly. Soon, dressed in a charcoal grey suit and white wedding gown, the man and wife presented themselves to the guests, and the evening was officially flagged off. Dances with father and mother respectively, an open dance floor and generous toasts ensured there was enough to have everyone in good humour.
Mattie went through the wedding with least stress. She now advises that you include as many close friends and family members as you can to help manage different aspects. She also wisely adds that you look only vendors and ensure they come with sound references. For the bride, she adds pointedly that you make sure that you have eaten and had plenty of water. With all the activity and excitement, you are most likely to forget about eating, and it can take a toll on your health. Eat, drink and be merry, for this is truly your special day!