Horoscope August 2020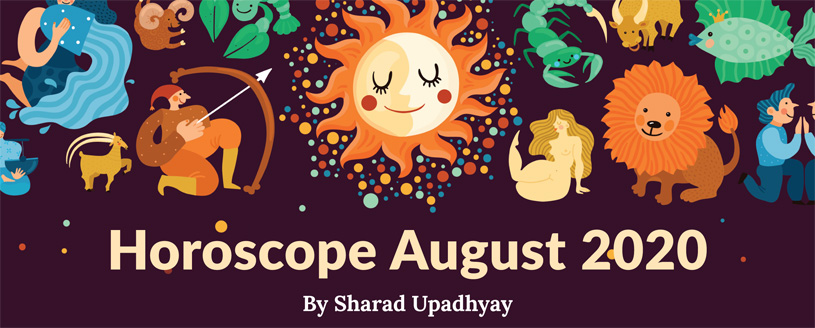 Mesha ( Aries )
In August, you might get some good career opportunities. There would be expected growth in business. People in agriculture and farming may face some problems. Your prestige will increase amongst people of high stature in society. Your inter-caste marriage may get consent. The transit of Mars in Lagna will decrease your worries and problems. You will be inclined towards materialistic pleasure and luxuries. The month of August is going to be highly favourable for chartered accountants. You will take interest in religious activities.

Vrishabha ( Taurus )
In August, you should take complete care of your life partner's health. Relocation on the job is likely this month. Some odd days, you will feel scared and lethargic. Love relationship will be exciting. You might develop some skin disease. Impediments coming in studies will get over to some extent. Expenses will increase. You will put your intelligence to good use. Mutual cooperation will increase in families. Situations will be favourable at the workplace. Political figures will get the support of the public. You will receive the help of your brothers and sisters. Don't let your married life turn acrimonious.

Mithuna ( Gemini )
The entire month of August is full of opportunities for you. There are chances of promotion in the job. Your relationship with high rank officials will get stronger. Your self-confidence and courage will remain high. Your prestige and stature will increase in society. There will be financial gains, but sudden expenses are also on the card. Your social circle and contacts will widen. You would be mentally stressed this month. You will get excellent results during the latter half of the month. There would be peace and prosperity in the lives of your loved ones. You will be able to put your intelligence to good use.

Karka ( Cancer )
The month of August will give mixed results to you. Multiple sources of income will get generated for you. You will be inclined towards material pleasure. Luck and fate will remain in your favour. Your investment plans will get successful. You might have to face financial troubles and problems in life. You will be industrious and valiant. Make well-thought-out decisions. There are chances of benefits and growth at the workplace. Work done with the right strategy and planning will get executed successfully. People in government jobs will get benefitted.

Simha ( Leo )
You will get rid of long-standing problems. There are strong chances of success in competitive exams. Your friends will provide you timely help. You might begin or launch some new project after August 15. Your superiors at the workplace will remain in your favour. Maintain positive ties with relatives. Some eye related problem may trouble you. Your life partner's fate will go through a transitional phase. You will try to learn new artistic skills. You might increase your participation in religious activities.

Kanya ( Virgo )
Circumstances might force you to take some new job this month. Your search for a perfect life partner will get over this month. You might be a little worried about your children. You might receive some sort of injury. Your life partner will get success in their career. There are chances of internal family disputes. Retrograding Jupiter transiting in its own house will make you egoistic and proud. During the latter half of the month, mental tensions and family problems will increase. You will have to work very hard at your workplace. Situations will improve in business. Keep your behaviour good.

Tula ( Libra )
In August, you will make good advantage of your talent and capabilities. The entire month would be favourable from health's perspective. You will take interest in conducting religious ceremonies. You might plan and suddenly begin some business this month. Impediments coming in government related work will get over. All your efforts for getting a job will fructify. After August 16, you might be recognised and honoured with an award by your organisation or government. There are chances of property disputes. Health of your children might increase your worries.

Vrishchika ( Scorpio )
In August, your financial worries are going to increase. You might also become a victim of financial fraud. Hence, don't share your debit and credit card details, OTP, and smart phone with anyone. Your business will register slow progress. Your in-laws may host some event. Keep your temper in control. People in management might get promotions. Your memory and focus will improve. Sun transit will increase your social prestige and stature.

Dhanu ( Sagittarius )
In August, your business revenue and profits might increase. There would be chances of delay in work. It would be better to take decisions as per circumstances. Dedication and love will increase in married life. There would be a lack of confidence in you during the beginning of the month. Construction work may get impeded. Relationships with your brothers and sisters will get stronger. Change in job is not recommended this month, stay put. Your efforts for higher education will fructify. Students might secure admission in higher education institutions.

Makara ( Capricorn )
Healthcare professionals will get excellent success in the month of August. You will spend some wonderful time with your dearest friends. For your life partner, the month will bring success in your career. You might have some religious ceremony in your family. Excessive stress and worries will be bad for you. Remain careful from monetary penalty or fine. The month will give you mixed results. Keep your desires rational and in check. There would be love and harmony in your family life. Unemployed people may get employment. There would be success and progress at the workplace. Work associated with other countries will be successful.

Kumbha ( Aquarius )
You may develop a new love relationship. During the beginning, you should remain extra careful while driving. There would be chances of getting injured. You might have to fulfil new responsibilities at your workplace. There is a strong possibility of success for people in sales and marketing. Your opponents will become weaker in front of you. High rank officials will be pleased with you. You might spend money on buying expensive jewellery and automobiles. Don't make haste in land related matters. You will easily complete challenging tasks with your acumen and work efficiency. You will be delighted with the success of your children.

Meena ( Pisces )
In August, your family might conduct some auspicious event or ceremony. The month will be full of achievements for people in management and administration. You might spend money on buying new things. Your professional life may take a completely unexpected turn this month. Some long-delayed work or project might get commenced. Remain cautious while lending or borrowing money. You will earn money from various sources. Business related to IT and electronics will get a handsome return. Married people have excellent sex life.
Monthly Horoscope Provided by
Sharad Upadhyay (www.drikpanchang.com)
Aries
Taurus
Gemini
Cancer
Leo
Virgo
Libra
Scorpio
Sagittarius
Capricorn
Aquarius
Pisces Mesha
Vrishabha
Mithuna
Karka
Simha
Kanya
Tula
Vrishchika
Dhanu
Makara
Kumbha
Meena
Monthly Horoscope
Sharad Upadhyay