Indian-American News August 2021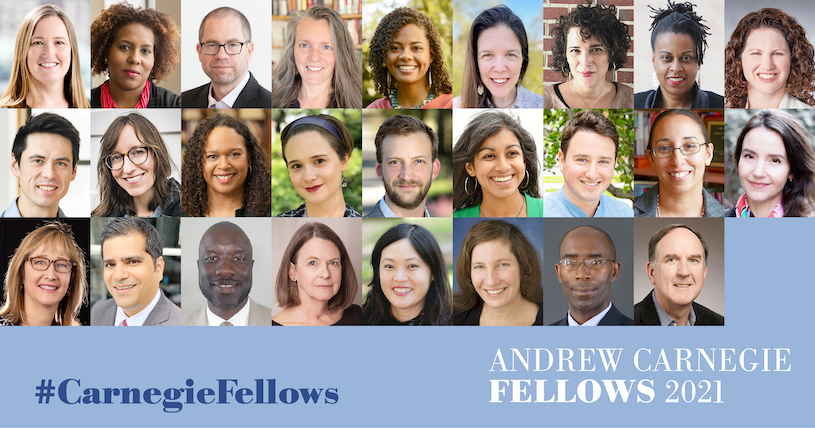 Teenage Indian American Girls Win Robotics Championship
A two-girl team composed of Indian American teenagers Amrita Pasupathy and Nidhya Shivakumar has won the 2021 VEX Robotics World Championships in Sunnyvale.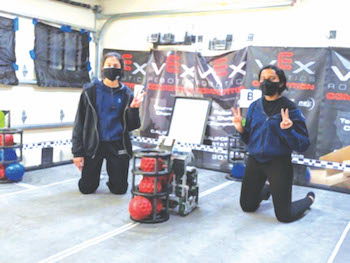 The announcement was made in the July edition of a newsletter released by The Milpitas, a California-based Indian community centre.
The all-girl VEX robotics competition team 315Y duo who won the competition, Pasupathy and Shivakumar, are Indian American students at the Harker School in San Jose California. The two girls won the high school section of the competition.
VEX Robotics is the world's leading – and fastest-growing – robotics program for middle and high school students. It is held across cities, states, and countries across the globe. The format of the program is such that it encourages qualities such as teamwork, leadership, and problem solving while also giving a platform to learn engineering and programming.
According to the ICC, this competition is the world's largest robotics competition. A full 8,600 participants in 1,400 teams from 30 countries took part in it this year.
Another all-girl team comprising just one team member from the 315 Paradigm Organization has won the Middle School World Championships. As per the newsletter, Team 315T had one girl who had her first 'tryst' with robotics at the flagship Google Girl Powered VEX Robotics Workshop at Google in 2019.
The newsletter also announced that the forthcoming Girls Robotics Workshop (which will be organised on July 31 and August 1 this year) will be put together by Team 315 of the Girls Robotics Workshop and will be held at the India Community Centre. The emcee hosting the event will be Shivakumar.
Biden Nominates Two Indian Americans for Key Administrative Roles
United States President Joe Biden on Tuesday made his decision public to nominate two Indian Americans (among eleven other individuals) to serve in key roles.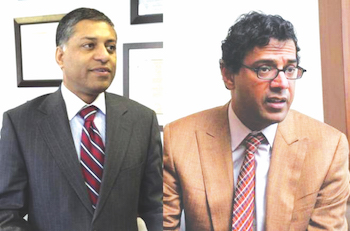 The Indian Americans who have been named for the prestigious positions on offer are Rahul Gupta and Atul Gawande. While Gupta is the nominee for Director of National Drug Control Policy, Gawande is the nominee for Assistant Administrator of the Bureau for Global Health, United States Agency for International Development.
Dr Gupta, the son of an Indian diplomat, was born in India and had spent his early years in the suburbs of Washington D.C. He is a popular figure driving new public policies on health issues and is a thought leader on both the national and global level.
He also works in various advisory capacities for multiple organizations and task forces on local, national, and international public health policy. During the Ebola Virus Disease Outbreak, Gupta headed the states' efforts at preparedness and spearheaded their Zika action plan.
Atul Gawande is the founder and chair of Ariadne Labs which is a joint centre for health systems innovation at Brigham and Women's Hospital and the Harvard TH Chan School of Public Health, and of Lifebox, a non-profit organization that concentrates its efforts on making surgery safer globally.
Dr Gawande was a co-founder of CIC Health, which was instituted during the coronavirus pandemic. The body works relentlessly in testing for Covid-19 and vaccination against it on a national level. He has also served as a member of the Biden transition team's COVID-19 Advisory Board.
Apart from this, Atul Gawande has also served as a writer for The New Yorker magazine since 1998 and has penned four New York Times best-selling books: Complications, Better, The Checklist Manifesto, and Being Mortal.
Manish Bapna named as NRDC's New President and CEO
Master environmental activist Manish Bapna has been named by the NRDC as its next president and chief executive officer. He will commence his new role starting August 23.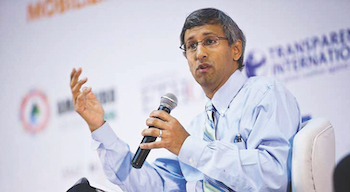 Bapna, who is currently serving as interim president and CEO of the World Resources Institute, said in a press statement, "We have a once-in-a-generation opportunity to overcome the climate crisis and build a healthier, more equitable and more vibrant world. NRDC is uniquely suited for this challenge, and I am deeply honored to be taking the helm at this time."
The Indian American was Executive Director of the Bank Information Center from 2003–2007. From 1996–2003, he worked with the World Bank, leading projects that focused on projects tackling with rural poverty. He holds a Bachelor of Science in Electrical Engineering from the Massachusetts Institute of Technology. He also holds both a Master of Public Administration and a Master of Business Administration (graduating with distinction) from Harvard University.
Bapna had recently mentioned in a Twitter post how much he had enjoyed his stint with the World Resources Institute. He wrote, "I have truly enjoyed every moment of my 14+ years at the World Resources Institute, and I cannot wait to take on new challenges in the fight against climate change and inequality with NRDC."
The WRI also tweeted their gratitude for Bapna and wished him well in his future endeavors.
As per the 51-year-old environmental organization's own record, most of Bapna's career has likewise been spent paying close attention to the designing of sustainable development strategies that are equitable, durable, and scalable. The organization stated, "His proven track record in developing policies and programs to address the twin challenges of climate change and inequity will help NRDC achieve ambitious climate action."
Andrew Carnegie 2021 Program names Indian American researchers 'fellows'
Indian Americans Sonali Shukla McDermid and Neel Sukhatme have been named honorees by the Andrew Carnegie Fellows program that has announced its latest group of Fellows recently.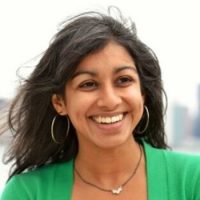 Shukla, an associate professor at NYU's Department of Environmental Studies, has done extensive research work on the role of landscapes in our climate system; doing so with the help of a variety of models and observational datasets. The focus of her work is in the different ways that agriculture both drives, and is vulnerable to, global environmental change.
Shukla holds a B.A. in physics from NYU and a Masters and Ph.D. from the Department of Earth and Environmental Sciences at Columbia University. She was previously a NASA post-doctoral fellow at NASA GISS.
Sukhatme, an associate professor of law at Georgetown University Law Center, is affiliated faculty at Georgetown University McCourt School of Public Policy and is also the Thomas Alva Edison Visiting Scholar at the U.S. Patent and Trademark Office.
He is a co-founder of Free Our Vote, a nonpartisan nonprofit that aids people who have a record of felony convictions, helping them get back their voting rights.
The Andrew Carnegie Fellows is a philanthropic support program that provides scholarship in humanities and social sciences that deals with pressing issues plaguing society.
This year, the program selected 26 fellows from a batch of 311 nominations. It comprises 18 women and 8 men (including 1 transgender person).
The nomination process is a rigorous one wherein 700 distinguished individuals are invited to make their recommendations and then undergo an anonymous preliminary evaluation followed by a final review and selection by a jury.
The award is for a period of two years, culminating in an anticipated book or a major study.
Mahesh Bhagia Reinstated as Chairman of the Edison Democratic Organization
Mahesh Bhagia will retain his position as head of the Edison Democratic Organization and will go on serving as the township's Democratic chairman.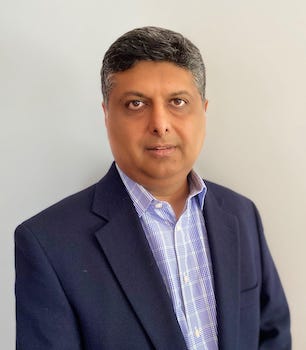 He defeated fellow councilman Ajay Patil by a 66–54 vote during a reorganization meeting that was held on Monday.
Along with Bhagia, other members of the body were elected. These included Vice Chairman Peng Chen, Recording Secretary Veena Sinha, and Corresponding Secretary Lisa Salem.
Among those re-elected to their former posts were Bhagia, Chen, and Sinha. This, according to Bhagia, points to the fact that the committee members still have a lot of confidence in the board. With an aim of increasing the representation of women on the board, Salem has been brought in as a new recruit.
The decision to remove Bhagia from his position was announced by Middlesex County Democratic Chairman Kevin McCabe after his alleged connection with an investigation into racist flyers sent during the 2017 Edison Board of Education election. Bhagia, however, declined to make any comments on the matter.
He said on Tuesday, "I have always believed as chairman in uniting the committee members toward the goal of helping Edison residents and making a positive change in the lives of residents."
Bhagia has come back with even more zeal. He said he plans to do more work with the help of feedback and ideas he receives on how the Edison Democratic Organization can help improve residents' lives.
He said, "My goal is to focus more on helping committee members so they can help the residents in their neighborhoods. That's the job of the chairman."
Amrita Pasupathy
Nidhya Shivakumar
2021 VEX Robotics World Championships
Milpitas
India Community Centre
United States President
Joe Biden
Indian Americans
Rahul Gupta
Atul Gawande,
Director of National Drug Control Policy
Master environmental activist
Manish Bapna
Natural Resources Defense Council
World Resources Institute
Indian American
Mahesh Bhagia
Edison Democratic Organization
Councilman Ajay Patil
Vice Chairman Peng Chen
Indian Americans
Sonali Shukla McDermid
Neel Sukhatme
NYU
Department of Environmental Studies