Indian Art and Artists
Indian Art and Artists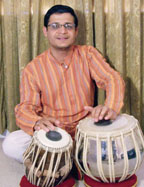 Indian Art and ArtistsI was never really drawn to classical music (Indian or Western) until I was in my teens. I still remember the radio program on All India Radio – Sangeet Sarita at 7:30 in the mornings where a raga was explained and demonstrated. The show always concluded by a movie song composed on that raga. That simple introduction kindled an interest, and opened doors to a world whose surface i have just scratched.
We have talked about Indian Classical music in the previous articles, and seen terms like taal, gharana, raga. We will get to know them better in the coming issues. What however is classical music ? The term is very context specific – since Classical music in the west brings up different images than that in India (and the east in general).
In the West, it is usual to define classical music in terms of time period or composers, conjuring images of Mozart, Bach and Beethoven.
Our focus in the past few articles has been with Indian Classical Music – both Hindustani and Carnatic. Indian Classical Music – as opposed to Western Classical music – revolves mostly around rules on how notes are put and played together (raag), and the rhythmic cycles to which this is done (taal). This is a very fundamental difference. Another key difference – which does not show up when we listen with closed eyes – is that unlike Western Classical music which is pre-written, most of Indian classical music is improvised.
It is difficult to talk about Indian classical music as if it was only one single musical form. There are two distinct traditions in Indian classical music – the North Indian style – also called Hindustani music, and the South Indian – also known as Carnatic music. (Is it Karnatic or Carnatic ? You decide and let us know at amit@deshvidesh.com !) There are similarities as well as differences between the two styles. While – for example – both have the concept of raga – they are not necessarily all the same. Sometimes we see differences merely in names, while in other cases the ragas are completely different. Even in cases where the notes and other rules of a raga are the same, there are still stylistic differences which can easily allow us to differentiate between Hindustani Music and Carnatic Music.
Shrutis form a predominant role in Carnatic music. These are the presence of additional notes in between the full and half notes. An easy way to think about this is pick any two consecutive notes/keys on a piano/keyboard. There are no notes between them. Carnatic music however has provisions for those notes called shruti.
Indian Classical music has gained increased acceptance in the West – as evidenced not only by the popularity of concerts we see, but also the number of Westerners learning Indian music at Universities and music schools. The headway made by Hindustani music can be attributed to the early virtuosos like Ravi Shankar and Ustad Allah Rakha – who introduced this music (often called exotic) to the West. The popularity surged when George Harrison played the sitar in The Beatles' "Norwegian Wood". Appreciation of Karnatic classical music is also increasing as more concerts are presented and through Bharat Natyam performances, which is mostly based on South Indian Classical music.
In this issue we talk to Thiru Pant – who is an accomplished vocalist, and tabla player. He has received his Tabla training from Thakur Lakshmi Narayan Sinha of Allahabad, and Pandit Man Mohan Singh (of Ajrada gharana). He was also a disciple of Pt. N. Banerjee and Pandit Vasant Thakar (also Guru of Shubha Mudgal and Veena Sahasrabuddhe among others). He is currently based in Tampa, Florida.
Amit: You were an All India Radio artist both in Allahabad and Delhi. What kind of channels do you see for the youth in the US to perform classical music.
Thiru: I think these days there are a lot of opportunities for the youth in US to perform classical music. I have come across a number of organizations that have been conducting these kind of programs. Also, they organize programs and bring artists from India to perform and motivate youngsters towards classical music. In the Tampa Bay area there are number of schools and organizations that provide opportunities to learn and perform classical music.
Amit: You have not only learnt both tabla and Hindustani vocal, but you have kept up with both instead of specializing. Is this common?
Thiru: Today, it is not so common but previously it used to be. After all, a good singer needs to understand the concept of beats (and so Tabla) and the Tabla player needs to understand the concept of music and how to accompany when one is singing. It is a completely different way one plays tabla while accompanying a singer versus playing tabla solo. I would consider that too an specialization.
An artist like Birju Maharaj plays the tabla, sings melodious Thumris, apart from specializing in Kathak. I still remember, my Guruji, Pt Vasant Thakar Ji, used to play tabla by himself while teaching vocal, in case our tabla accompaniment player missed to come.
Amit: How can we develop sustained interest in the kids for Indian classical music when the music that attracts them is mostly of the Bollywood style?
Thiru: I do not discourage Bollywood, but I think we need to create an environment for kids to learn and like Indian classical as well. Back in India also, this is the same problem. While we were growing, I remember, my Uncle used to play Ustad Ahmed Jan Thirakwa's tabla and used to copy him on a piece of tin. He used to play other artists as well like DV Paluskar, Bade Gulam Ali etc. All these artists had a lot of influence on me.
Amit: What is your style of teaching music?
Thiru: I try to teach the basic concept of music (Swar, Raga and Taal) first. I do not believe in teaching many taals or ragas in a very short time. I would prefer one has command on Swar, Laya and Taal.
Amit: Rihaz was a very important part of your training. In the busy schedule that most kids have here, how has the role of rihaz changed from when you were a kid to now?
Thiru: Yes, in the old days, Ustads used to say – if you have not done your Riyaaz for one day, you are behind by 21 days. I think the busy schedule was the same when I was a kid. I tell kids the same – Practice at least 30 min daily. Make it a habit. Even during their exams, practice whatever you can from 10 min to 20 minutes.
Amit: You had mentioned that with a passion and heart for music, it can be learnt easily. How can we cultivate that in the youth growing in the US today?
Thiru: Create an environment for them. Take them with you for musical programs. Play music at home, during their sleep and so on.
Amit: Who are some of your favorite singers and albums ? Who are you currently listening to?
Thiru: My favorites and to whom I listen often are singers like Pt. Bhimsen Joshi, Pt. Rajan Sajan Mishra, Rashid Khan, Ajoy Chakraborty.