John McCain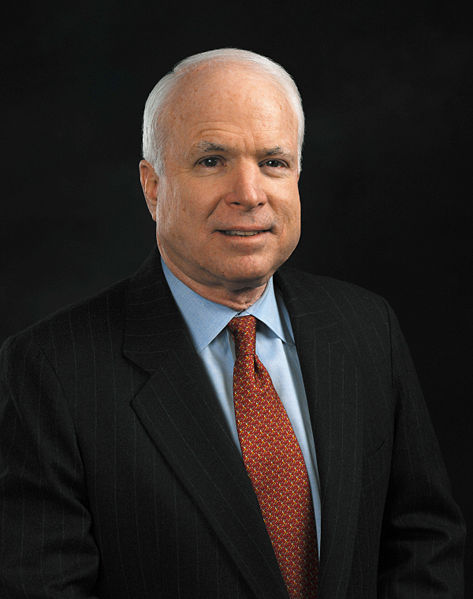 I first met John McCain in 1999 when I was a graduate student. He was coming to speak on my campus and I was selected to pick him up at Logan Airport. On the 45-minute ride to Harvard Square, we talked about many issues of the day and also about India and the Indian-American community. He told me about his trips to India and his wife's tireless charitable work in the region – which led to the adoption of their daughter from Bangladesh. He also told me how he wants to help encourage the entrepreneurial spirit which brought our families to America – whether they are businessmen, physicians, engineers, or laborers – he understood the guts it took to come to this country and stake a claim here. He said he was running for president to make sure the U.S. government encourages that spirit as much as possible – and does not discourage that spirit – because that is America's greatest strength.
By the time we got to campus, I didn't need to hear his remarks. I signed up to volunteer for his campaign the next day and later was hired on his Advance team as he campaigned against George W. Bush until he conceded after Super Tuesday. He lost that Republican primary contest because he said and did things that right-wing Republicans disliked. Yet, even on Election Day that year, exit polls showed that if he was on the ballot, alongside Bush and Gore, he would have won…
Eight years later, many things have changed in the world. But, to me, the important, "presidential" strengths of John McCain have not changed.
He is still the most bipartisan Senator and continues to work with both parties in Congress and with the White House to get things done. He has more friends of the opposite party than anyone else in the Senate – that is important because all difficult legislation dies in the Senate (where a 60% margin is needed for tough bills) and ONLY a president with friends of the opposite party will be able to get things done.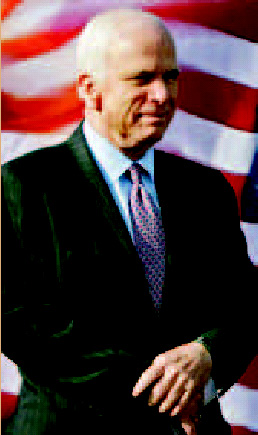 John McCain is still willing to buck his own party when he believes they are incorrect. He has done it on campaign finance reform, immigration reform, and environmental reform. This time, he is the presidential nominee and is in the position of reforming the Republican party itself.
His willingness to disagree with his party and think for himself makes him unpopular with entrenched special interests, but, he believes it is far more important to do what he believes is right for the American people, and hopefully be respected for it.
It is true that he is not as popular or exciting as his opponent, who has never really shown the courage to stand up to his party. It is true that John McCain does not have the support of Hollywood's Indian-American stars like Kal Penn and Mira Nair. But that does not mean that he is not the best candidate for Indian-Americans to support.
John McCain has been a strong and consistent friend of India and the Indian-American community. He knows and understands India's importance and he is the most prominent proponent of India joining the G-8″ group of industrialized nations. He has always been a strong advocate of the U.S.-India civil nuclear agreement, which would expand America's energy commerce and also help India with its lack of clean energy sources. The Financial Times recently interviewed several leading Indian scholars who all agreed that a McCain presidency would better for U.S.-India relations. John McCain also supports comprehensive immigration reform, fixing our healthcare system without creating more federal bureaucracy for doctors and patients, and keeping taxes and government regulation low so that our entrepreneurs and small-businesspeople can continue to innovate, compete, and create jobs and valuable products and services. All these policies are particularly helpful to Indian-Americans.
Barack Obama's commitment to our community, however, is highly questionable. In the Senate, he voted for an amendment to the U.S.-India civil nuclear bill that would have effectively killed the deal by making it impossible to pass in India. Thankfully there were many Senators of both parties who opposed Obama's efforts, and his "poison pill" amendment did not pass. "Most Democrats came out and supported the deal. But Obama stood up and went after India," said C. Raja Mohan, one of the scholars in the Financial Times piece. While McCain has taken the opportunity to push hesitant members of Congress to support the deal, Obama refuses to do so.
But even more worrisome, during the primary, the Obama campaign prepared a shameful memo that attacked Hillary Clinton for having strong support from the Indian- American community. The memo mockingly labeled her the "Senator from Punjab" and criticized her work with Indian-Americans and with India. It also negatively portrayed trade with India and those hardworking Indian-American businesspeople who do tremendously valuable work with India – making both countries better off.
While Senator Obama has tried to distance himself from these comments, those who wrote the memo were never dismissed – and could end up in his potential Administration. For Indian-Americans, that potential scenario should be a deal-breaker! This is particularly the case when we have, in John McCain, a proven, tested, experienced leader who is a longstanding friend of India and Indian-Americans.
John McCain's choice of Sarah Palin as his running mate should also be encouraging to our community. As one of her first actions as Governor of Alaska, she appointed an Indian-American to her cabinet – Anand Dubey as Chief Information Officer. That she did this in a state with very few Indian-Americans is particularly noteworthy.
I hope my fellow Indian-Americans will visit www.IndiansForMcCain.com to learn more and believe that once they consider all these points, will realize that while Barack Obama is flashy, his support is uncertain, whereas they have a sure-fire supporter in John McCain – he should be their choice.
Kishan Kumar Putta is a co-founder of Indians for McCain: www.IndiansForMcCain.com, ifm@IndiansForMcCain.com. He can be reached at kishanputta@gmail.com. Kishore Thota also contributed to this piece.