Magical Wedding – Reenal Weds Saurav
For some, there is a moment in life when you meet someone and know instantly that they are meant to be your spouse. For others, it takes a long courtship before you can really be sure that someone is your soul mate. For Reenal Patel, it was a bit of both.
Though Reenal and her boyfriend, Saurav Sharma, knew that they wanted to live with one another, they decided to wait until they completed their postgraduate courses before they finally got married. The result was a ten-year relations hip before a final marriage date could be set.
Reenal, a 27-year-old optometrist, and 30-year-old Saurav first met through mutual friends. In 2010, on New Year's Eve, the two created a magical memory, one that will no doubt be relived for many years to come. On the pretext of taking her to a special concert, Saurav took Reenal to the Disney Boardwalk, where they enjoyed each other's company on their first date ten years ago. An unsuspecting Reenal played along until they sat on the same bench, and Saurav waited until no one was around before he got down on one knee to propose. It was then that nerves took over, and Reenal melted away into tears as she said yes. Quite understandably, there is little that she remembers about who said what. The most important thing was that she accepted.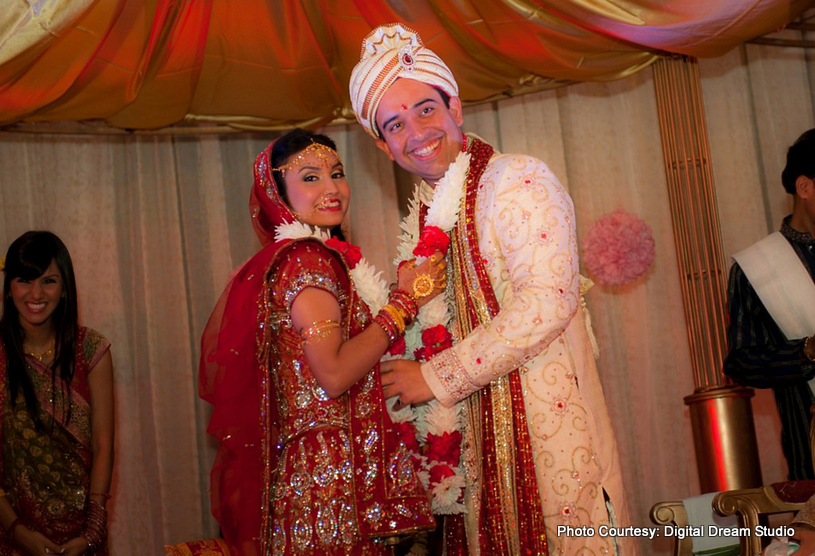 With just ten months to go before the wedding, the two threw themselves into planning their special day. Rather than use the services of a wedding consultant, the couple preferred working with their families to ensure all arrangements were made with a personal touch.
The pre-wedding functions included a mehndi, sangeet and raas garba, which were all held on the same night. It was during this event that the true feel of wedding celebrations thoroughly took over everyone's spirits. Needless to say, there was delicious food and drink as well as infectious music to keep everyone waiting with eager anticipation of the events to come. Nearly 300 guests attended the festivities, and the DoubleTree Orlando Hotel at the entrance of Universal Studios made for the ideal venue.
Reenal suggests the bride and groom take in every moment of the wedding and reception as best as they can, since it will pass quickly and be over before they even know it. "Soak it all in."
The same venue was the backdrop for the wedding ceremony, and the guests attended adorned in full grandeur. The ballroom was the chosen venue, and with its space, lighting and decor, it made for the most exquisite setting. An important factor in the selection of the venue was its accessibility due to its central location. Moreover, outside catering was allowed, making it possible for the families to dine on their own selection of Indian cuisine.
The reception exhibited the same enthusiasm and participation witnessed during the wedding. With a DJ and dholl player, who had been brought in specially, no one was spared, and few guests could keep themselves away from the dance floor. As soon as the touching speeches and toasts were complete, the dance floor was the center of attention. Everyone was so busy dancing the night away, that many almost missed the cake cutting!
Reenal and Saurav, a calm and happy couple, did not have anxiety or cold feet before the wedding. Considering they had looked forward to this special moment for so long, there was just keen eagerness on their part.
Reenal does offer brides-to-be some practical advice. Wiser for having gone through the motions, she suggests the bride and groom take in every moment of the wedding and reception as best as they can, since it will pass quickly and be over before they even know it. "Soak it all in," Reenal says with a smile. With so many memories and delightful events to look back on, we know that Reenal and Saurav will relive their wedding celebrations a thousand times over in their thoughts and dreams.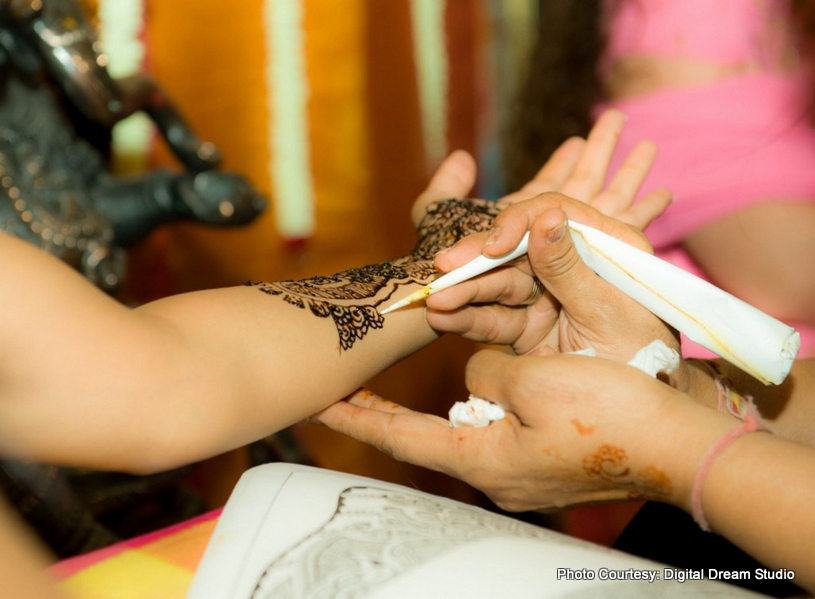 ---
WEDDING Doubletree Hotel 407-351-1000 | VIDEOGRAPHY Digital Dream Studio 407-791-6064 | WEDDING DRESS Asopalav +91-79-26577958 | RECEPTION Doubletree Hotel 407-351-1000 |MANDAP DECORATOR Palloo's Flowers 407-302-7966 | MAKEUP Zaidy Santoni 787-528-4880 | PHOTOGRAPHY Digital Dream Studio 407-791-6064 | FLOWERS Palloo's Flowers 407-302-7966 | MUSIC/DJ Dudha Productions 727-523-0786 | CATERING BAPS Shayona 407-857-0091 | New Punjab 407-352-7887
---