Nikhil and Navya
Navya Talluri was super impressed when she walked into Nikhil Patel' Wayne University dorm room. The couple were dorm neighbors and met in an elevator 10 years before they decided to get married. Navya describes Nikhil's room as "impressively neat and clean." Her heart melted a little when Nikhil graciously offered her his biology log book.
This was an effortless college romance that blossomed over shared meals, long walks and even longer talks. Soon the two students became best friends and ventured into a love struck relationship. Nikhil gave Navya the best graduation day gift ever – a trip to Thailand where she could meet her favorite animal, elephants. Little did Navya know that these lovable mammals would be spectators to a splendid wedding proposal. Nikhil chose to propose to Navya when she was already having the time of her life by interacting with elephants at an elephant sanctuary. Navya recalls that she was delirious with happiness and doesn't even remember what she said afterwards apart from yes.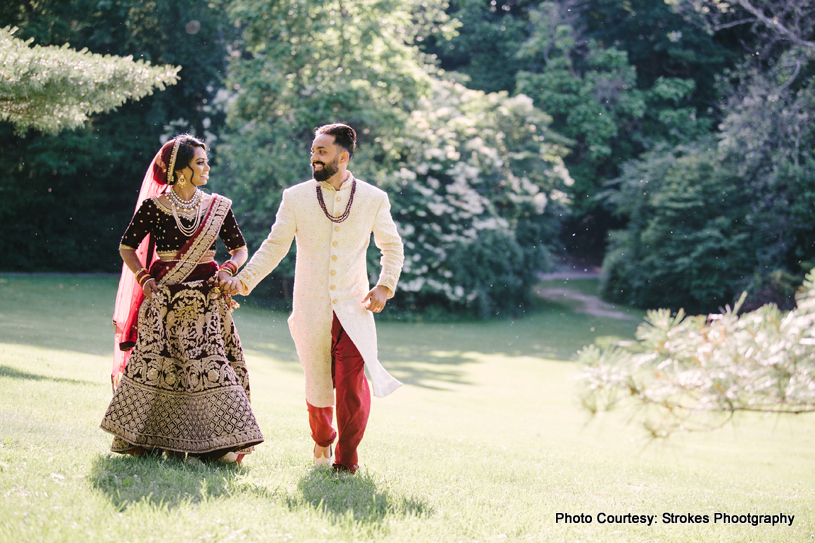 For the wedding, the couple wanted to keep things simple, creative and customized so they did most of the wedding planning themselves. Navya and Nikhil decided to hold their wedding events in Detroit since all their memories of dating and love were based there. They chose The Henry Autograph Collection for their wedding venue. The hotel is named in honor of United States veteran Henry Dearborn and known for its magnificent lobby adorned with vibrant contemporary art.
The mehendi function had a unique décor theme – DIY origami paper cranes reminiscent of the cute ones Nikhil used to make for Navya back in college. The sangeet featured a feast of Indian street food arranged by cute little carnival themed food stations. And of course, the event included lots of dancing! DJ Naveen Sharma played an eclectic mix of garba music for the couple's garba night as both the bride and groom were fans of party songs.
Since Navya and Nikhil chose to have only the wedding and not a reception, they channeled all their energy into making sure that the function was special and intimate. First, Nikhil arrived in a white horse drawn carriage to funky live music arranged by DJ Ice and Fresh Productions. The couple also created a customized monogram that they put on takeaway bags and table runners. Their unique wedding program even included crossword puzzles based on Navya and Nikhil's life.
Although they planned to do a first look, it wasn't possible, so the first time the two saw each other was at the mandap. Navya will never forget the look on Nikhil's face when he first saw her. It was at this unforgettable moment that the couple realized that they would finally be married – a moment for which they waited for more than ten years.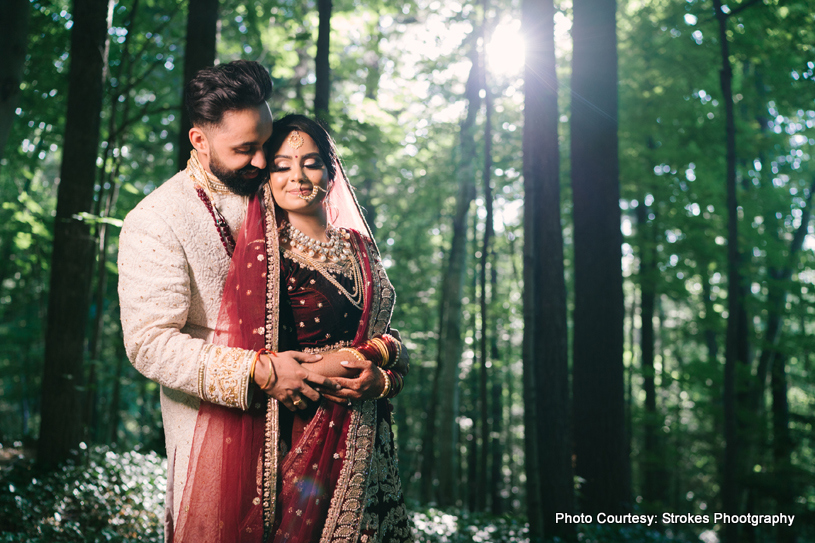 ---
BANQUET HALLS The Henry Autograph Collection 313-441-2000 |DECORATOR Marigold Wedding Planners 248-250-4066 | DISC JOCKEY DJ Ice and Fresh 734-320-5491 | Naveen Productions 248-797-9707 | HAIR AND MAKEUP Hair by Aysha 734-635-3687 |  MEHNDI Henna Beauty by Krupa 248-457-5318 |  PHOTOGRAPHER/VIDEOGRAPHY Strokes Photography 647-999-6838 | Capturing Arts 586-477-8161| RESTAURANT/CATERING Ashoka Indian Cuisine 248-689-7070 | Taste of India Suvai 734-327-6500| HORSE CARRIAGE Ann Arbor Carriage Company 734-663-9033 | PRIEST Prasad Bhat 734-383-1872
---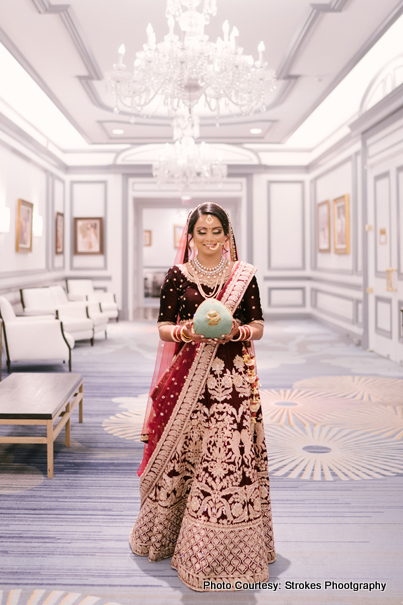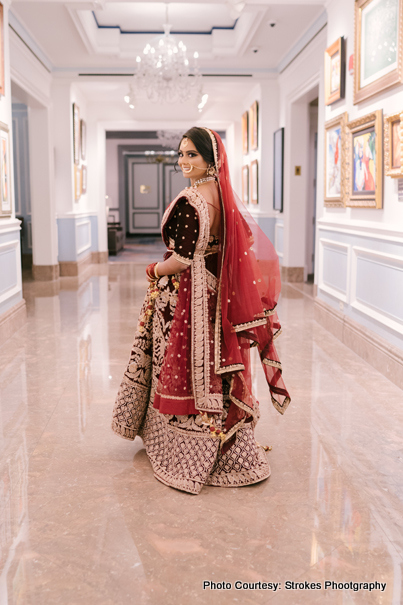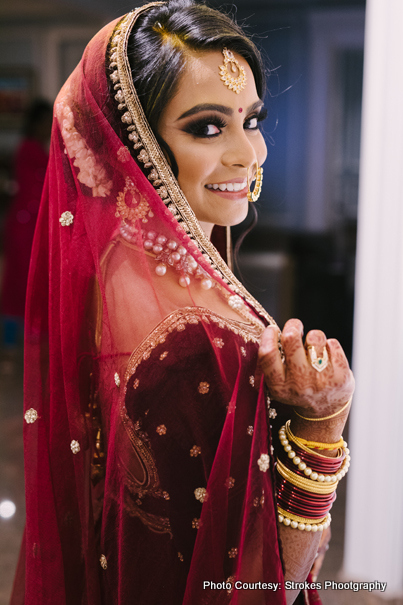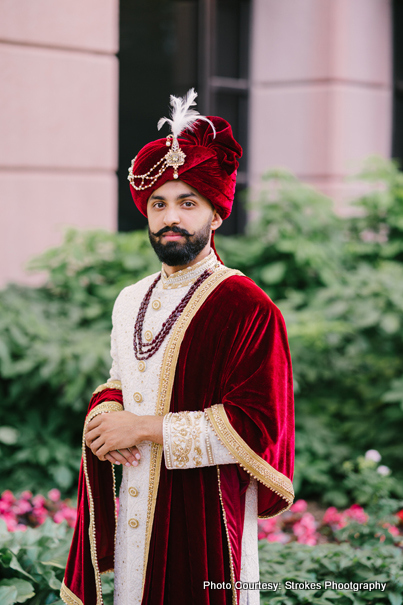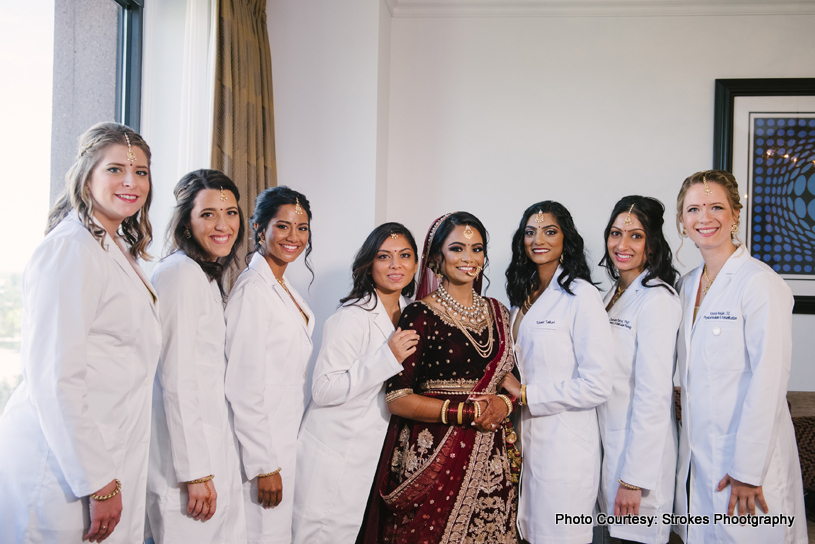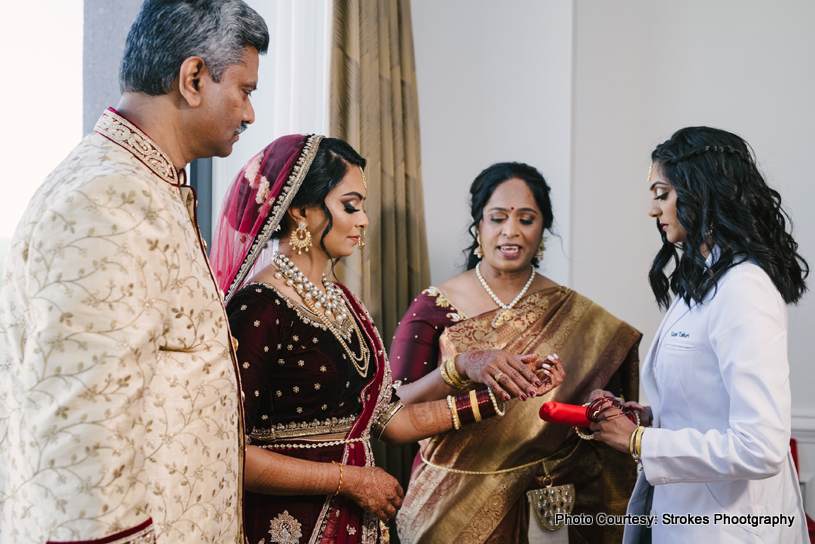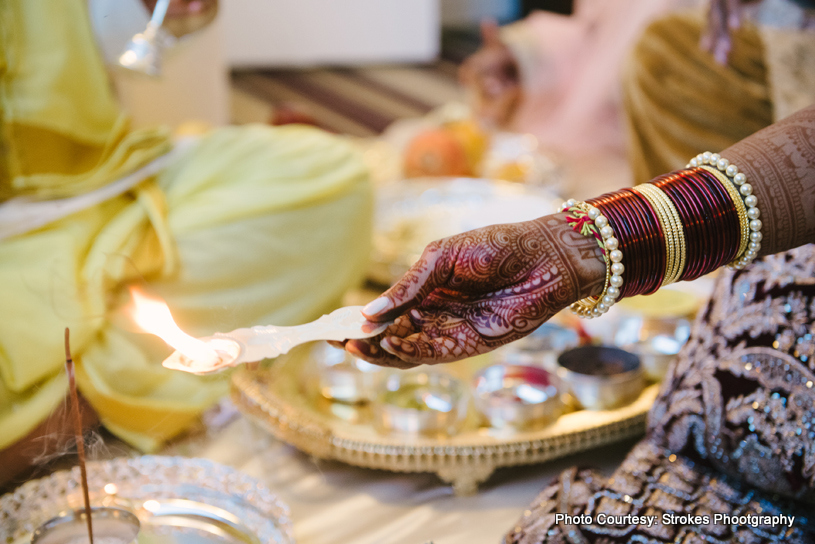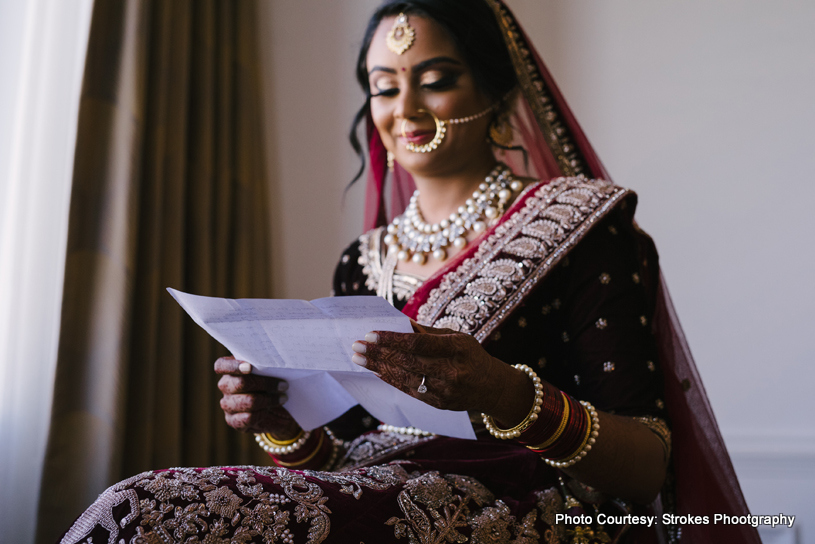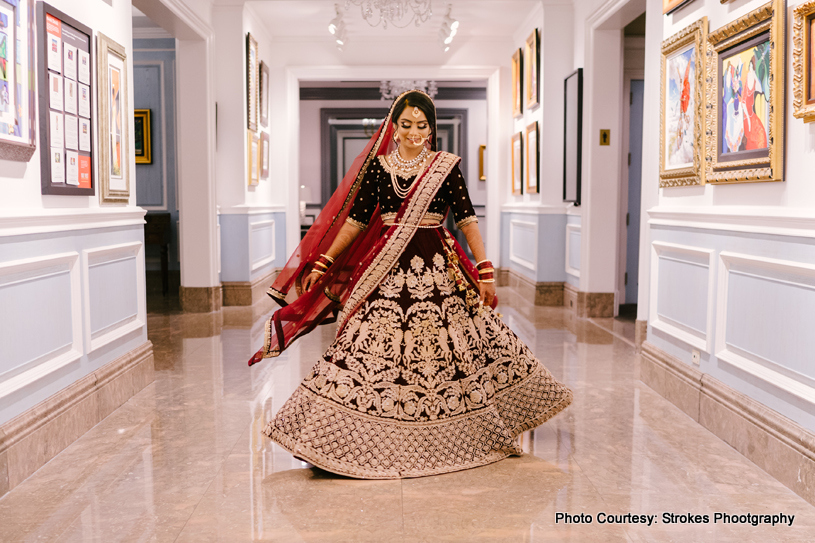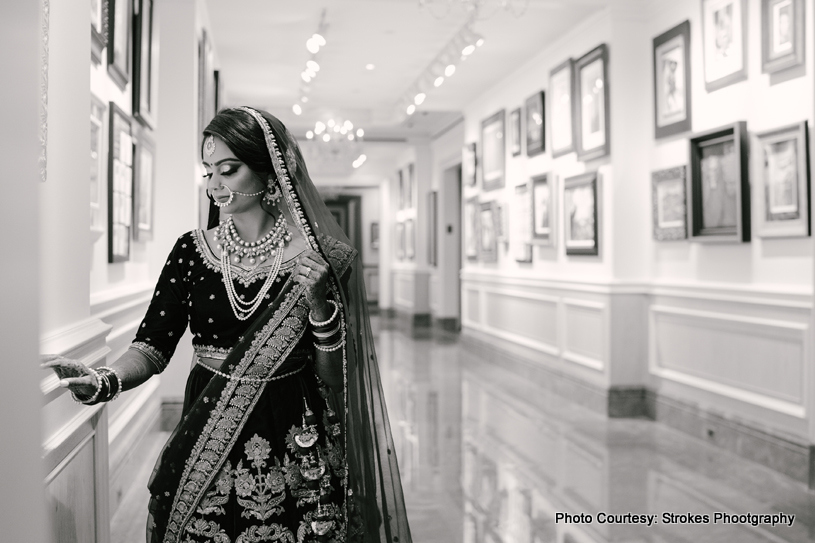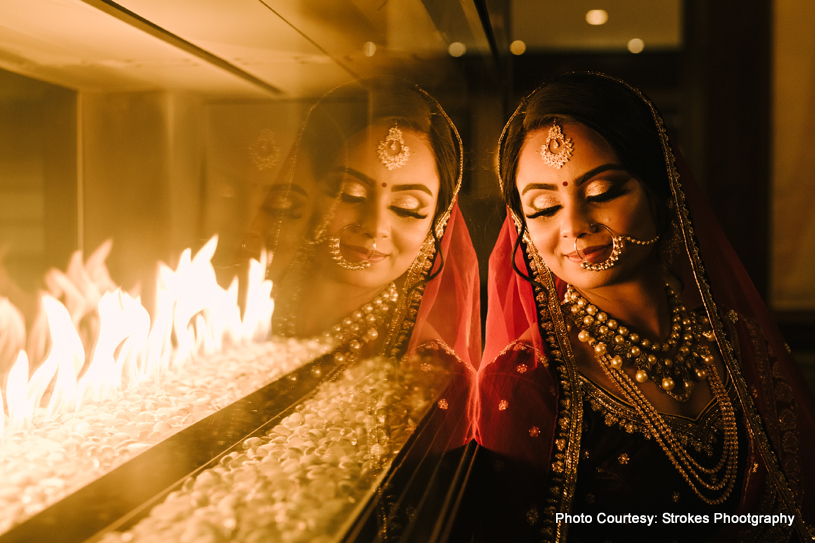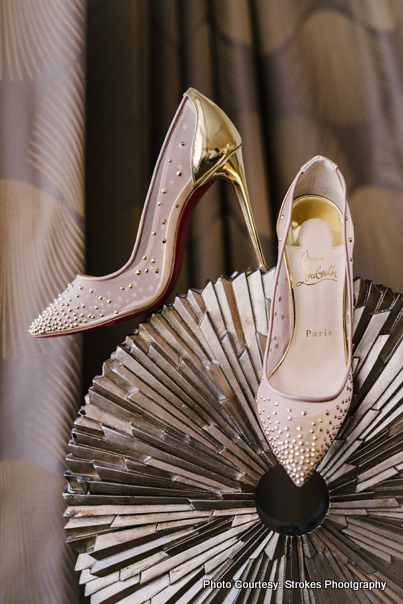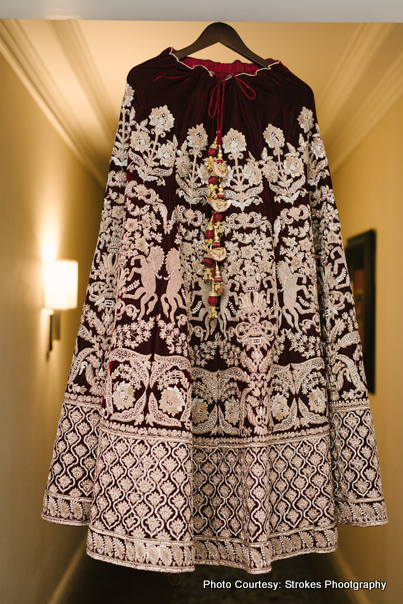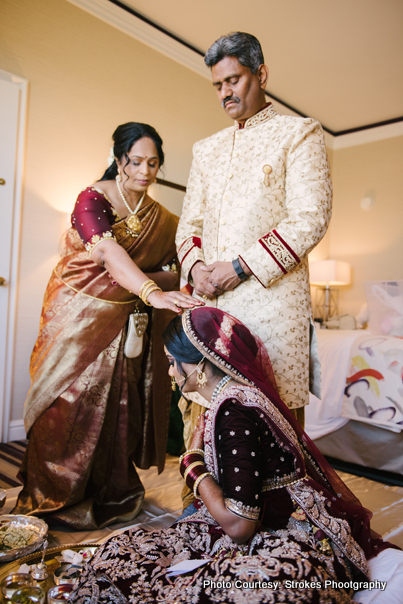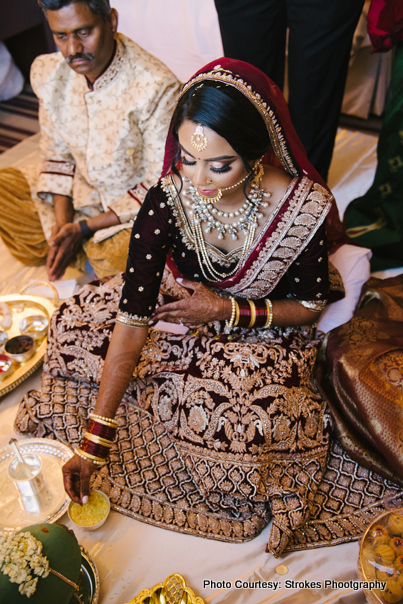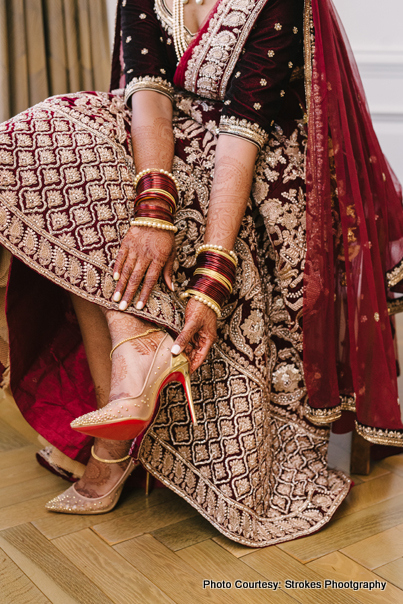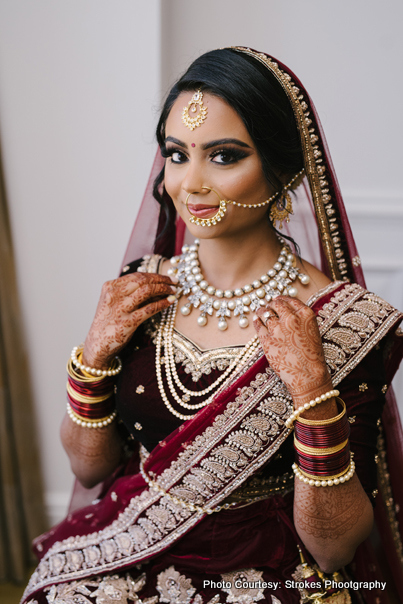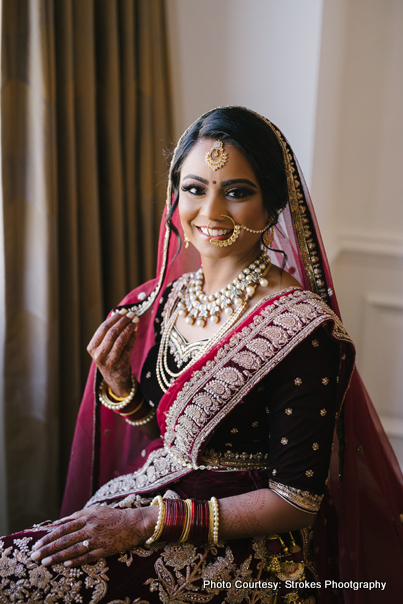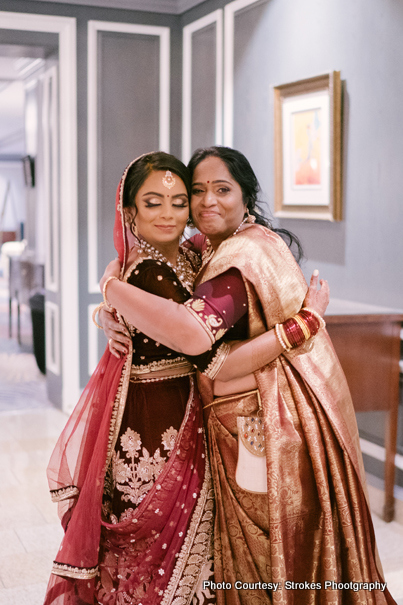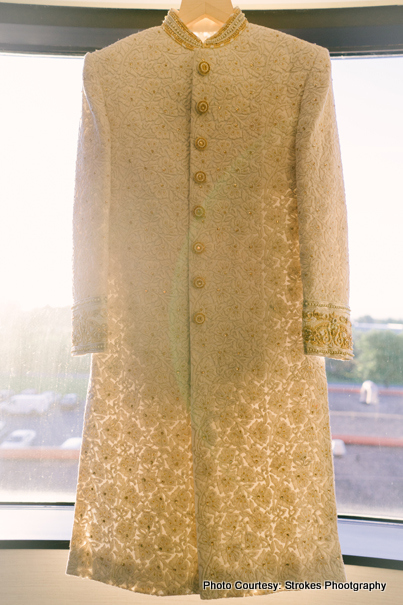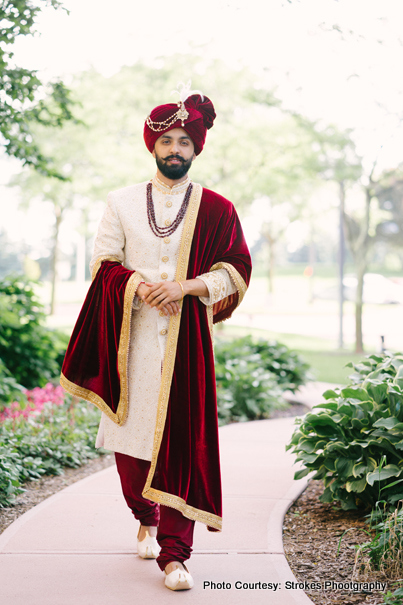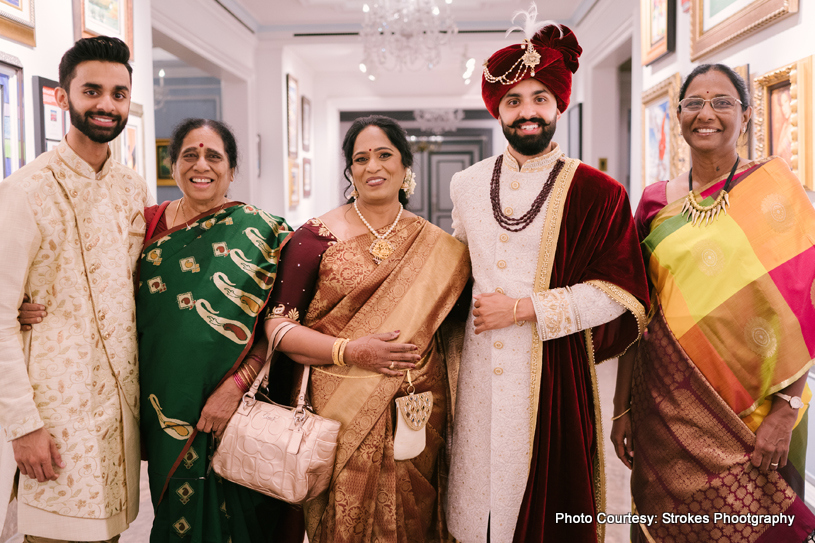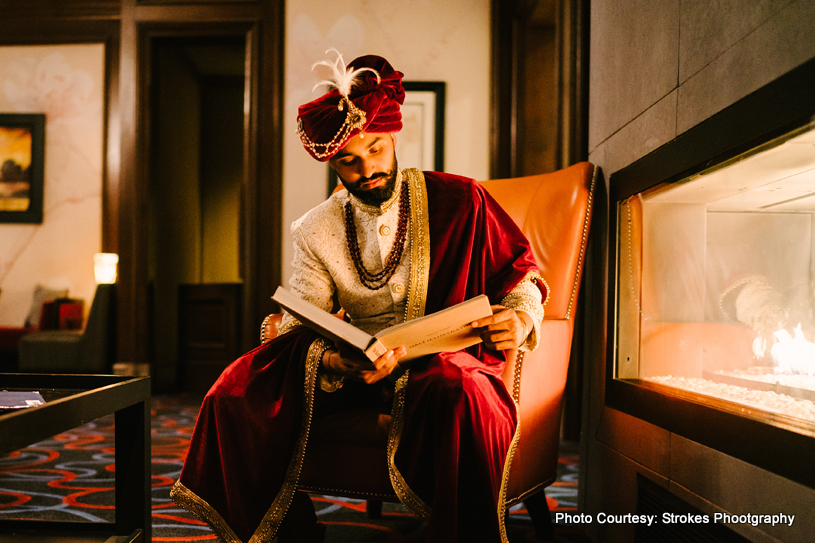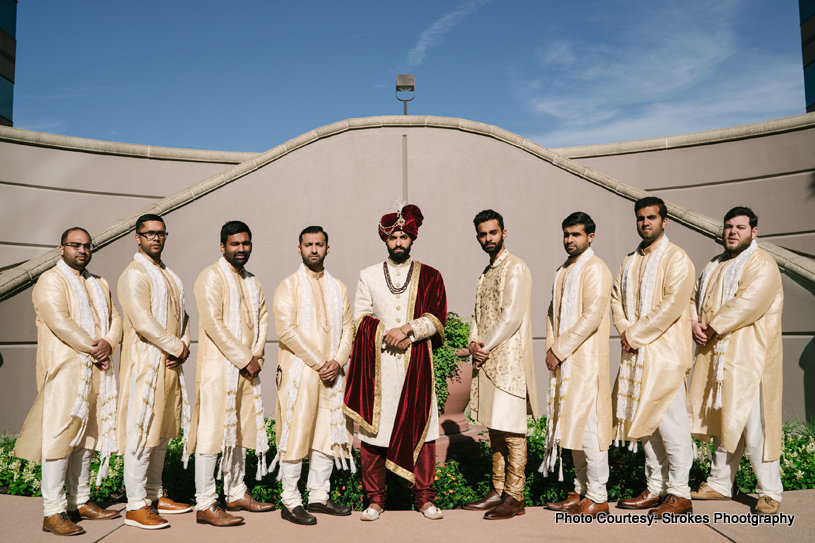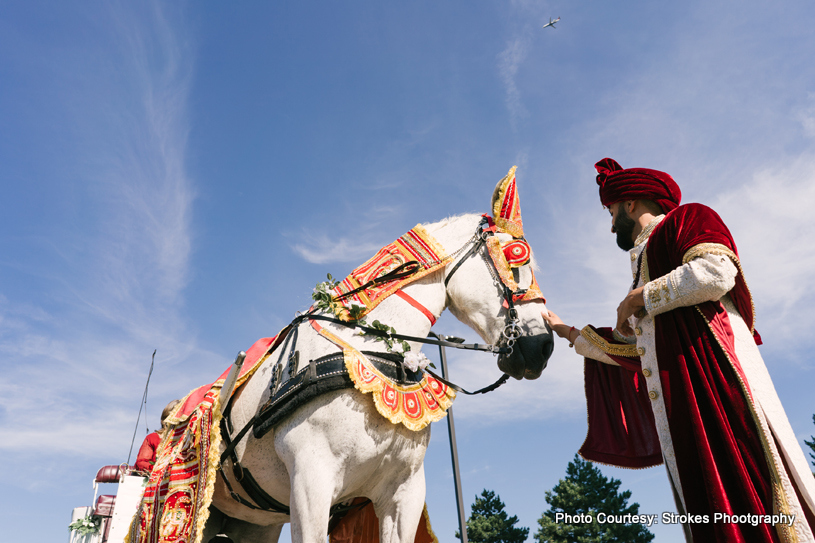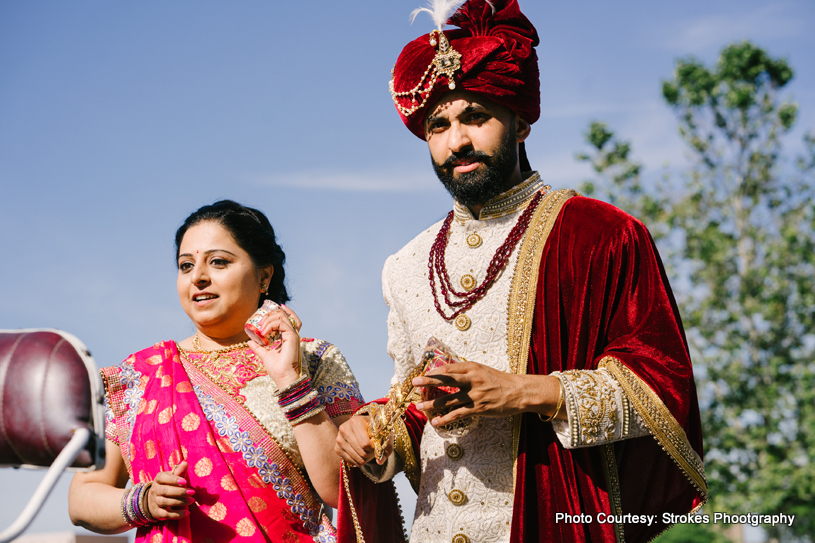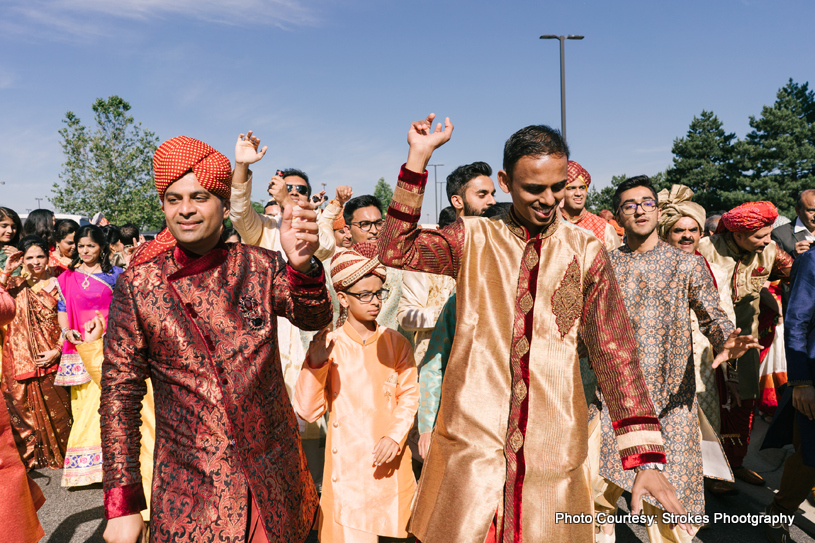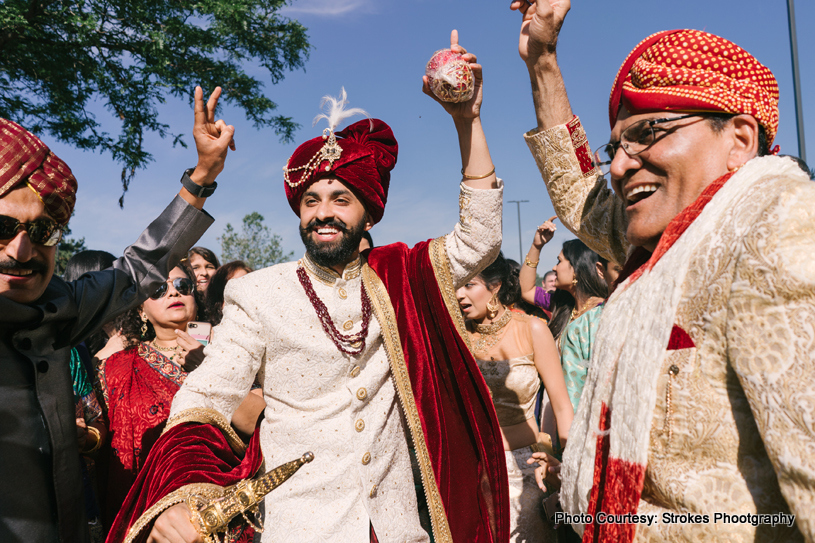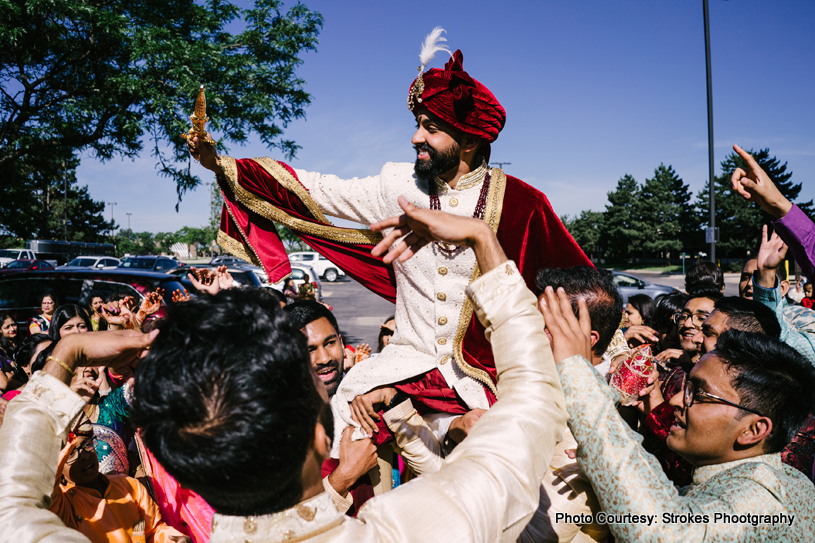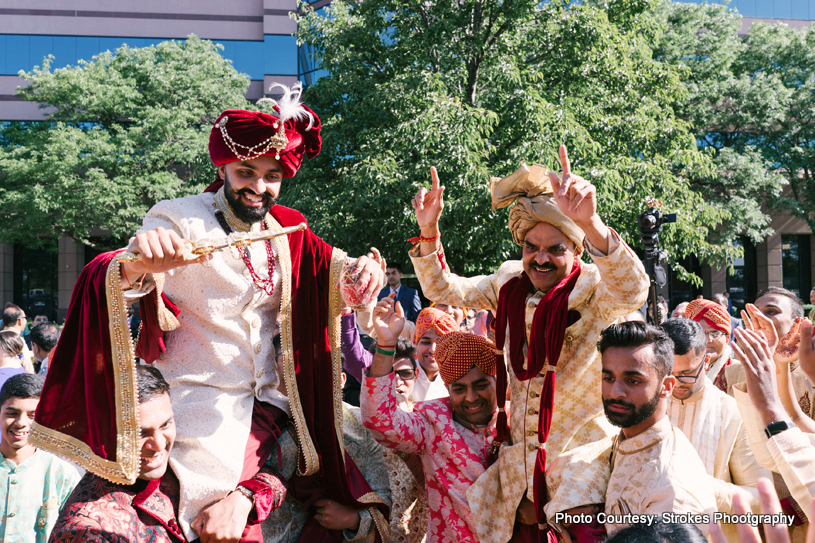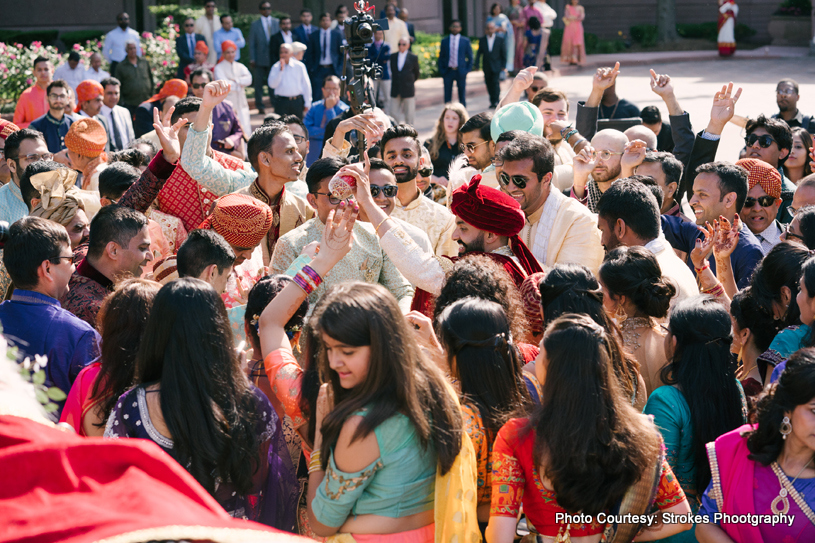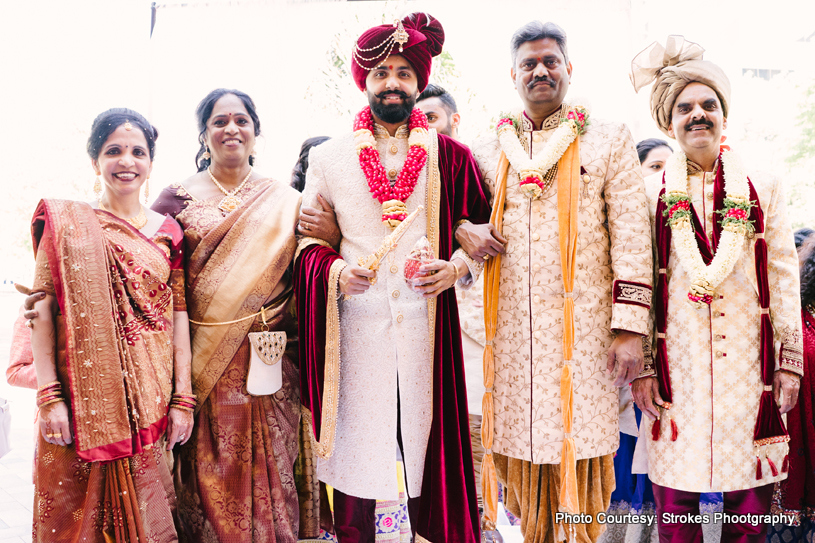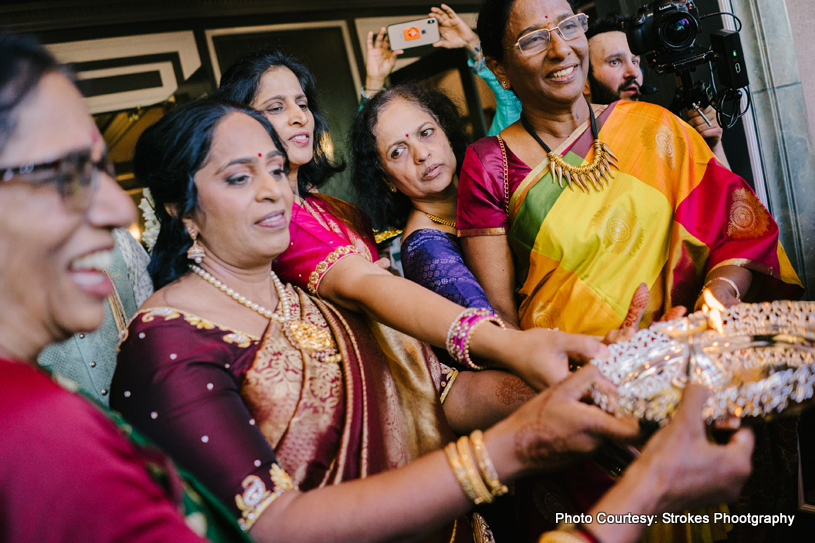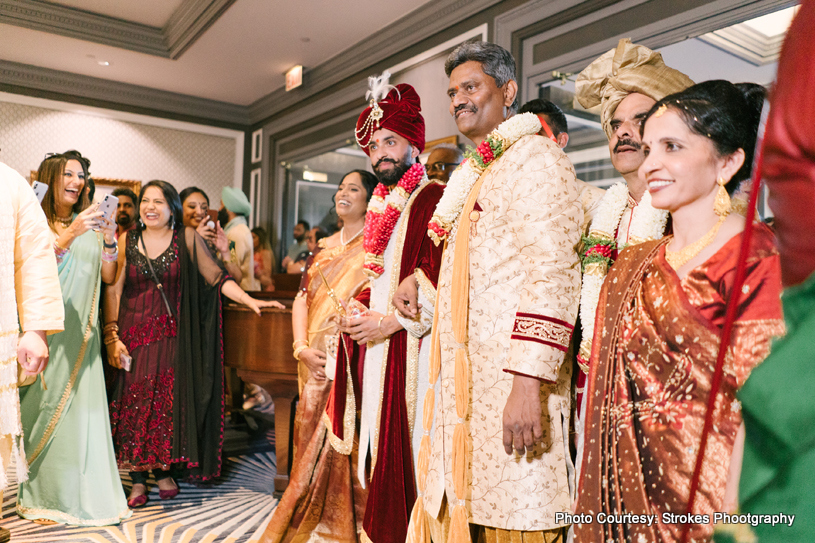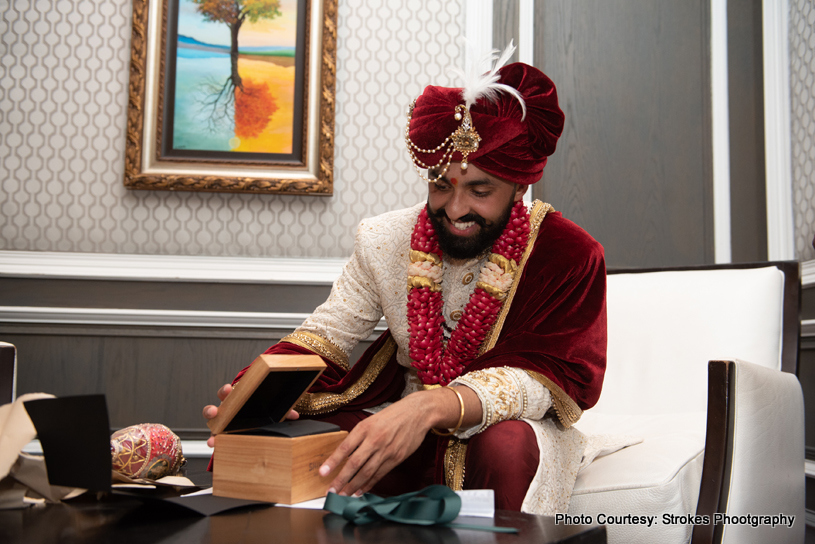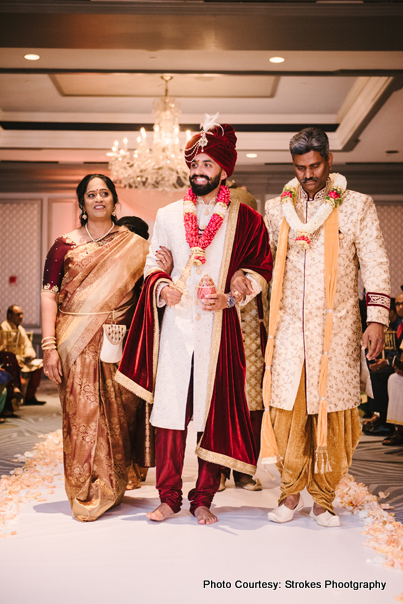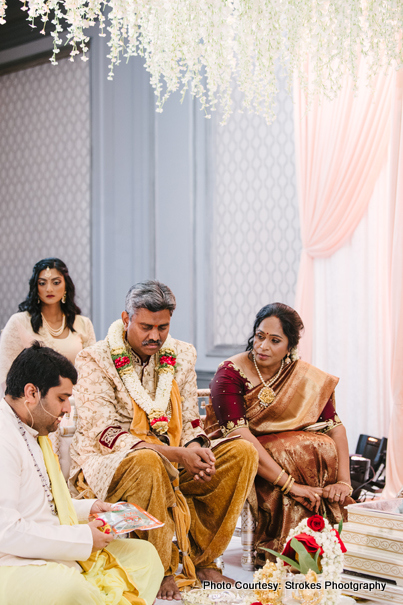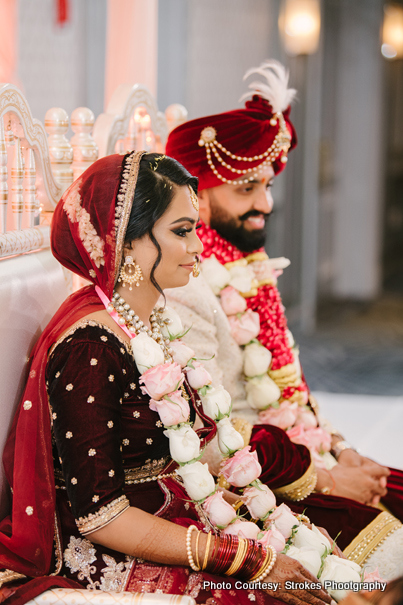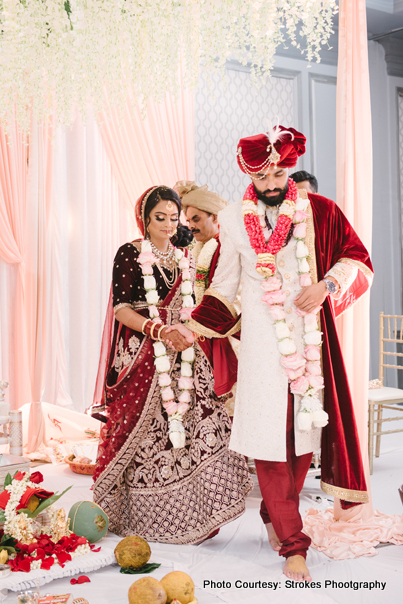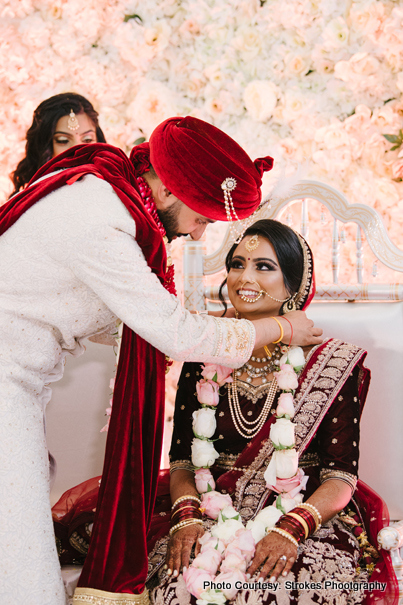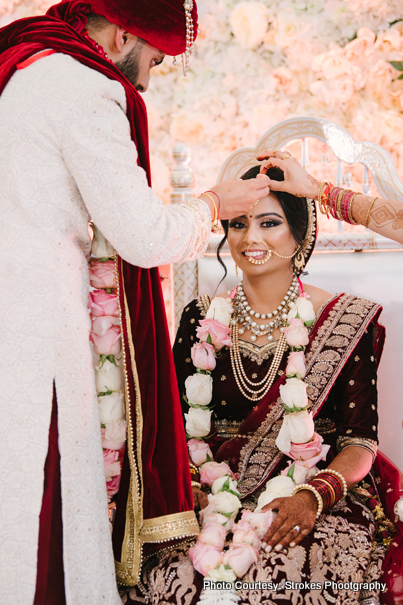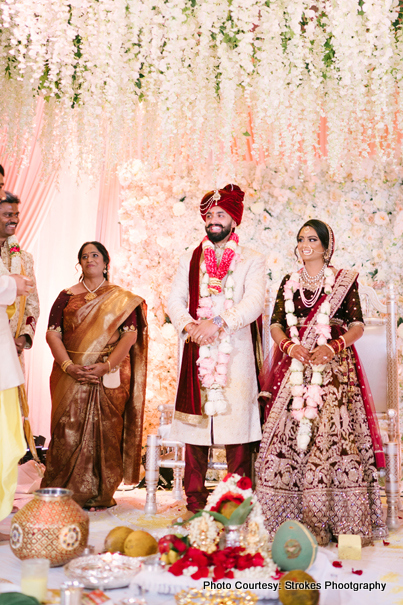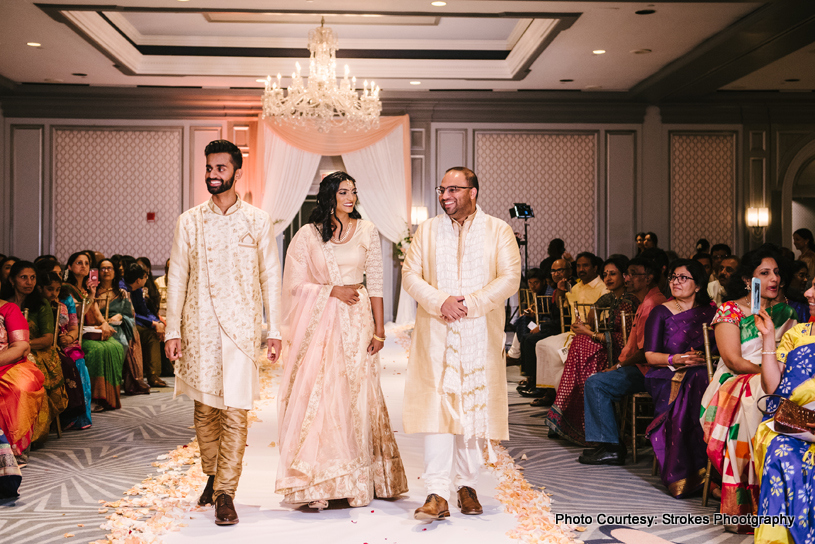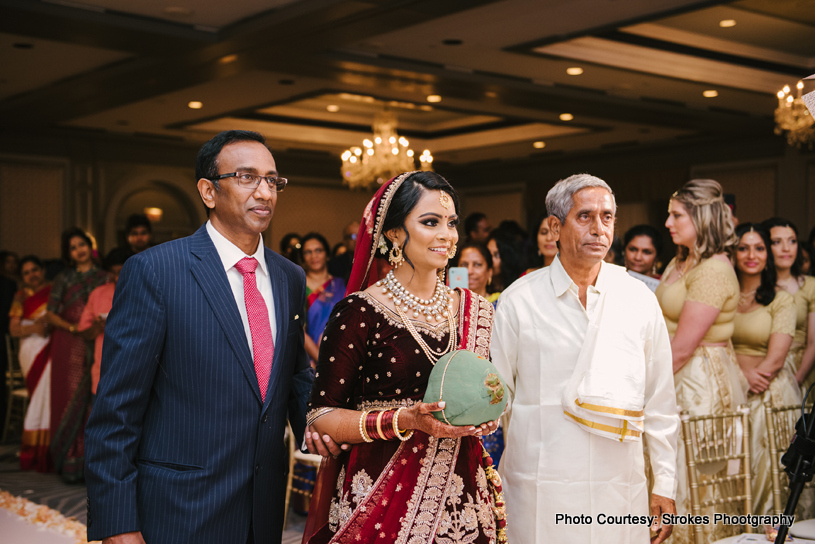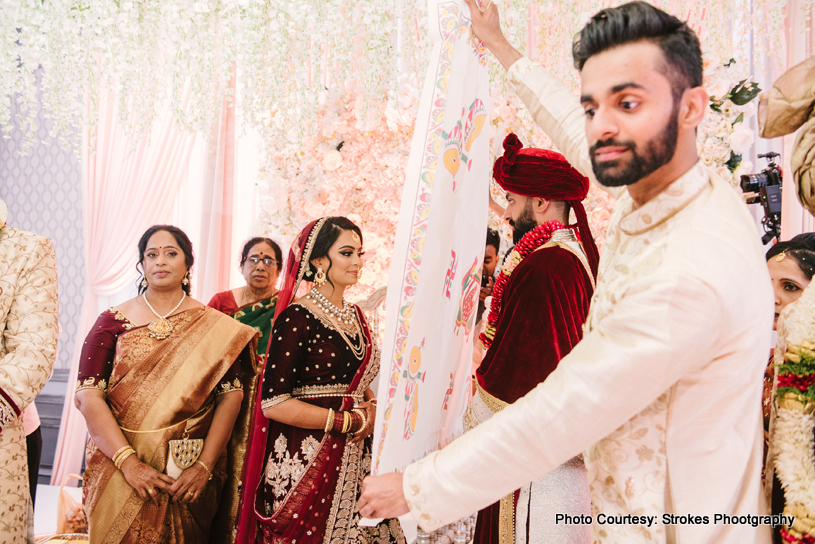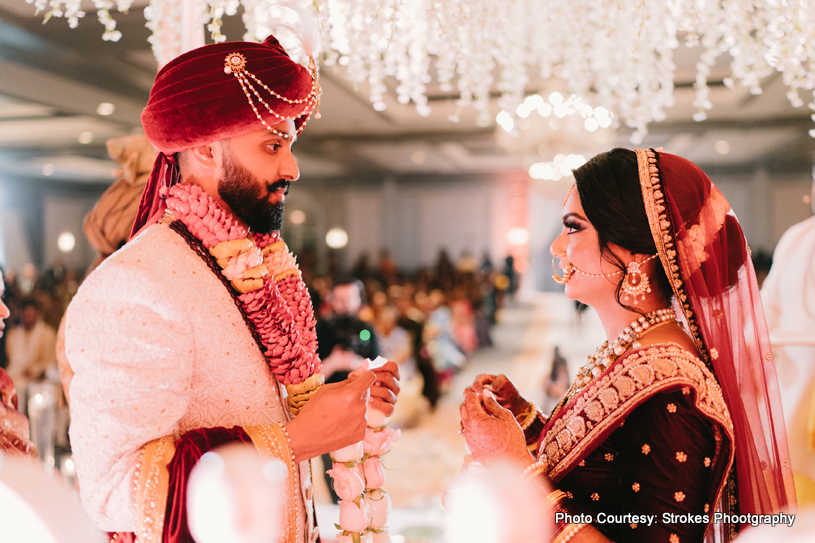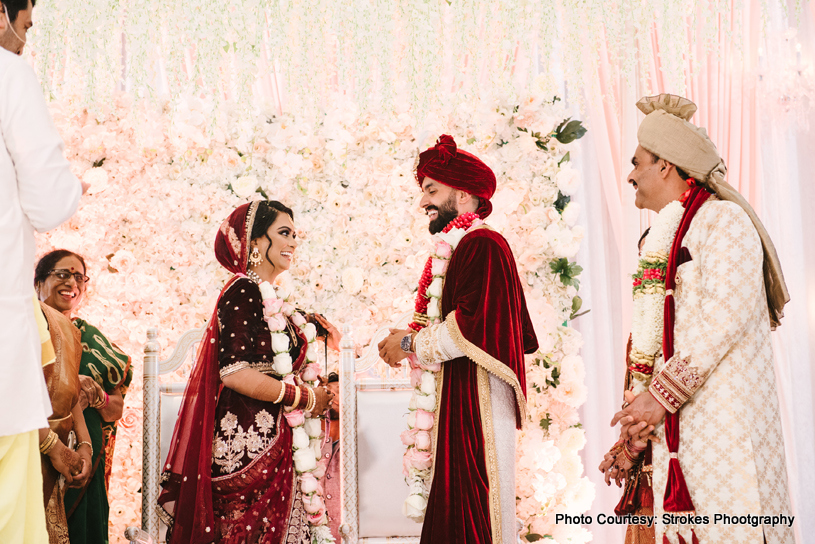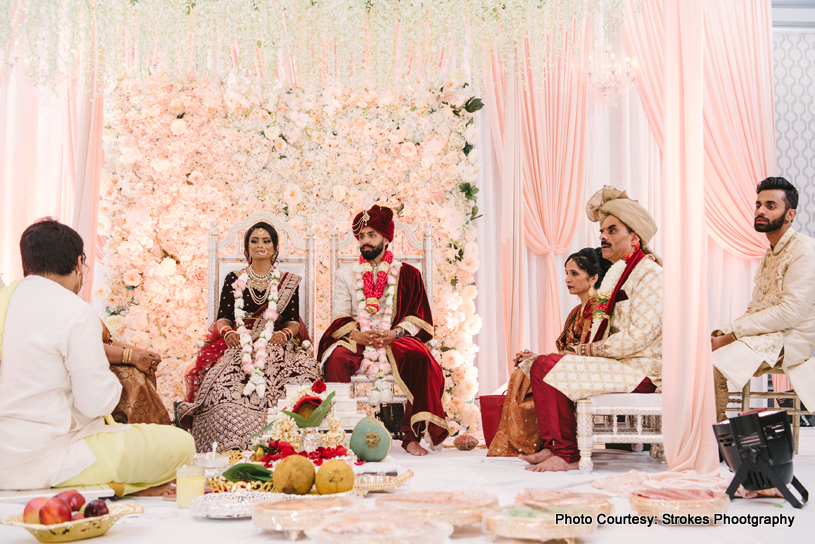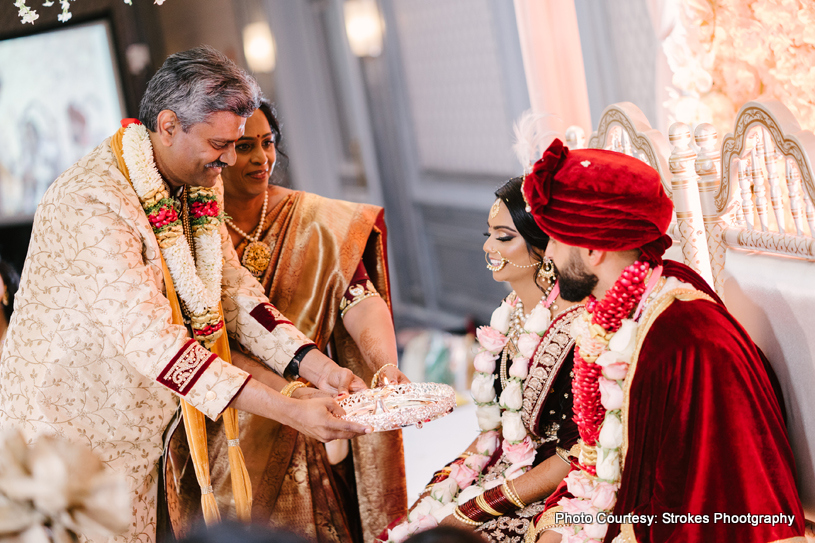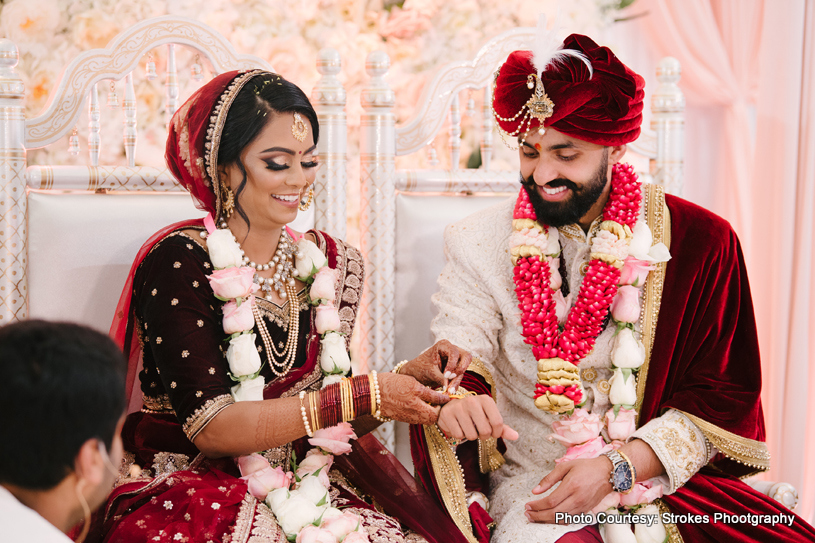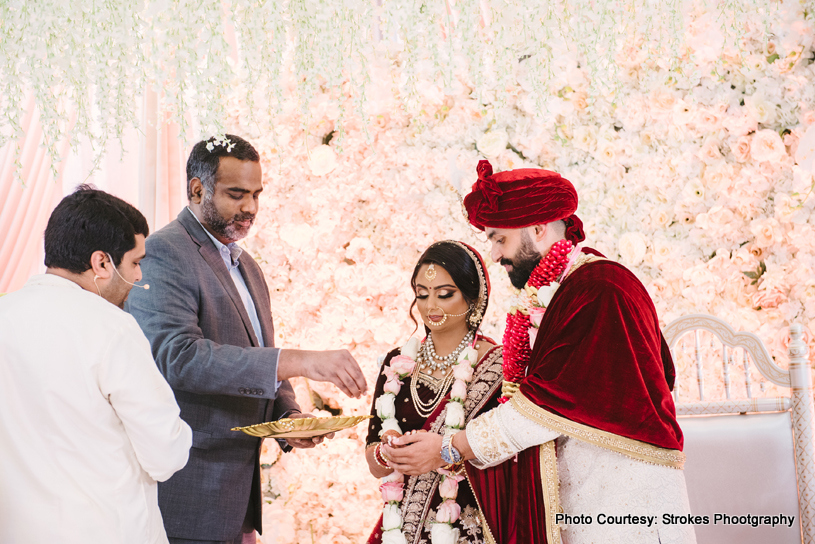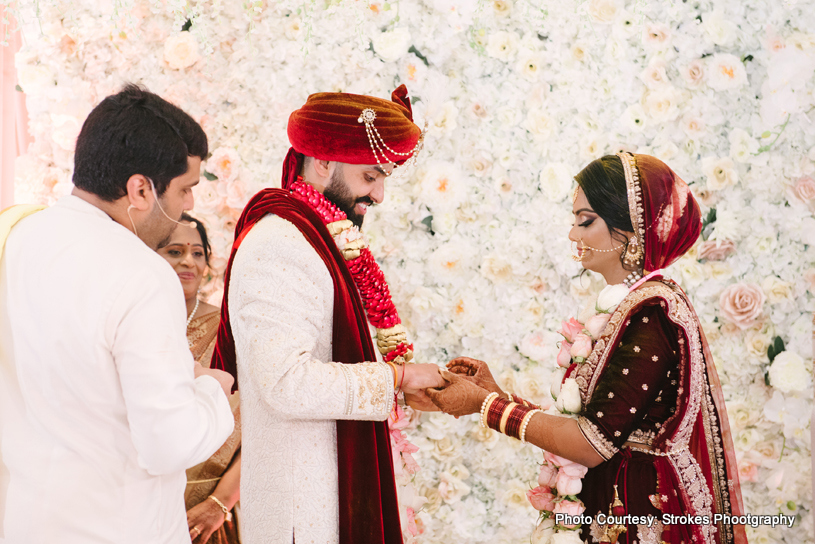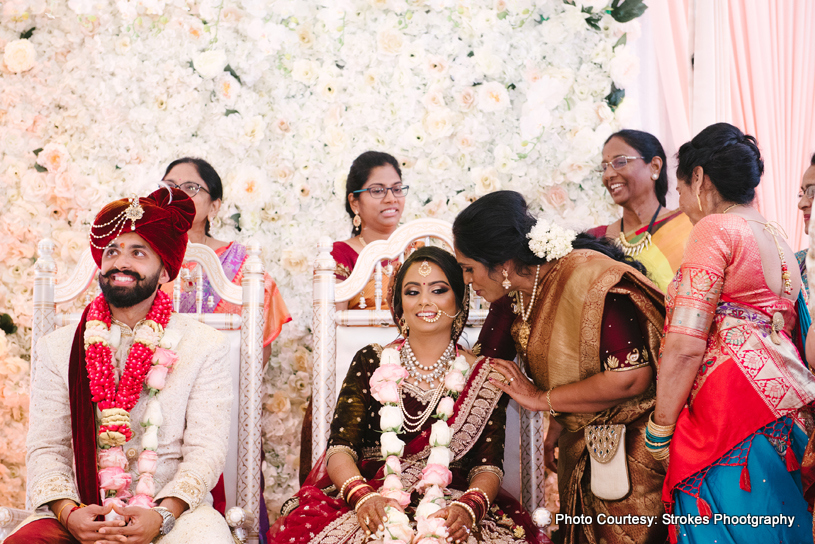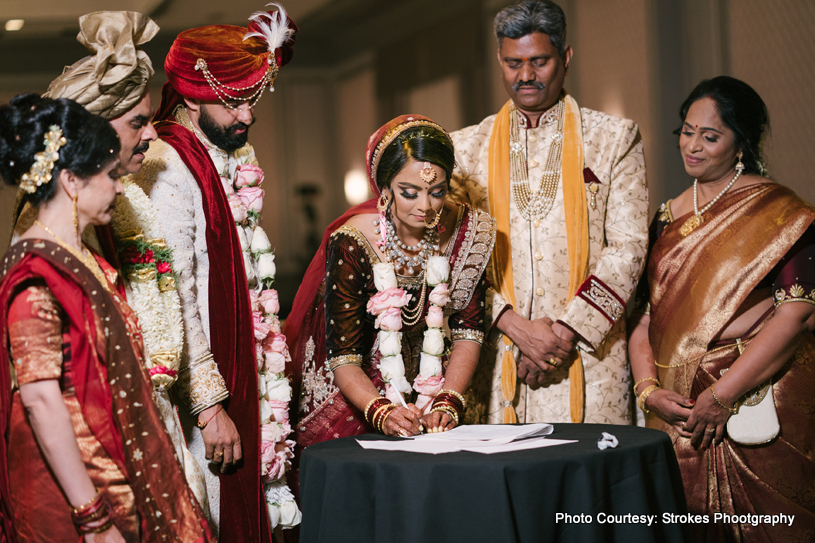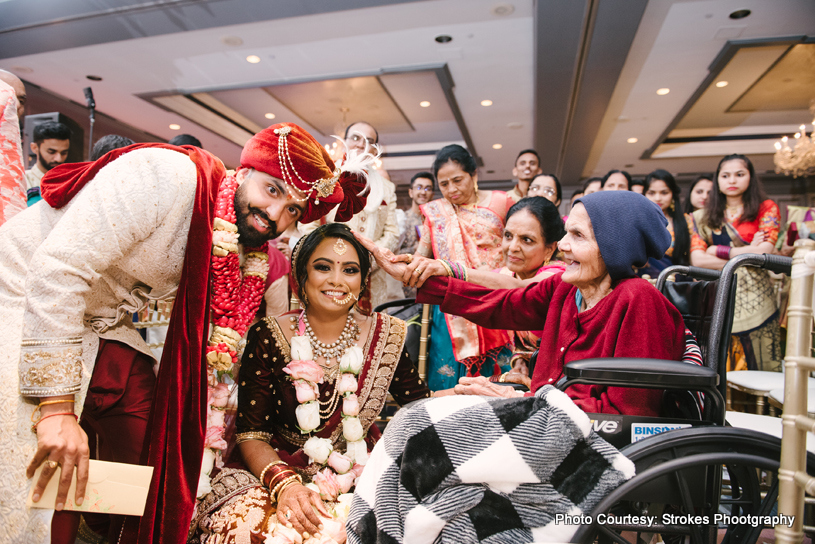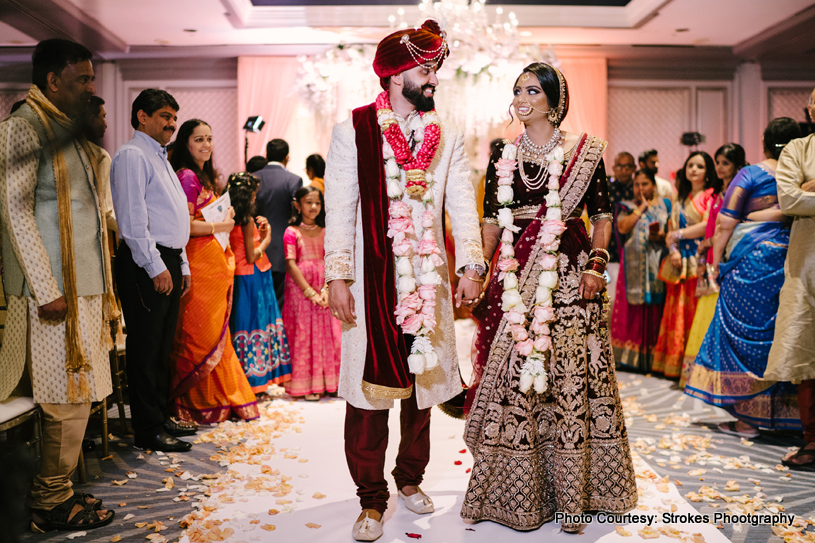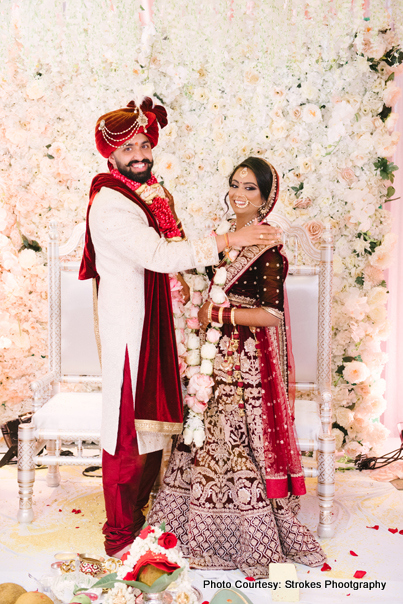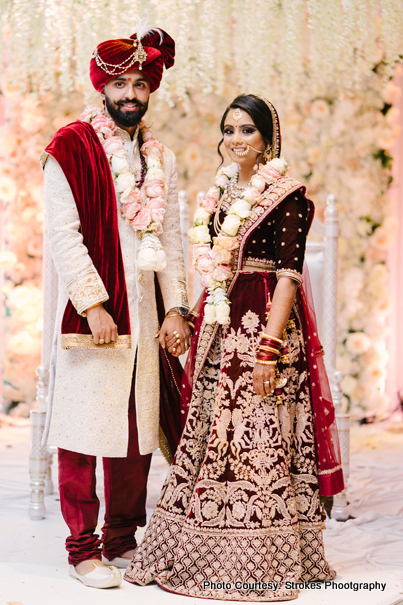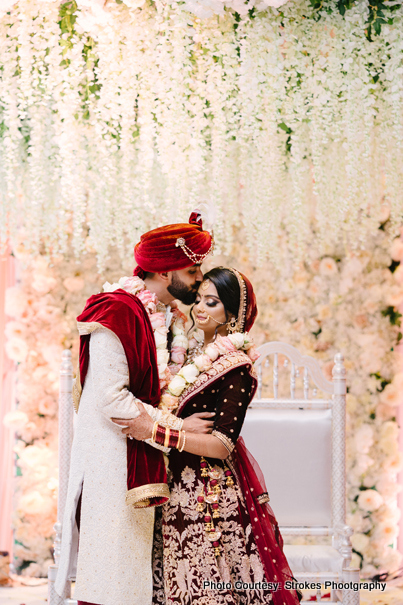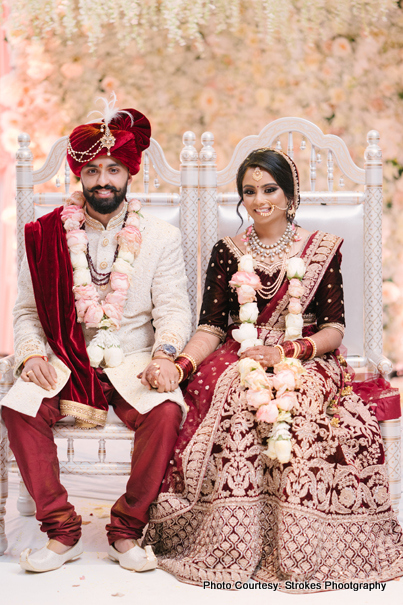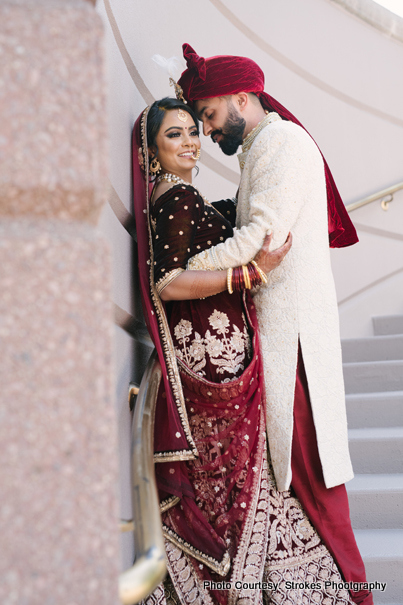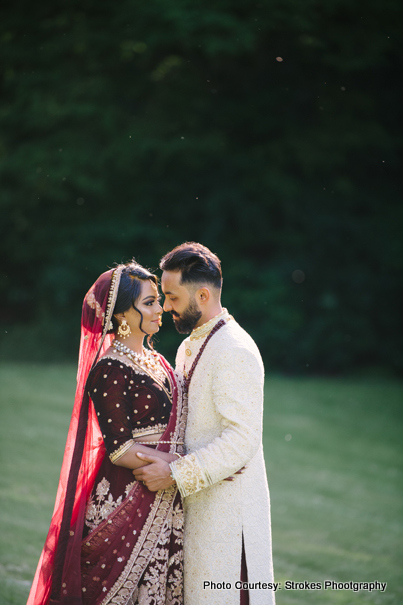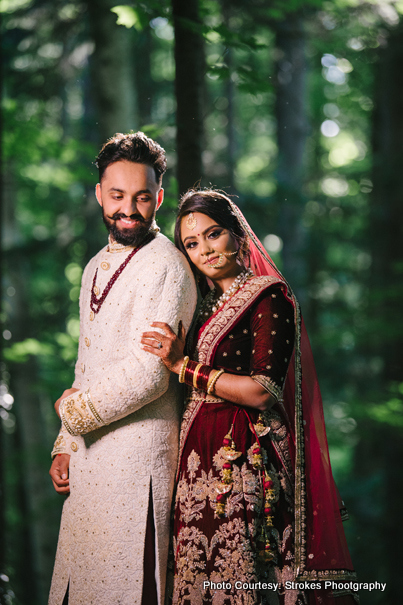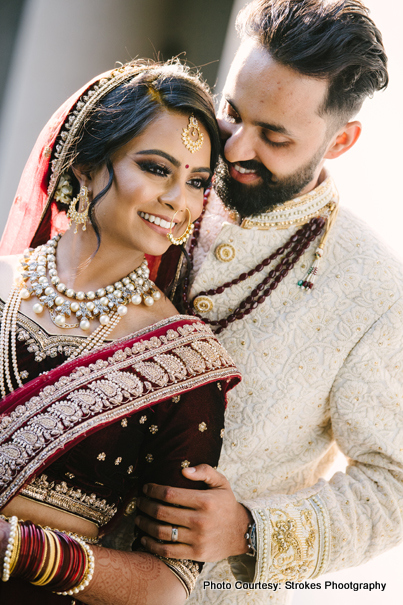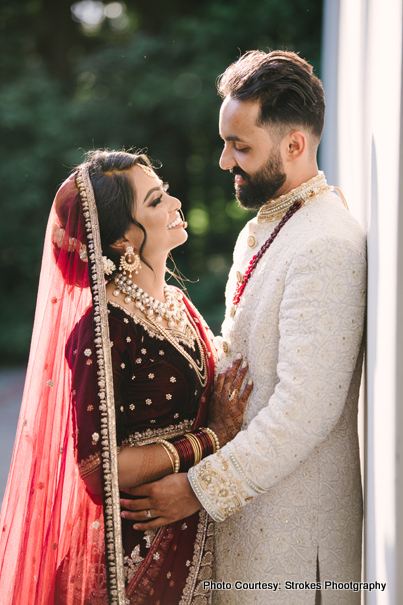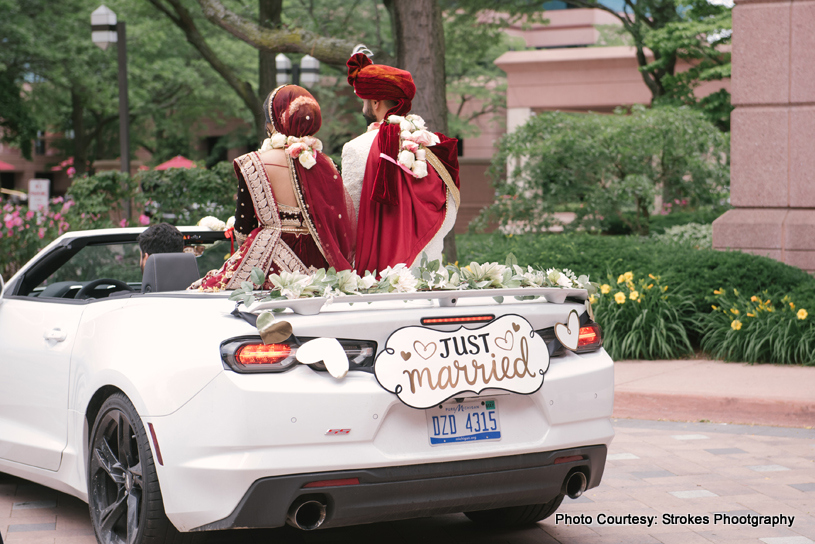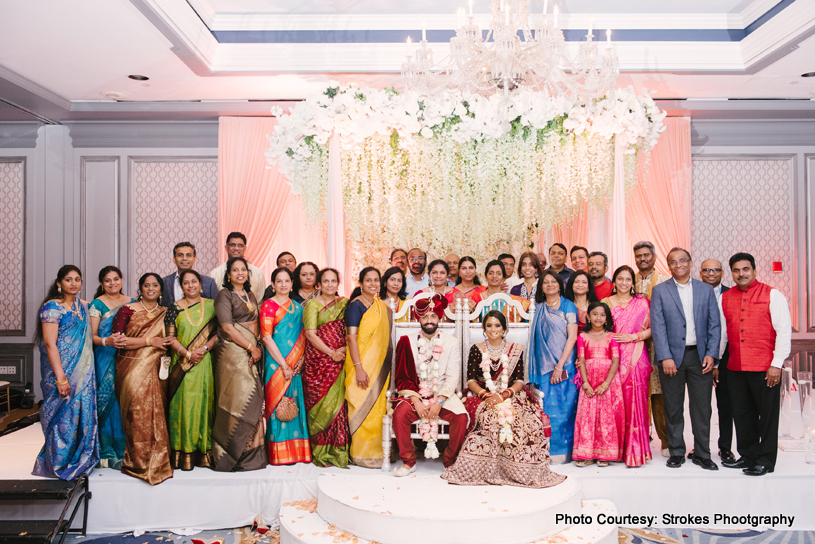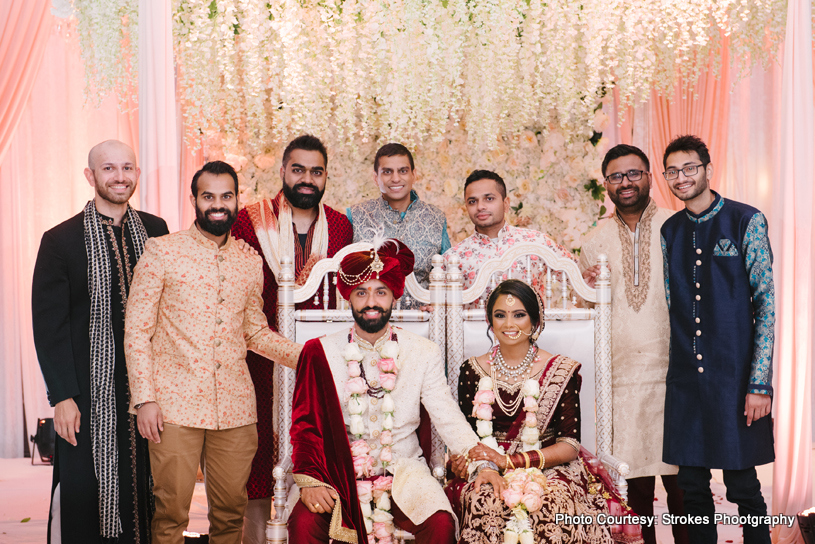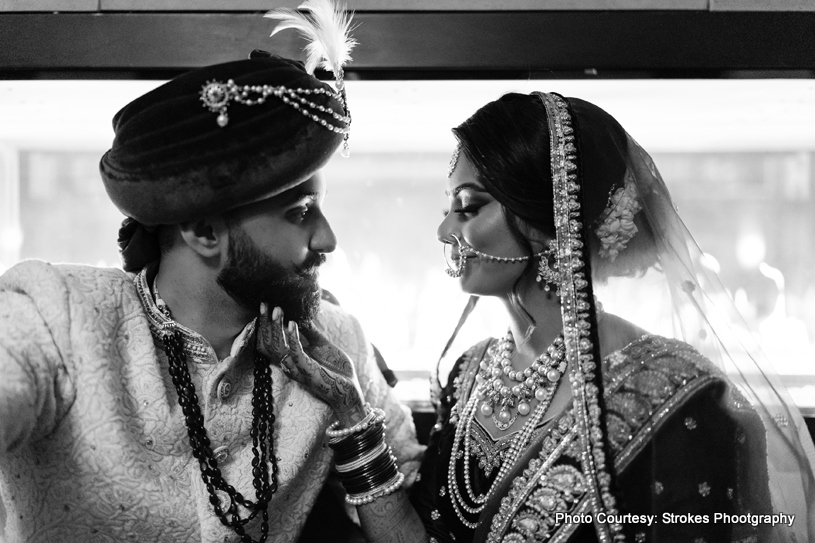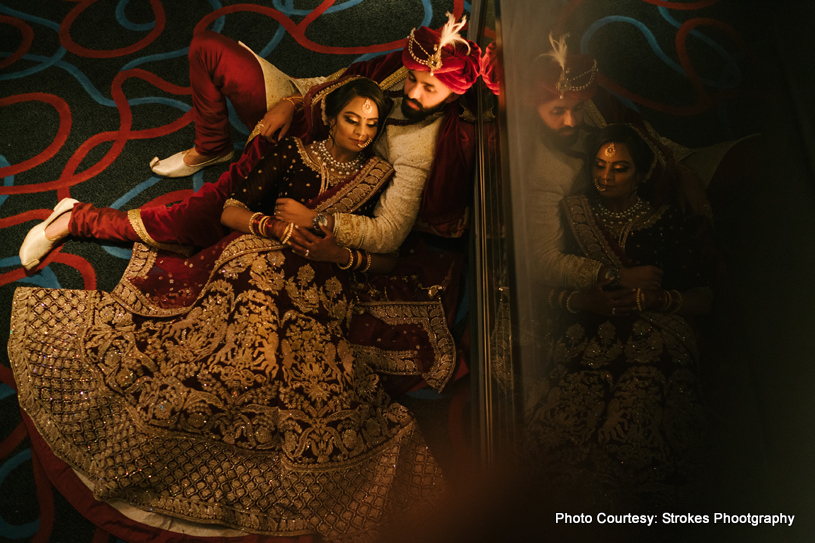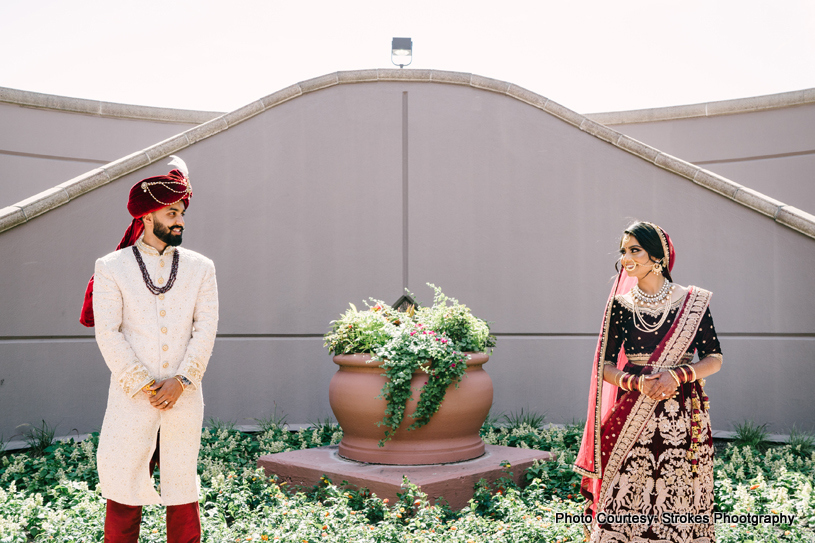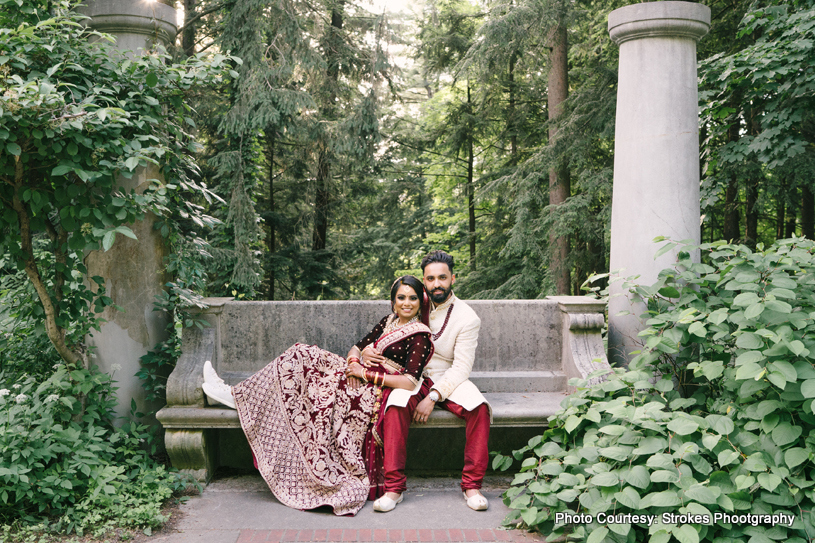 Navya Talluri
Nikhil Patel
Wayne University of Michigan
Trip to Thailand
Wedding Proposal Ideas
Indian wedding planning
Indian Wedding sangeet night
Garba music Provided by DJ ICE & FRESH
Indian Wedding Ceremonies
Wedding Banquet halls The Henry Autograph Collection
Wedding planners in Florida Marigold Wedding Planners
Indian Wedding Hair and make-up Specialist Hair by Aysha
Horse Carriage by Ann Arbor Carriage Company
Indian Wedding Henna Beauty by Krupa
DJ Ice and Fresh Indian wedding Disc Jockey
Indian Music DJ by Naveen Productions
 Indian Wedding Photography by Strokes Photography
Indian Wedding Videography by Capturing Arts
Indian wedding Priest Prasad Bhat
Indian Restaurant Ashoka Indian Cuisine
Indian Wedding Catering Taste of India Suvai