Pandit Jasraj: The Voice of Indian Classical Music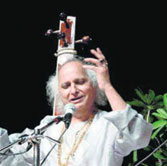 On a hot and stifling summer night in Delhi, a vocalist started singing the raga, Dhulia Malhar. The moon was shining full and bright, but the weather was unbearable. While the singing progressed, nature seemed to get involved too. Dark clouds began gathering and before the audience could applaud, loud thunderclaps were soon followed by pouring rain. It was as if the heavens were moved by the intensity of the singer invoking the monsoon through the Raga Mallhar! It is not without reason that the internationally acclaimed film-maker Ismail Merchant once said, "If you want to experience being with God, listen to Panditji!"
Yes, we are talking about the contemporary doyen of North Indian vocals, Sangeet Martand PANDIT JASRAJ, who needs little introduction. The voice of Jasraj is simply one of the most delightful sounds in all of music. It is an exquisite synthesis of air and earth, projected with the fluidity of water, and the intensity of fire. The depth of his spiritual immersion in presenting ragas and his intellectual imagination in developing ragas is matched by precious few among Indian instrumentalists of contemporary times. Strewn across nearly seven decades, lie indelible memories that glisten with pearls of wisdom, bringing smiles or tears to one's face. Moments of wordless wonder or deep despair are recalled, but never to be forgotten, because it is both the joys and the sorrows that have chiseled the life of a man who is the chosen instrument of God. For that is just what the Lord Krishna once said to Panditji in a dream: "Jasraj, you must sing. Sing for me. Your prayers reach me faster on the wings of your music!"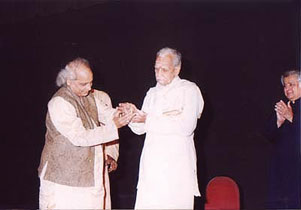 Jasraj was born in Hissar, in Haryana State, on January 28, 1930. He was the youngest son of Pandit Motiram and grandson of Pandit Jyotiram, both exponents of the Mewati Gharana of the Indian Classical Music. The legend's introduction to singing was initiated while listening to the soulful strains of gazals sung by Akhtaribai Faizabadi, now renowned as Begum Akhtar. He was six at the time and spellbound. All he knew was that he wanted to sing. Ironically, after a brief initiation into vocal music, Jasraj opted for the tabla under the training of Pandit Pratapnarayan. This was merely a decision taken to create an additional means of livelihood in order to lighten the burden of family responsibilities that were thrust by the sudden demise of Pandit Jasraj's father in 1934. However, a career as percussionist ended for Jasraj quite abruptly, and he decided to take up singing after being derided by a senior musician for beating a dead animal's skin and therefore utterly unqualified to talk about the finer points of music.
In the year 1944, the family suffered another setback when elder brother Sangeet Mahamahopadhyaya Pandit Maniram lost his voice, thus making it evident that the family also lost its sole means of survival. It was then that Maharaja Jaywant Singhji Waghela of Saanand, himself a gifted and scholarly musician of the Mewati Gharana, took the family under his wings. After gaining back his voice, Pandit Maniram began training Jasraj as a vocalist. Jasraj was also guided by the spiritual influence of Maharaja Jaywant Singhji Waghela of Saanand, thus beginning his vocal and spiritual journey.
Through rigorous training, Pandit Maniram ensured that Jasraj carried on the proud legacy of Mewati Gharana started by Ustad Ghagge Nazir of Jodhpur. Today, the fact that it remains preserved through ensuing trials is in itself a testimony to the sheer grit and determination that has gone into its preservation. Pandit Jasraj, who has kept it alive to enthrall and exalt our spirits today, is its voice, making sure that the future generations will imbibe its qualities and take it to greater heights.
Endowed with a voice that is his fortune, Jasraj has harnessed his talent and genius into a style of his own. His singing is marked by depth of feeling and sensitivity of temper – the kind of music that grips the ear and the soul alike. The charm of his expression marks him as an "artiste par excellence." His alaps are deeply communicative while his boltaans speak of his fecund imagination. To this he adds his playful sargams and sprightly taans. The impact is abiding. In the years to follow, Pandit Jasraj gradually climbed the ladder of recognition and fame through measured steps one after another. His first ever public concert came in 1952 before King Tribhuvan Vikram of Nepal. It was followed by the first performance at a conference in Kokata in 1954. In a landmark year, 1959, Jasraj performed an incredible six hour non-stop rendition in a duet with older brother Maniramji, simply as a result of public demand.
Pandtit Jasraj's resolved not to marry until he performed at the Radio Sangeet Sanbmelan. In 1962, his dream came true, and he married Madhura, daughter of V. Shantaram, the pioneer of Indian Cinema, only after he participated in the Radio Sangeet Sanmelan in 1960. From 1960 to 1975, Jasraj became a regular performer at the Tansen Festival at Gwalior. In the meantime, Jasraj continued to perform at different prestigious venues and conferences, and he got much needed recognition while rendering his music before an august company that included gathering including Ustad Bade Ghulam Ali Khan, Ustad Amanat Ali-Fateh Ali, Prasun, Meera Banerji, Nasir Ahmed Khan , A.T. Kanan and most importantly, Pandit Omkarnath Thakur.
Pandit Jasraj rose to stardom in the seventies, offering a totally new approach to classicism with an arresting, haunting melody, a soft, velvety tonality, a delicate, filigree-like clusters of ornamentations, a sensual languor in phrasing, and an overall sheen of romanticism. His style captured the imagination of a new generation of listeners who were alienated by the robustness of the classical approach. In 1975, he received the Padmashree award from the Government of India, and in 1976, he was given the title Sangeet Martand. The next year marked the beginning of his conquest across the boundaries of India, and he went global with his music.
Although every performance by Pandit Jasraj can be deemed as original, he is the originator of a most unique concept that will go down in history as the work of a genius and as a great contribution to Indian music. A novel Jugalbandi (duet), which finds inspiration from the ancient system of moorchanas, is the Jasrangi. The Jasrangi is a sensuous fusion of the 'Purush (Male) and 'Prakriti' (Female). It is a harmonious blend in which a male and female singer, each with individual accompaniments, sing different ragas at their own respective scales, interweaving them into a wondrous whole.
Not content with the tried and the tested, Pandit Jasraj has not only created over a hundred bandishes, but has also traversed the uncharted path of singing Sanskrit verses authored by eminent philosophers like Adi Shankaracharya, Vallabhacharya, Chaitanya Mahaprabhu and Swami Vivekanand in pure Hindustani classical style. They have veritably created a major spiritual revolution in classical music. Today, he sings ancient Sanskrit compositions with great ease. His inimitable devotional quality of singing together with the sanctity of the Sanskrit verses creates a highly charged atmosphere of the divine. His deep research in Pushti Margi Sangeet/Haveli Sangeet (Traditional Temple Music of the Vaishnav sect), under the guidance of Shyam Manohar Goswami Maharaj has given the music world some rare and inspired compositions.
Perfect diction, clarity of sur and command over all aspects of laya are other highlights of his music. He pays great attention to the choice of the composition as well as the words. This sensitivity together with his pure classical approach has given his music a lyrical quality which is the quintessence of the Mewati style of singing.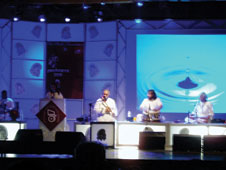 Another dimension of Pandit Jasraj's variety of vocal explorations is the manner in which he renders bhajans. He has raised the bhajan and the stotra from the level of an add-on in a classical concert to an independent musical genre, which enhances music itself and infuses life into the mystical lyrics of the past. He has merged classical values and structures with the rich spiritual ethos and literature of India, thus making difficult Sanskrit texts highly accessible to the audience through his efforts.
In line with the quality of his work, Pandit Jasraj has received tremendous adulation and accolades from all parts of the world. Few Indian musicians have been so celebrated as Pandit Jasraj. Fewer still have been celebrated the way he has been both in his own country as well as abroad. In India, the most notables among titles and awards are Padma Vibhusan, Padma Bhushan, Padmashree, Sangeet Martand, Sangeet Kala Ratna, Sangeet Natak, Maharashtra Gaurav Puraskar, and Dinanath Mangeshkar awards. In fact, each and every state of India has felicitated and bestowed one award or another on Pandit Jasraaj for his contribution to the field of music.
Overseas, the University of Toronto has honored Pandit Jasraj with its highest award, the "Distinguished Visitor Award" making Panditji the first ever to receive it in the 200-year history of the University. A Scholarship has also been instituted by the University of Toronto in the name of Pandit Jasraj for young deserving students of Indian music. Harvard University Art Museum together with Kalawati (a wing of the University) of the United States as well as Bharatiya Vidya Bhavan of London has also honored Panditji. He is even bestowed with the American Academy of Artists Award.
Another very important contribution of Pandit Jasraj in propelling the charm of Indian classical music across frontiers has been the establishment of his music institutes in the United States. After being inundated with requests from American music lovers, Panditji along with his favorite disciple Pandita Tripti Mukherjee, opened the Pandit Jasraj Music Academy on an experimental basis in New Jersey. The main goal of the Academy was to introduce music lovers to the rich treasure of Indian classical music, with a focus on the Mewati tradition.
During 1995 – 1999, Pandita Mukherjee primarily conducted music classes at two locations, New Jersey and Pittsburgh, while Pandit Jasraj visited the institutions on a regular basis. Considering the growing need as well as a deep commitment to music exhibited by students, especially in New York City, Jasraj decided to put the experimental music academy on a firm footing. In 2000, the Pandit Jasraj School of Music Foundation (PJSMF) was officially registered in the state of New York.
Later, after witnessing an emerging trend among a segment of students interested in musicology and research related to the theoretical foundation of Indian music, Jasraj felt a the nuances and actitivies related to Indian classical music should be brought together. In 2006, the organization was renamed as the Pandit Jasraj Institute of Music for Research, Artistry and Appreciation – the Mewati Gurukul (PJIM). Today, PJIM, located in New Jersey, New York and Pittsburgh, Pennsylvania, is under the guidance of Sangeet Martand Pandit Jasraj and Pandita Tripti Mukherjee. Jasraj continues to foster the preservation, growth and teaching of Indian classical music in the tradition of Mewati Gharana. Through this, the institute and its members will carry on the legacy of Mewati Gharana, along with the rich cultural traditions and values of India.
Through history, artists who have left the most indelible imprints on the sands of time have been innovators, ones who have dared to strike their own paths, to explore possibilities, stretch the seams of what is believed to be sacrosanct and holy. Pandit Jasraj is an innovator, an artist who will be remembered and emulated by future generations for his contributions to musical thought.