Ritu Linhart's Vanyatra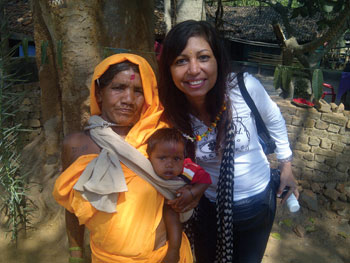 I attended the 2012 Ekal Global Learning (EGL) Tour in Raipur with a group of about twelve people in February 2012 and am jumping out of my skin to share my wonderful experience. We were heartily welcomed with garlands and bouquets by the Raipur Ekal chapter as soon as we arrived at the Raipur airport and whisked away to ShardaJi's gorgeous home for a meet and greet session and an elaborate lunch. As we drove through Jagadalpur, Imliparagaon, and other small towns and villages, I visited Ekal schools, talked with the students, spent time with the teachers, interacted with the villagers, and felt such a sense of joy and fulfillment at the work Ekal is doing, that it's hard to put it down on paper. The students eagerly participated in the lesson being taught, answered questions, and felt proud to show off their drawings to me and the other visitors. One student's excitement soon spread to all the students like wildfire as he whipped out an elaborate scene of a village hand pump on his slate with a chalk in a matter of seconds! When the other students saw me take a picture of his drawing, they all started bringing their own artwork to me to be photographed. They sang such beautiful rhymes and songs accompanied with dance that I couldn't get enough of it. I wanted to learn the words myself and sing and dance along with them.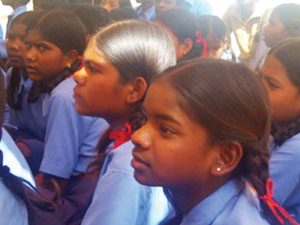 At the teachers' training camp in Jagadalpur, I was once again overcome with emotion as we sat shoulder to shoulder on the ground with the young teachers (girls) who had gathered together from 30 neighboring schools to undergo training. At first, they were shy, but it didn't take long to warm up as they started sharing personal stories that brought tears to our eyes. When we asked them what their motivation was for teaching at an Ekal school for such a minimal stipend, they all replied that they wanted to contribute to the development of their village and its children through education. They stated that money was not a vehicle that brings joy, helping others is. How shocking to be reminded of this by people who have so few material possessions to begin with! When asked how their role as an Ekal teacher has impacted their families, one young teacher replied how it caused her father to stop drinking alcohol. She shared with us that Ekal taught her to recite a prayer before meals, so when she started doing that at home, and her father would have alcohol with his meal, she would ask him to put it away. She said that he protested initially and even hit her a few times since she stood firm on her convictions and didn't give up. Finally, as she persisted and stood her ground, asking her alcoholic father to not drink alcohol as she said her prayers during dinner, he got the message and gave up drinking. She felt relieved to see her mom and siblings not being hit by her dad regularly. This young teacher taught me a very important life lesson this day – stand firm for your beliefs and never give up, even in the face of abuse and adversity. The warmth and love exhibited by this young group of teachers left me longing for more interaction with them, but due to time constraints, we had to move on along. They all eagerly came out and gave each of us long bear hugs as they asked us to come back again soon.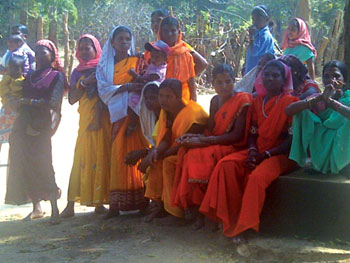 I was able to perform puja at an Ekal traveling temple called Rathyatra that traveled to different villages that do not have any temples of their own. This was a very special moment for me since the puja was conducted by an Ekal volunteer and the villagers came with their thalis and diyas as if they had anxiously awaited this day for a long time. I was already starting to see glimpses of Ekal as a movement that meets all the needs of the villagers, including their spiritual and social needs and not just an organization that provides education to children. Child after child told me that their aspiration in life was to be an Ekal teacher. Ekal teachers served as positive role models to these young children who couldn't imagine being anything else but an Ekal teacher!
Then we visited another village where the villagers greeted us with teekas, garlands, and singing and dancing. They had prepared an 8-course luncheon for us that they lovingly served to us on peepal leaves as we sat on the ground and savored every dish. It was surprising for me to note that every evening my stomach would hurt and I would feel ill well into the morning not eating dinner or breakfast, but as soon as I interacted with the Ekal students, teachers, trainers, or villagers, my stomach-ache would disappear instantly and I would devour the village food, including all the peppers and the local spicy condiments. I found out later that the items used to prepare the food for our group actually came from several surrounding villages where each villager was asked to voluntarily contribute something towards this village-wide event so that they would all feel a sense of unity in organizing such an event and welcome Ekal volunteers and supporters into their village with open arms. I was very touched by this well-thought out Ekal strategy to unite villagers and to instill in them a sense of pride and joy as they worked long and hard to prepare food to welcome foreigners into their small isolated village whereas they would have otherwise felt threatened by us.
In this village, I met a very thin, petite, and beautiful young girl who traveled from village to village providing healthcare training to other young girls. An Arogya Sevika, she shared that she would going to a village 30 kilometers away the next morning. When I asked her how she planned on getting there, she said by foot. Already shocked to hear this, I asked if there was a whole group of people going there together, but she confidently said no, she was going there all by herself. When I asked her if she was scared to be traveling such far distances all by herself, she proudly informed me that is how she felt before she became involved with Ekal. She shared that the training provided by Ekal had given her so much self-confidence and pride in the service she provided to others, that fear never even crept into her mind any more. She told me that she was not scared of anyone or anything and could take care of herself at all times. What an exemplary spirit she was! She definitely left a mark on me forever and showed me what the term "liberated woman" actually meant. I commended her for not only the great service she was providing to her fellow villagers, but also the great role model she was being for other young village girls!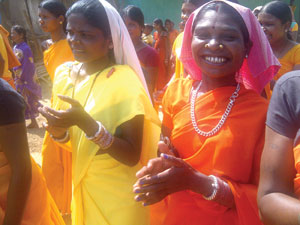 The title of this EGL Tour was "Transformation Through Awakening." When I started this tour, these words had a totally different meaning for me than when I ended the tour. I expected to see a transformation of the villages and their villagers through awakening as a result of the education provided by Ekal schools, but little did I know that this title had a much deeper meaning than I had ever imagined. The EGL Tour actually resulted in my own transformation through an awakening that could have only take place via this unique experience. I felt the soul of real India as I traveled from one place to another, meeting the hundreds of selfless Ekal volunteers who had dedicated their lives to this great cause without any expectations in return, talking with the villagers who did not even speak my language but shared in the common language of love, and feeling so immensely proud to be part of such an amazing grass-roots movement. The love and dedication I now feel towards my birthplace and homeland India is indescribable and immeasurable. I am honored to be part of such an amazing movement that has succeeded in transforming my own life totally.
About the Author
Ritu Linhart has been a devoted volunteer of the Ekal Vidyalaya movement for the past 12 years. She attended the University of Florida and Auburn University, where she obtained her degrees in Chemical Engineering. She is an Adjunct Professor of Chemistry at Barry University as well as an Instructor of Chemistry and Physics at Coral Glades HS. She spends her summers conducting cutting edge scientific research. Last summer, Ritu worked on the electronic upgrade of the hadronic calorimeter (HCAL) of the CMS Detector (used to detect the recent Higgs boson discovery) at CERN in Geneva, Switzerland.