Sangeetha and Saeid
Seaside and beaches played a very special role in the relationship of Sangeetha Ramkumar and Saeid Kazerooni. They got engaged in Hawaii and tied the knot in Miami both being the destination of the romantic couples. It was on the 11th of July 2021, they tied the knot with the blessings and best wishes of family and friends. 
Sangeetha and Saeid met at a party in 2015. There was an instant connection between the two and hence they kept in touch and gradually grew closer. Finally, Saeid proposed in March 2021. They went camping in Makalawena beach in Hawaii and proposed to her lady with her favorite emerald ring, sitting on a rock.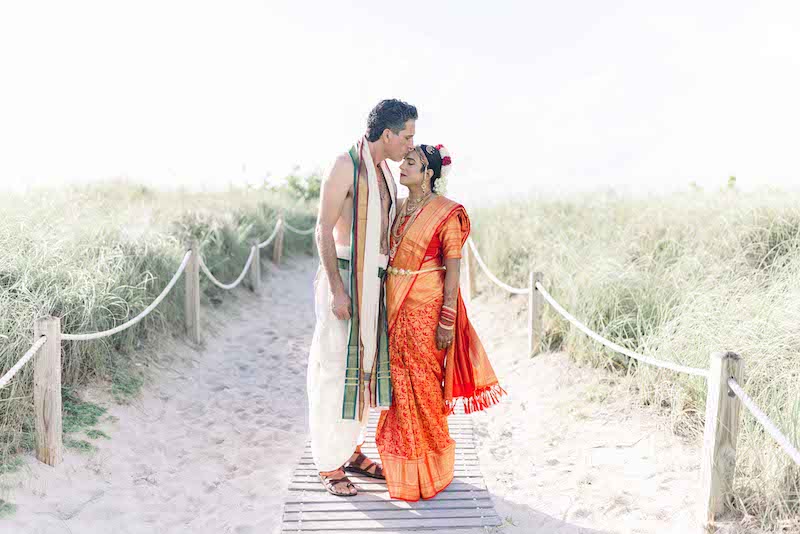 They decided to get married on July 11th 2021 in Miami. The place was chosen exclusively for Sangeetha's 96-year-old Grandma who lived there and won't be able to join the marriage elsewhere. 
Mehndi and Sangeet were clubbed into a single event and celebrated in Venetian Lady Yacht on 10th July. The starry sky of Miami cast a magical spell on the entire event. In tune with the sky, the décor was simple and comprised of white linen, blue carpet, white lounge furniture, bistro lights and centerpieces of white roses, with ostrich feathers and pink rose accents. The guests were served champagne and the yacht was divided into Mehndi corner and dance show for Sangeet. Sangeetha's favorite Gujarati food was served. 
Marriage had the feel and flavour of traditional south Indian marriage. Due to rain on the previous day, it had to be shifted inside the Americana ballroom of the Loews Hotel in Miami. But the wedding planners, décor company and Saeid did a fantastic job of creating the customary venue inside. 
It had the garden theme, banana tree, red flowers, off white background with gold touches and the usual loud cheers of the invitees as in Indian marriages. Sangeetha was so happy and finally, she broke into tears of happiness and fulfilment when her grandmother blessed them. The relentless efforts of Sangeetha's family made the event beautiful and smooth, signalling a happy life for them.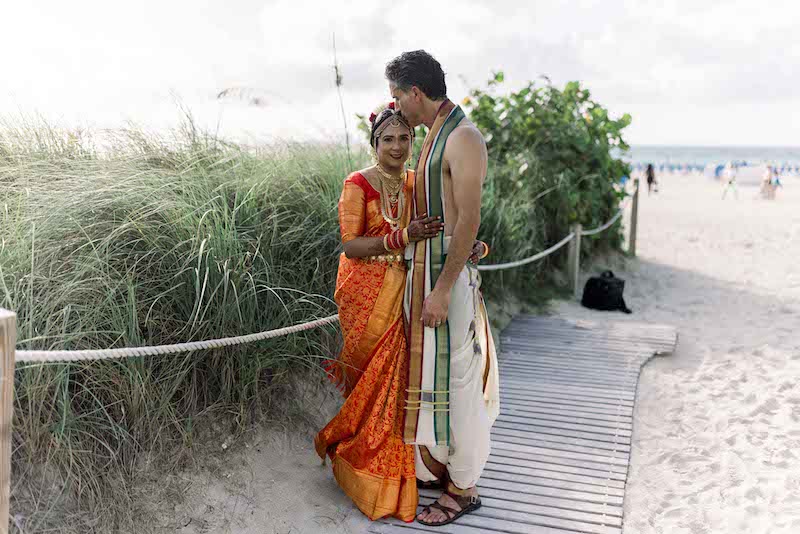 BANQUET HALLS : Loews Miami Beach Hotel – 305 604-3918 | BEAUTICIANS : Beauty by Z – 786-473-7806 | CAKE : Earth and Sugar – 561-225-1260 | CATERING : 5th Element Indian Grill – 954-977-4334 , Maa Vimla Catering – 407-408-603 | DECORATOR : JRN Events – 561-451-5824 | EVENT PLANNER : Elite Dream Creations – 407-733-2597 | MEHNDI : Beauty Cafe Salon – 954-274-5306 | DISC JOCKEY : DJ MAHA – 908-770-8198 | PHOTOGRAPHER/VIDEOGRAPHY : Haring Photography – 786-444-9743 | PRIEST : Priest Phanikumar K Pidaparthi – 404-944-6366