Sharon Weds Ankit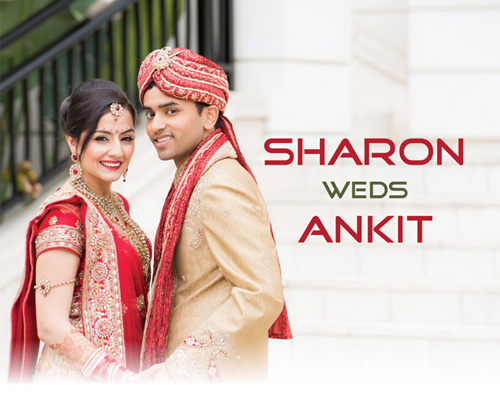 Sharon and Ankit's story is one where friends grow to fall in love and soon become soul mates. This is the kind of love anyone would be blessed to have, for in this relationship you will find the greatest support, strength, and sense of belonging. After years of being together, Ankit took Sharon to a quiet island, where a tent with a dazzling diamond ring awaited her.
Ankit and Sharon were engaged for a year and a half before the wedding, as Sharon wanted to find the most auspicious date. After all, this was the most important day of her life, and it needed to be just right!
Friends and family readily jumped in to help in any way they could, while also allowing Sharon space to manage things her way. The couple also worked with several professionals to deal with details and ensure their dream wedding would come to life. Sona Photography and Riant Films captured each and every special moment so that the wedding would never be forgotten. Khasiyat catered to every palette and served an unforgettable first meal to the newlyweds. And even Adi brought every event to life with his energetic dhol!
The Omni Orlando Resort was the chosen venue for the wedding. Suggested by Sharon's father, it was ideal not just for its look and ambience, but also since it made for a great getaway for both families, who could enjoy a little vacation while attending the wedding.
The sangeet was a mix of Gujarati and Punjabi flavor. Traditional in its setting, the venue was highlighted in pinks and greens. Food stations were decorated to showcase their cuisine, and little lanterns and candles were chosen over flowers, uplifting the mood and the ivory linen beautifully. Music was a combination of Gujarati and Punjabi styles.
The wedding was held indoors owing to unpredictable Florida weather and was a day affair. A gold mandap without any pillars with bright pink and orange drapes was set up. Elephant idols were stationed at the end of the aisle, with petals and candles added for greater effect. Orange and pink also reflected in most of the floral arrangements used. DJ Pram played songs of choice for the special select moments. The bride and groom left in a Cinderella horse carriage, a wish Sharon had long harbored.
The reception was all about style and class. With a blue and silver the predominant theme, several elements were personalized, including the favors. Elaborate floral arrangements, candles, gobos, and pillars were set up to perfection.
The wedding went off without a hitch, so all this left for Sharon is to let the realization of being married set in, and enjoy a beautiful life ahead.
Photos Courtesy:
Sona Photography
407-694-6032
www.sonaphotography.com

Vendors

BANQUET HALLS
Omni Orlando Resort At ChampionsGate
407-238-6547
www.omnihotels.com

BEAUTICIANS/COSMETICIAN
Bridal Make Up by Jigna Patel
813-493-0625
kau_jig@yahoo.com

CAKE
Party Flavors Custom Cakes
407-578-2082
www.orlandocustomcakes.com

DECORATOR
Nikun Events
407-448-7128
www.nikunevents.com

DISC JOCKEY
Rang Entertainment
941-545-8509
www.rangentertainment.com

EVENT PLANNER
Rtti Couture Weddings & Events
813-728-6274
www.ritticouture.com

FLORIST
Nikun Events
407-448-7128
www.nikunevents.com

HORSE AND CARRIAGE
Downtown Horse & Carriage Inc
561-723-4704
www.downtownhorseandcarriage.com

Pinto Carriage Works
904-222-5272
www.pintocarriageworks.com

MEHNDI
Bridal Make Up by Jigna Patel
813-493-0625
kau_jig@yahoo.comSangita Patel
407-257-3271
www.spbridalservices.com

MUSICIAN
Harps Unlimited
407-352-5950
k.attanasi@yahoo.com

PHOTOGRAPHER
Photo Mingle
321-446-4564
www.photomingle.com

Sona Photography
407-694-6032
www.sonaphotography.com

PRIEST/WORSHIP SERVICES
Ramesh Mehta
813-661-6297
namasteamerica1@gmail.com

RESTAURANT/CATERING
Aashirwad Indian Cuisine
407-370-9830
www.aashirwadrestaurant.com

Bombay Grille
321-446-1556
ksvn54@yahoo.com

Khasiyat
407-888-2147
bhanuchavda13@yahoo.com

VIDEOGRAPHY
Riant Films
407-603-6955
www.riantfilms.com

Sharon Weds Ankit