Soni Razdan Reacts Strongly To Nepotism Backlash Alia Bhatt's Facing After Sushant's Death
The untimely demise of the "Kai Po Che" actor Sushant Singh Rajput has re-incited the controversy about nepotism, lobbying, favoritism and prejudice in Bollywood on social media platforms. Numerous entertainers, directors, dramatists, playwriters, and other emerging actors have come out to recollect the brutal verity of Bollywood after Sushant's demise.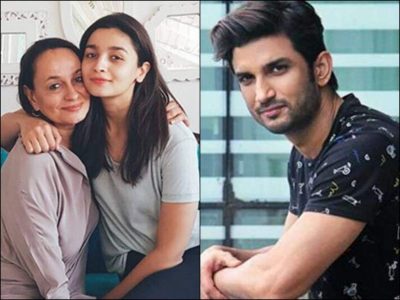 The internet is bombed with furious allegations and comments for the likes of Karan Johar, Sonam Kapoor, Salman Khan, and Alia Bhatt among others. The uproar over nepotism incited by Sushant Singh Rajput's death has also taken an enormous price on the Instagram followings of Alia Bhatt and Karan Johar. In decree to keep trolls at bay, Karan, Alia, and Kareena Kapoor Khan have also restricted the comments section on their Instagram and other social accounts. 
However, Alia's mother has something different to say. Alia's mother Soni Razdan has acknowledged the online fury and outrage against the youthful actress. Soni has asserted that the same population who are "ranting" about the problem in hand today will endorse their children if they want to enter the film industry.
Razdan claims that the conversation about nepotism should be broadened and the merit and finesse of the actor should also be taken into account. The same has also been stated by Hansal Mehta.
Replying to outrageous tweets, Razdan has also tweeted back by saying, "The expectation that people have because of whose son or daughter you are is much more. Also, those who are ranting about nepotism today and who have made it on their own will also have kids one day. And what if they want to join the industry? Will they stop them from doing so?"