The Royal Wedding and the Indian Connection
The Royal Wedding and The Indian Wedding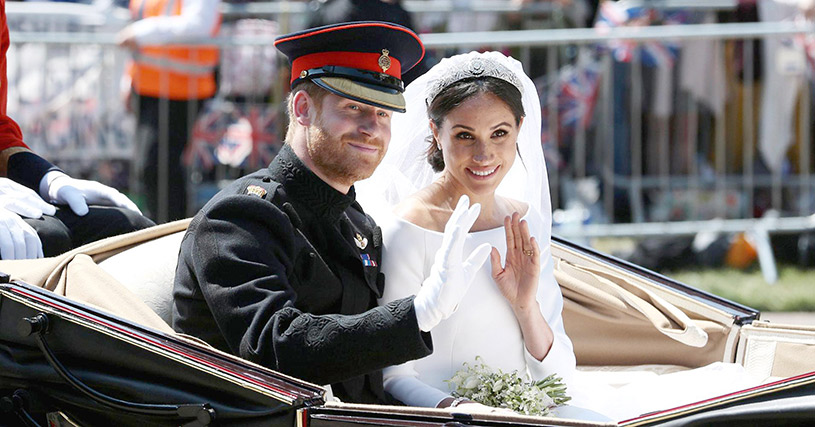 The Royal Wedding and
the Indian Connection
After receiving several emails and text messages suggesting Desh-Videsh should cover the royal wedding of Prince Harry to Meghan Markle, my first reaction was "why?" My views on British colonial rule in India and around the world may be one of the reasons. In the end, given the connections with India and prominent Indians, we would be remiss not to cover this event.
Some of the connections in order of importance include:
Meghan Markle invited social worker Suhani Jalota, founder of Myna Mahila Foundation, from Mumbai along with her foundation members, Archana Ambre, Deborah Das and Imogen Mansfield.
Myna Mahila Foundation is based in Mumbai and is one of seven charities the royal couple has selected for guests to donate money to in lieu of gifts.
Markle visited India after she heard Suhani gave a very passionate acceptance speech at the Glamour College Women of the Year Awards.
And the last and but not least, Bollywood Diva and close friend of Markle's Priyanka Chopra attended the wedding.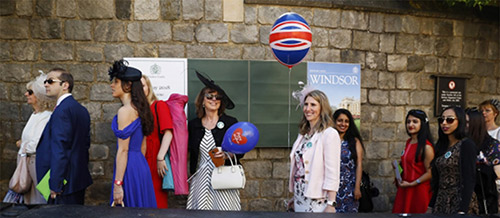 Many have no doubt seen the comments about Priyanka Chopra's dress and hat. One such comment was made by a Milan-trained Art & Design expert – "There is nothing wrong in wearing western outfits, but this outfit certainly didn't do justice to the lovely artist. Besides, trying to be like 'them' Priyanka had a chance to stand out of the crowd and be different. Unfortunately, she looks awkward in the Westwood outfit."
Another fashion expert based in Washington, DC, bluntly stated, "I'd put her among the worst dressed. Simply no imagination. Overstuffed top. Poorly fitted skirt. The hat did not suit her. It made her face look round. The lipstick was the wrong color for daytime, nor did it go with her clothes. What possessed her to go with Vivienne Westwood? You're so right; she looked like a school marm."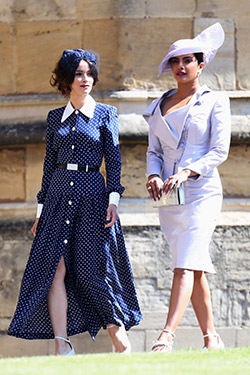 Enough about Chopra's fashion faux-pas – Markle's connection to Suhahi Jalota and the Myna Mahila Foundation are most remarkable.
After her visit to India in March 2017, Meghan Markle wrote a Time magazine article "How Periods Affect Potential," In it she states, "One hundred and thirteen million adolescent girls between the ages of 12-14 in India alone are at risk of dropping out of school because of the stigma surrounding menstrual health. During my time in the field, many girls shared that they feel embarrassed to go to school during their periods, ill equipped with rags instead of pads, unable to participate in sports, and without bathrooms available to care for themselves, they often opt to drop out of school entirely. Furthermore, with minimal dialogue about menstrual health hygiene either at school or home due to the taboo nature of the subject, many girls believe their bodies are purging evil spirits, or that they are injured once a month; this is a shame-filled reality they quietly endure"
While discussing Suhani's Foundation, Meghan wrote, "The namesake of the organization, Myna Mahila Foundation, refers to a chatty bird ("myna") and "mahila" meaning woman. The name echoes the undercurrent of this issue: we need to speak about it, to be "chatty" about it."
In further discussing the Foundation, Kensington Palace said, "The foundation (Myna Mahila Foundation), which aims to offer Mumbai women stable employment close to their homes as well as breaking taboos around menstrual hygiene by offering them access to low-cost sanitary napkins, was chosen by Markle after she saw its work "first-hand" during a visit to India last year."
"The couple have personally chosen seven charities that represent a range of issues that they are passionate about, including sport for social change, women's empowerment, conservation, the environment, homelessness, HIV and the Armed Forces."
"Myna Mahila is more than an employer in Mumbai slums, it was created by women for women and is as such a woman's entrepreneurial project in what is commonly considered to be an unlikely place but is actually full of incredible potential," says the organization's mission statement on their web site.
"It is a great honor and responsibility because I will be a representative of India at the wedding," said Suhani Jalota. "Meghan is sincere and well-researched. When she came to see us, she did not just talk about women's empowerment because it was trendy. She knew her stuff," Jalota said. "She said she would help us in any way she could. We never anticipated something like this would happen. It is an honor to be representing India — I feel so excited. It was a huge shock."
Even though the royal wedding has listed the dress code for female guests as dress and hat, Suhani and her friends decided to wear Banarasi and Chanderi saris to make an Indian splash.
One of the England's local newspaper described Suhani and co-workers as follows,
"These pretty ladies were an epitome of Indian beauty at the ceremony, draped in elegant sarees."
Sanjay Garg, a designer from Raw Mango, who designed the outfit for Suhani and her team said, "The sari is a symbol that is rooted in culture, heritage and history; and with a diverse use of color, textile and motifs, the saris will showcase India's diversity."
Suhani's co-workers Archana Ambre and Deborah Das were totally overwhelmed by the invitation to the royal wedding. Archana said, "It's all like a dream. This was the first time we sat on a plane and it did make me quite emotional."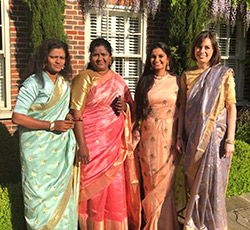 Suhani not too long ago wrote in Glamour magazine about meeting Markle at the magazine's 2016 College Women of the Year awards, where she was being honored alongside 10 other women. "At the lunch, Meghan learned about my work, including that 50 percent of women in India were using unhygienic methods, like old rags and leaves, to manage their cycles," said Suhani. "I didn't know then that I'd struck a chord with Meghan—and that the selfie we took together would lead to so many life-changing events, including, yes, an upcoming royal wedding."
"It will certainly go a very long way in building our credibility and getting our voice heard on a global platform," said Suhani. The foundation plans to utilize the funds generated as a result of the royal attention towards enhancing the foundation's work across more slums of Mumbai.
Let me end this column by thanking my friend who introduced me to the Myna Mahila Foundation. After reading about the work they do, I encourage you all to visit Myna Mahila Foundation online at https://mynamahila.com/ and donate very generously!
Indian Wedding Westwood outfit
Indian wedding Dress
Indian beauty
The Indian Wedding
Indian Wedding Banarasi saris
Indian Wedding Chanderi saris
Indian Wedding wedding planner
Indian Wedding Event