Travel Guide: Yoga Centers in India
The tradition of yoga was born in India several thou sand years ago. Yoga has its origins in the Vedas, the oldest records of Indian culture. It was systematized by the great Indian sage Patanjali, who described a series of postures or Asanas, which the student gradually tries to attain. Slowly and gradually, the merits of yoga transcended the boundaries of India and spread all over the world. In fact, yoga is practiced all over the world today. However, it goes without saying that the most pure and authentic forms are practiced in the traditional way in India. As a result, individuals from all over the world travel to India to learn the ancient science of yoga.
Yoga is not merely a form of exercise or meditation, where yoga is practiced and are ideal travel destinations for those who seek complete pleasure of the mind, body and soul. but it is also a complete health system that keeps one fit while traveling the journey of life. There are many ashrams across India where yoga is practiced and are ideal travel destinations for those who seek complete pleasure of the mind, body and soul.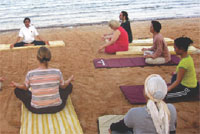 What could be more soothing than to begin the journey in the foothills of the Himalayas amidst the backdrop of breathtaking natural beauty? The Satvik Yoga Resort at Nainital, Uttaranchal is one worth mentioning. The resort, situated in the lake region of the lower Himalayas, is built on Shri Kailashmukhi, part of the legendary Chyawan Rishi Ashram and faces the Hairakhand Kailash Mountain in the east. The retreat offers a wonderful opportunity for one in pursuit of yoga to enrich oneself with the guidance of Pulak Ranjan Shukla. Usually, ten day sessions that incorporate various disciplines and practices of yoga through practices of Ayurveda and Satvik cuisine are offered.
Again at Nainital, we have the Mahayog Academy. The Mahayog Academy has been founded to impart impart
yoga teachings directly from the Himalayan Masters. It is presided over and guided by the famous Mahayogi Kapil Adwait (Pilot Baba). The ashram runs on the theme Sankalpa Shakti, which is power that is born of resolve, will, and determination to manifest thought vibrations to reality. It is a sacred esoteric Yogic science, which was known in the times of the Mahabarata, but has been a guarded secret since then by the lineage. The Academy runs five-day introductory seminars for beginners in its facility while advanced courses in Kundalini Awakening, Siddhi training and 'Sankalpa – Towards Samadhi' are taught during several stages through a concurrent ten day intensive session in the Nainital facility every three months.
Amidst the scenic beauty of Dehra Dun, the Yog-Ganga Center for Yoga Studies aims to promote the study of yoga in the tradition of the revered sage Patanjali. The activities of this center are guided by the renowned yoga-master, Yogacharya B.K.S. Iyengar of the Ramamani Iyengar Memorial Yoga Institute, Pune, India. This new center comprises of a specially designed building constructed of brick and locally mined limestone. This building encloses a 1,500 square foot well-equipped yoga hall, library, venue for lectures and demonstrations, and reception and changing rooms. Well-landscaped gardens on terraced slopes abounding in trees, shrubs and flowers make the situation idyllic for the practice of yoga. Yoga training at the Yog Ganga Centre consists of ongoing general classes, children's classes, remedial classes and intensive courses. Asana and pranayama are taught. Talks on aspects of Indian philosophy, and Ayurveda are also held. On important occasions special cultural events are staged.
Another yoga center of repute, located at the bank of the Ganges in Allahabad, is the Kriyayoga Research Institute, which is an international retreat where one can enjoy and experience the most complete lifestyle, an extra-ordinary blend of the ancient spirituality of India and modern science. Kriyayoga Research Institute aims to spread the ancient, original and ever-green Science of Kriyayoga to the world under the blessed instruction and guidance of the Kriyayoga Master & Scientist, Founder and President, Guruji Swami Shree Yogi Satyam. The institute is primarily focused on spreading the original spiritual science, Kriyayoga meditation, in India, and all over the world.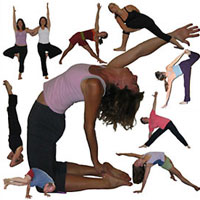 A spiritual haven on the banks of the holy Ganges River and nestled in the lap of the Himalayas is the Parmarth Niketan Ashram. Located at Rishikesh in Uttaranchal, this ashram is an ideal place for the spiritual reunion of body and soul through yoga. The ashram's beautiful architecture and aesthetic presentation of pious themes create an atmosphere of true spiritual sublimity. The awe-inspiring beauty of the ashram, clear, flowing Ganges, majestic mountains, and lush green forests embraces and rejuvenates the entire being. Parmarth Niketan offers comfort, inspiration and upliftment for the body, mind and spirit as well as a deeper connection with the Divine. During a stay in the ashram, one can feel your soul bathing in the peace of sacred energies, including those that emanate from nature and those that linger from the timeless healing
powers of saints, sages and holy ones. Parmarth Niketan contains within it the voice and the spirit of divine communion. Every day at Parmarth Niketan there are numerous yoga and meditation classes which range from Hatha yoga, Nidra yoga, and special meditation classes.
Bharatiya Yoga Vidya Dham is a non profit organization (NPO) that imparts yoga education to all segments of society. The main center is based at Nasik, Maharashtra, and offers different courses in yoga, with the duration varying from one hour to a few months. The courses for basic yoga to advance practices, treatment courses for various diseases (heart related problems, hypertension, asthma, diabetes, backache, arthritis, psychosomatic diseases), courses for mentally disabled, pregnant women, and children are conducted at this centre. Yoga Vidya Dham runs five wellequipped Yoga & Naturapathy treatment centers. The residential programs conducted at the Dham are extremely helpful and suited to young and old who seek training in yoga or would like to have a treatment for their chronic diseases.
School of Santhi is a spiritual yoga school teaching traditional yoga in Trivandrum, Kerala, South India, inspired and guided by Santhi, Swami Santhiprasad. Yoga paths Swara yoga, Kundalini yoga, Tantra yoga, Bhakti yoga, Raja yoga and Jnana yoga are key lessons taught at the Kerala center. At the same time, the School conducts periodic offsite yoga programs in various Himalayan retreats like Ekanth, Uttarkashi, Badrinath, and Gangotri. Just as envisaged in the traditional Indian Gurukula system, personal attention is ensured to each disciple, and sessions are conducted in small groups.
Attending a yoga life retreat is often considered an opportunity to transform one's life. Yogalife Foundation, active in India and Switzerland, is an international organization with highly experienced yoga teachers and management trainers. The program conducted by the Delhi based center is a dynamic combination of yogic techniques including posture work, breathing and meditation, healthy and cleansing diets, hiking and relaxing in beautiful and holy settings. During weekend retreats, personalized schedules are made to experience a sanctuary for the body and soul. Natural, spontaneous, physical and mental transformation can happen when one goes beyond the usual habits and focuses on awakening to a new, fresh and revitalized self. Yogalife teachers will help participants to discover personal yoga rather than a prescribed yoga.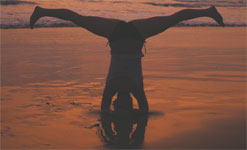 Located in Mandrem, Goa, Ashiyana is a place to relax, unwind and connect with one's inner- peace. The center is mainly a retreat facility for groups and individuals who are looking for a peaceful place to explore and experience themselves through a variety of activities like yoga, satsang, meditation, massage, art and music. It would indeed be an enchanting experience to hang out in the peace and quiet of Ashiyana or bask in the sunshine on the seemingly endless stretch of beaches. Teachers are invited to teach at the ´drop-in´ center (separate yoga shala used for yoga holiday and drop-in guests) on the basis of their way of teaching. Apart from a full scale yoga-oriented program, the retreat offers additional sight-seeing opportunities in the nearby regions.
Though the above destinations may be just a few amidst the plenty India has to offer, a yogaminded tourist can certainly start with one from these and gradually delve deep into the unearthed casket of spirituality and yogic treasure in which the country takes great pride. So, cheers to a happy and healthy yoga life!