Tulsi Gabbard Abraham Williams Wedding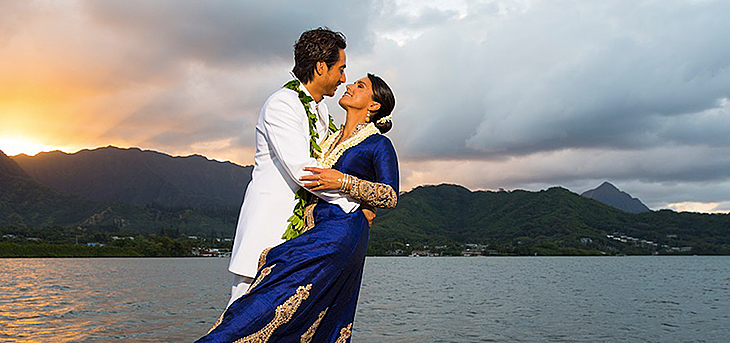 When you have a spectacular Hawaiian backdrop complete with mountains in the distant background, palm trees swaying perfectly to every movement, birds chirping synchronically and creating heavenly music, you can be fairly certain that this wedding is going to be very different.
Congresswoman Tulsi Gabbard (D-HI 2nd District) really set the standard when she took her oath of office on the Bhagavad Gita, being the first person in the history of the United States of America to have done so. Her wedding to cinematographer Abraham Williams followed a similar theme, as the two were wed amid traditional Hindu hymns and in the Hindu style.
Ditching a previously chosen wedding gown, Gabbard ordered an Indian ensemble online, which arrived less than two days before the wedding. In a resplendent royal blue silk jacket teamed with a flowing gold skirt, she was a stunning bride.
With a Brahmin priest to wed the two together in the traditional style, complete with the ceremonial fire that calls on Hindu deities to bear witness to the union, Gabbard and Williams added their own personal touch by writing and reciting their own special vows to one another. The moment stood out beautifully in the ceremony, as did the special emotions that touched the bride and groom equally. The ceremony concluded with a special kirtan, where guests gathered around the newly pronounced couple, celebrating their joyous union and blessing them abundantly.
Given the mood of the wedding ceremony, the food needed to recreate the same feel. A traditional Indian spread that included paneer, samosas and saffron rice were all served with love by Gabbard's brother-in-law.
Although the ceremony and every element around it came together perfectly, the occasion was like any other wedding, bringing with it its share of nerves. For one, Gabbard was extremely concerned that the dress might not make it on time. She continually tracked the shipment until it finally made it to her doorstep. What's more, the weather threatened to dampen spirits with a fifty percent chance of rain. However, it held beautifully and not only gave the couple clear skies, but also a gentle breeze that was perfect for the occasion.
With Gabbard's busy work schedule, a relaxing honeymoon will have to wait. The couple, however, has no complaints, as they continue to bask in the magic of a wedding ceremony that seems to have cast a spell on them.
Photos Courtesy:
Marco Garcia
808-258-2159