Two Decades of Lagaan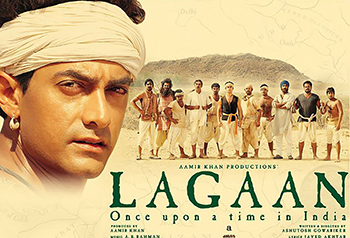 Lagaan, the path-breaking Hindi film released 20 years in June 2001. It was the first project of Aamir Khan as a producer and the first project for Gracy Singh as the female lead. The film also starred Kulbhushan Kharbanda, Suhasini Mulay, Raghuvir Yadav, Rajesh Vivek, Raj Zutshi Pradeep Rawat, Akhilendra Mishra, Yashpal Sharma, and British actors Rachel Shelley and Paul Blackthorne.
The film was highly acclaimed by both critics and viewers. Furthermore, it was nominated in the best foreign-language film category for the Oscars. Celebrating 20 years of the film this year, the cast of Lagaan had a virtual meeting. Aamir Khan, Ashutosh Gowariker, A R Rahman, Rachel Shelly, Paul Blackthorne, Suhasini Mulay, Pradeep Rawat, Akhilendra Mishra and Yashpal Sharma all joined the meetup and celebrated the success of the film.
A screenshot of the virtual meeting was posted by A R Rahman on his Instagram account. Netflix India has decided to release the full virtual session on their official YouTube channel. According to their official announcement, it will be titled "Chale Chalo Lagaan – Once Upon An Impossible Dream".
On the completion of 20 years of Lagaan, producer Aamir Khan expressed his gratitude towards the entire team of Lagaan for making it such a success. He also said that the film is a special one for him. Director Ashutosh Gowariker also thanked Aamir and the audience for the success of the film.
Lagaan
cricket drama
Aamir Khan
Ashutosh Gowariker
A R Rahman
Oscar nomination
virtual meet
Netflix