Why Wedding Shopping in India Never Fails to Inspire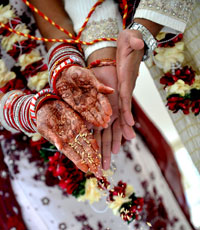 Just mention the word "shopping,"and you will see pleasure and pain co-existing side by side.Most women are sure to be beside themselves with enthusiasm and glee, while men will have complete horror written on their face.The sheer thought of having to spend endless hours in the company of cacophonic ladies who usually do not buy most of the things they see, carting around bags laden with goods that never found to the shopping list, and being set back with a large dent to the wallet, are not the most pleasurable experiences to wards which any man looks forward. However, things instantly change when the topic of discussion is related to wedding shopping. Budgets instantly stretch and pockets are suddenly wider, deeper and larger in all dimensions to accommodate requests. Even levels of patience and tolerance find new limits. This is an opportunity that presents itself rarely, and no one wants to miss it, come what may.
For either the bride or groom, the way they look is most important on this day. Memories of their clothes, the food and all other elements that make up the wedding will linger not just in their minds, but also in the minds of everyone present to share the day. While those in India have access to the largest selections possible, American Indians ensure they make the most that India has to offer too.
Almost every Indian American family makes at least one trip to India prior to the wedding to be able to shop. While the list of things to be bought is virtually endless, the main focus is on the clothes and jewelry for the bride and immediate family.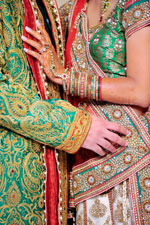 When it comes to clothes, not even the most exquisite boutique in the world can quite compare with the variety that Indian shops offers. Whether zardozi and intricate work, classic kanjeevaram saris, or the traditional panetar, India is where magic happens. While there are many purchases that are made almost instantly, many days go into getting the trousseau ready. Depending on the kind of wedding and the part of India from which the family hails, they will naturally gravitate to locations where they will be most likely to find great deals and more choice in terms of price, quality and assortments.
The Indian American population is significant when considering the amount they are willing to spend as well as the style in which they shop. A representative of a leading fashion house said, "It is extremely interesting to work with non-resident Indians, especially those from America. While they may be willing to spend more, they are also very conscious about what they spend their money on. What is most interesting is the fact that they are all very aware of and are up to date with the latest trends and styles even with respect to traditional Indian wear. The greatest challenge and perhaps most gratifying aspect of working with them lies in their readiness to experiment, which makes it only more rewarding for us."
Important purchases are not simply for clothing. Jewelry is not just the most expensive, but also the most careful buy for the wedding family. During wedding season it is normal for jewelers to be flooded with customers and special requests, while other times of the year also see Indian Americans come down to pick their jewelry from names they trust. The interest in Indian jewelry is due mainly to the fact that the clothes are mostly Indian, and this is where traditional pieces can be found. Whether in solid gold, filigree work, or even stone and diamond jewelry, India is the ultimate choice as far as array and presentation are concerned. What is most important is the fact that Indians are largely sentimental about their purchases and would willingly go to jewelers who have been with the family through generations.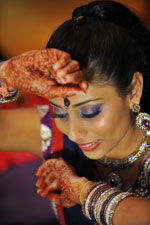 It is at this time that the big jewelry stores and small time specialists have special relevance. While the smaller, family stores are where designs can be made to order, sets can be reset and stones can be set as per requirement, it is in the large showrooms where the latest styles can be found. "We have requirements for small, delicate sets and large pieces that spell grandeur equally. In the American Indian community, we also find a set of people who like to look for fusions sets, while include some modern elements while retaining a certain traditional feel. In some ways, they also make inspirations for future trends and new designs that we can incorporate. All in all, this is a segment which spells action – for us and them equally," said the owner of a renowned jewelry house.
Indian Americans tend to make other smaller purchases such as favors, decorations and gifts. Anything Indian has a special place, and there are always several occasions where they are needed. The clothes and jewels make a great starting point, but the good time During wedding season it is normal for jewelers to be flooded with customers and special requests, while other times of the year also see Indian Americans come down to pick their jewelry from names they trust.