Shalini Weds Randy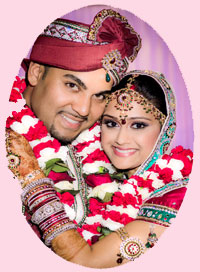 Your first love, whether in adolescence or adulthood, is never forgotten. Often, puppy love does not last very long, and we tend to move on in life. It is rare for a first love to be the last and eventually culminate in marriage, but in the lucky instances that it does, life can be nothing short of perfect. In this story, you will find that friends become lovers and life partners, but also experience the joy that finding true love in your first crush can bring.
Shalini Vijaya Persad met her true love Arron Randy Ramlogan when she was only thirteen. They met at Randy's sister's sixteenth birthday party, and once they set eyes on each other from across the room, they could not look away. A few days later Randy called Shalini and asked her out. This was the first step they took together and that made for the strongest foundation to their relationship.
Their relationship only grew with time. Growing steadily to become more than lovers, Shalini and Randy found companionship, solace, friendship and counsel in each other. They shared everything they dreamt of, thought about, and felt. Endless hours of talking and countless meetings only made them realize how intense their love was for one another. Randy and Shalini ensured that they spent every birthday, Diwali, Christmas and Thanksgiving together.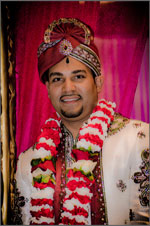 As they grew older, both Shalini and Randy understood that they would need to chart their own life and destiny. They decided to explore themselves and life. With all of the traveling, learning, building their careers, making friends, and developing hobbies, the one thing that remained constant in their life was the love they had for one another. Seven years later, Shalini received the fateful call from Randy, which brought the couple, their love, and magic back together.
Randy proposed in style by taking Shalini to the Viceroy Hotel Miami for dinner. Only, it was not in the restaurant, but on the terrace that had been booked only for them. With appetizers, drinks and the main course already ordered and served, Shalini and Randy then proceeded to take a walk on the pretext of getting a better view of Miami. Randy, however, had other plans. As the restaurant manager and waiter came in with a bottle of champagne and tray, Shalini was floored with an exquisite ring and the sight of Randy proposing from down on one knee. This was the perfect beginning of their journey together and a night Shalini will never forget.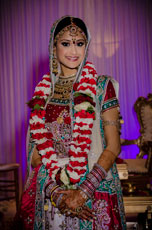 The first wedding event happened to be the hardi ceremony and intimate gathering shared with friends and family in Shalini's backyard. With tents, decorated mandaps and music, it may have been causal, but it was certainly very enjoyable. The hardi ceremony may have been short, but was conducted beautifully. Shalini walked in escorted by her mother, creating a surreal moment. The ceremony was conducted by the family's guru, Dr. Pundit Prakash Prasad. A scrumptious dinner followed, and then it was time for uninhibited fun and entertainment, with singers and dancers sweeping the guests off their feet.
The next event was the mehndi the following night. Beginning in the afternoon, the joyous occasion went on for several hours in order for the artists to have enough time to create ornate designs on Shalini's arms and legs. Guests trickled in later in the afternoon, and the festive mood from the evening before continued full force. Shalini found great joy in seeing not just traditional and contemporary designs, but also Randy's name incorporated into the pattern.
The wedding ceremony began on January 29 and took place at the Marriott Coral Springs Hotel – Golf Club and Convention Center. The atmosphere in the hotel inspired love at first sight as well as a refreshing drive down Heron Bay. The ballroom was attractive in design and layout. Chandeliers and lighting created a grand ambiance. As Shalini walked down the aisle, she felt excitement and anticipation, eager to get a glimpse of Randy. She simply could not stop staring when her eyes met his. The tempo picked up, and Shalini found herself savoring every moment – the ceremony, friends and family, decor, colors and clothes. The love between the bride and groom was obvious –Randy and Shalini laughed, talked, and held hands showing just how comfortable they were making this all important transition. For the over 470 guests in attendance, this was a wedding on which they would think of fondly for a long time.
The wedding reception followed in the same ballroom, which was transformed for the festive occasion. In the meantime, appetizers were served, and Randy and Shalini took the time to change into their reception ensembles. Dinner was the first treat of the evening while a slideshow played in the background with music provided by the DJ. Randy and Shalini entered after dinner to a lively bangra number. They enjoyed their first dance, after which they got to mingle with guests and relatives, while also taking many pictures. Everyone then enjoyed a slideshow that chronicled the journey of their life together, followed by speeches made by close friends and family.
The wedding was certainly not a breeze or cakewalk, but rather a carefully planned event. Though Jilna Patel of Suhaag Garden took the helm with planning and implementation, the whole family pitched in with their contributions. Months of meticulous work went in to ensure everything went smoothly. In retrospect, Shalini believes that being organized is what helps you get through with little stress. Working together on all decisions as a team will enable both bride and groom to take in the moment together and feel the same passion. This is just how you learn to share every moment of your future life together.
Shalini Weds Randy