Bollywood Music: Then and Now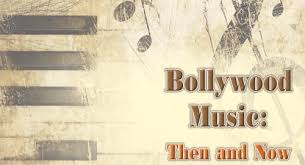 Music is one of the pillars on which Bollywood movies are structured. Over the years, the music in Hindi cinema movies has evolved tremendously; from the soulful nasal renditions like "Jab Dil hi Toot Gaya" by K.L. Saigal in the 30s and 40s to pop-type nasal renditions such as "Aashiq Banaya Aapne" by Himesh Reshamiya in the 2000s.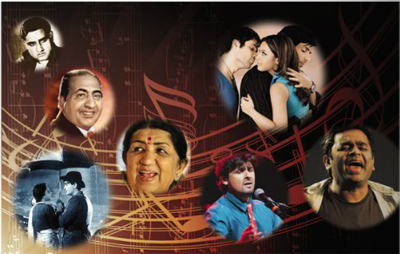 The 50s brought us beautiful melodies such as "Pyaar Hua Ikraar Hua" in Shree 420. In the 60s, a Western influence crept its way into Indian movie songs. The trend continued into the 70s, and in the 80s, disco music made a huge entry, thanks to Bappi Lahiri and Mithun Chakravorty. At that time, songs went from sweet melodies to loud-pitched rock style tunes. Beautiful lyrics such as "Kabhi Door Jab Din Dhal Jaaye" changed to "Sarkaelo Khatiya Jaada Lage." The 90s, a disappointing decade, produced very few memorable songs, perhaps because musicians were trying to find a balance between Indian and western music. Nevertheless, the movie industry of the 90s did benefit from the musical styling of A.R. Rahman, one of the most famous Indian musicians of the modern era.
As the film industry entered the new millennium, Bollywood music found its footing. While western beats continue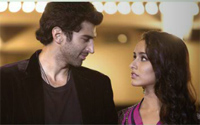 to dominate films, classical and semi-classical songs also found a niche. While Sonu Nigam croons and Shreya Ghoshal spills sugar with her voice, the naughty songs of Yo Yo Honey Singh have also found a place. The journey has been beautiful, from the melodious voices of Lata, Asha, Rafi and Kishore to the spellbinding voices of modern day singers, and from the heart-touching compositions of the past to the foot-tapping songs of today.
Every year, the International Indian Film Academy (IIFA) honors not only leading actors in Bollywood, but also the stalwarts of the Bollywood music industry. Here in the United States, fans eagerly await the awards show, which will take place in Tampa, Florida, April 24-26.
Learn more about 2014 IIFA nominations in music categories:
Music Direction – Mithoon, Ankit Tiwari, Jeet Ganguly (Aashiqui 2)
The trio – Mithoon, Ankit Tiwari and Jeet Ganguly – created magic with spellbinding compositions in the musical love story Aashiqui 2. Mithoon composed the biggest hit of the year – "Tum hi ho." Ankit Tiwari composed "Sunn raha hai tu" and Jeet Ganguly composed the rest of the songs. This movie has contributed a lovely freshness to Bollywood music.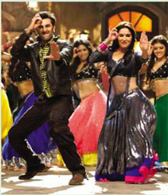 Pritam – (Yeh Jawaani Hai Deewani)
Pritam got young and old dancing to the peppy, fun hits of Yeh Jawaani Hai Deewani. He has quite a list of hit songs to his credit, from "Dhoom macha le" in Dhoom 1 to the pleasant songs in Shaadi ke side effects. This year, he completes ten successful years in Bollywood.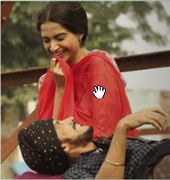 Shankar, Ehsaan, Loy (Bhaag Milkha Bhaag)
Shankar, Ehsaan and Loy have earned over twenty awards during their career. This trio is a complete package – they compose, sing, and play multiple instruments. Together, they have composed more than 50 songs in four different languages. Fondly called the Amar, Akbar, Anthony of the music industry, this trio continues to with superb tracks in Bhaag Milkha Bhaag.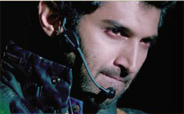 Playback Singer (Male) Ankit Tiwari – "Sunn Rahai Hai" (Aashiqui 2)
Ankit Tiwari, merely 24 years old, but has carved a niche for himself in the highly competitive music industry. A talented musician hailing from a family rooted in music, Ankit began his career composing music for Saheb, Biwi aur Gangster and Do Duni Char. He then turned to singing and sang his own composition, "Sunn Rahai Hai" in Aashiqui 2.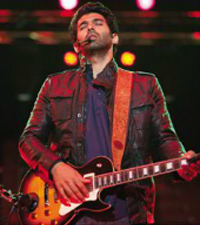 Arijit Singh – "Tum Hi Ho" (Aashiqui 2)
Another young talent to make it big in the music industry, Arijit started his career with one of the most famous television music reality shows 'Fame Gurukul'. Although Arijit Singh did not win the competition, he has emerged as one of the strongest contenders for winning the IIFA 2014 best playback singer male award.
Siddharth Mahadevan – "Zinda" (Bhaag Milkha Bhaag)
Shankar Mahadevan's 20 year old son, Siddharth, is a proud nominee in this category. In addition to the song "Zinda" from Bhaag Milkha Bhaag, he also sang in Dhoom 3, D-Day, One by Two, and composed music for Midnight's Children and Swapna Tujhe Ni Majhe.
Playback Singer (Female) Bhoomi Trivedi – "Ram Chahe Leela" (Goliyon Ki Rasleela – Ramleela)
This year definitely seems to belong to reality show participants. Bhoomi Trivedi, an Indian Idol participant, struggled for three years before landing the song for which she has now earned a nomination – the very popular "Ram Chahe Leela" from Ramleela.
Monali Thakur – "Sawaar Loon" (Lootera)
Monali Thakur also found her way into the industry through Indian Idol. In 2008, she got a break in Race and won an IIFA nomination for "Zara Zara Touch Me." With the hit from Loontera, she has her second nomination for "Sawaar Loon."
Shreya Ghoshal – "Sunn Raha Hai" (Aashiqui 2) & "O Rangrez" (Bhaag Milkha Bhaag)
Shreya Ghosal won the Sa Re Ga Ma Juniors competition on Zee TV. She got her first break in Sanjay Leela Bhansali's Devdas. From that point, there was no looking back for this talented singer. She has already earned several awards, and this year, she earned nominations for two different songs.