Now, you can make your own garam masala at home!
Garam Masala, the quintessential spice mix is widely used in all types of Indian dishes and is indeed the culinary queen for Indian cuisine. The phrase 'Garam Masala' stands for 'hot spices'. The components of the masala mix are considered 'heat-generating'…these masalas, when consumed, are said to increase the body temperatures and hence the name 'Garam Masala'.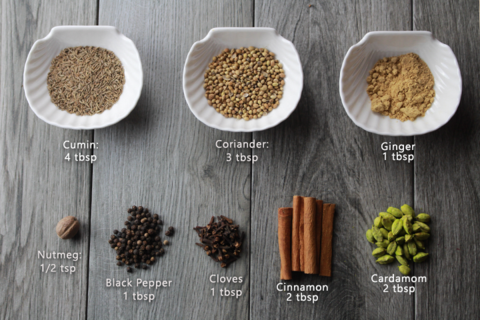 The garam masalas are extremely flavorful, strong and are used in both vegetarian and non-vegetarian dishes for that authentic rich taste & flavor. You may use whole toasted garam masalas or you may even grind the masalas to make a fine spice powder mix. Now, if you wish to perfect your culinary skills with respect to Indian cuisine, you need have garam masala in your spice rack. But in the US, you may not be able to find the typically 'Indian' garam masala in the stores. But, fret not. You can prepare your own rich garam masala at home itself! How? Read below:
Ingredients needed:
Cumin

Seeds

(4 tbsp) 

Cardamom

(3 tbsp) 

Coriander

(3 tbsp) 

Cloves

(1tbsp) 

Cinnamon

(1 tbsp) 

Black

pepper

(1 tbsp) 

Ginger

(1 tbsp) 

Fennel

(1 tbsp) 

Nutmeg

(1 tbsp) 
Whole spices when ground freshly can burst with strong flavors. You may even lightly toast the whole spices on a pre-heated frying pan prior to grinding. But while toasting you must make sure not to burn the spices.
Once, you have made your own garam masala powder in a sealed Mason jar or glass container.
Garam Masala
Indian cuisine
spice powder
cumin seeds
cardamom
coriander
cloves
cinnamon
black pepper
whole spices