Saffron: A Treat for the Taste Buds, and for the Mind and Body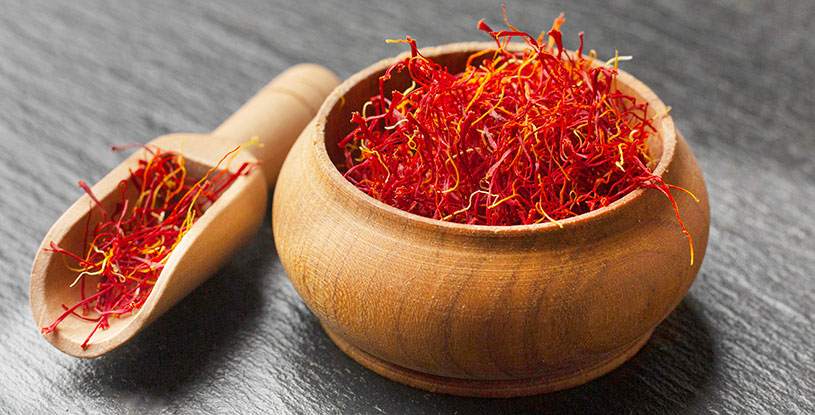 ---
by Gita Hari
---
Be it imparting a host of health benefits or adding a distinct colour, flavor, and texture to culinary delights, the uses of a few saffron strands are unparalleled. This spice—produced in Jammu and Kashmir—was recently hailed for its uniqueness by Indian Prime Minister Narendra Modi in his monthly radio address Mann ki Baat. Gita Hari explores several applications of saffron in everyday life.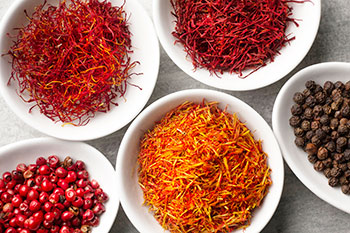 Touted to be one of the most expensive spices in the world, saffron (Crocus sativus), popularly known as kesar, is the golden-hued stigma of the purple crocus flower. Each crocus bears up to four flowers, each with three stigmas. The reason behind its high value is the simple fact that harvesting saffron is a labor-intensive process and is conducted entirely manually. On the outset, the flavor profile of this spice is not easily definable. It exudes a strong exotic aroma that is not overpowering. And once added to food, it not only adds a beautiful colour to the dish but also adds a distinct flavor. Although this almost 4,000-year-old spice was first said to have been produced in Greece, one of its major producers today is India, especially in the Karewa (highlands) of Jammu and Kashmir. Such is the quality and exclusivity of the Kashmir saffron that it was given the Geographical Indication (GI) tag by the Geographical Indications Registry in 2020. In his monthly radio address to the nation (Mann ki Baat) in January 2021, Indian Prime Minister Narendra Modi, highly praised Kashmir saffron, calling it "unique." "It has a strong aroma [and a] rich colour, and its threads are long and thick, which enhance[s] its medicinal value. It represents the rich cultural heritage of Jammu and Kashmir. If we talk about quality, then Kashmiri saffron is unique—and it is entirely different from [the] saffron of other countries," PM Modi had highlighted.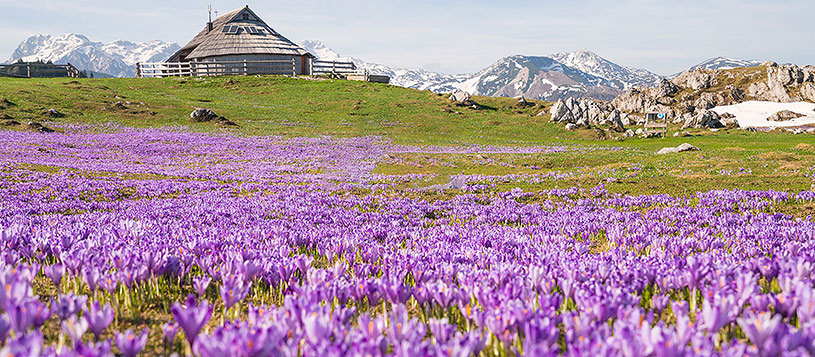 Health benefits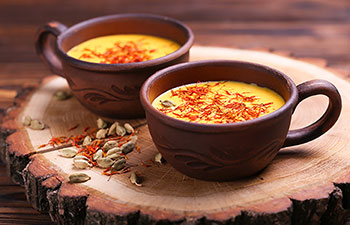 The advantages of the spice as a therapeutic agent were ascertained by ancient Egypt and Rome. One of the most common and age-old applications of saffron has been in Indian kitchens for treating fever and the common cold. According to a paper published by the United States National Library of Medicine (a branch of the National Institutes of Health), crocin—the orange water-soluble carotene, which is one of the components of saffron—can trigger apoptosis (programmed cell death) in many human cells, including that of cancer, leukemia, ovarian carcinoma, and soft tissue sarcoma. "As per a study published by the US-based National Center for Biotechnology Information, saffron was initially used for depression but it can also be used to treat epilepsy, people who have asthma attacks, digestive disturbances, and fever. It is best absorbed in the stomach with milk, but can also be had with warm water," says Dr. Shakkeel, chief medical officer of Viveda Wellness Village, Nashik, Maharashtra. Furthermore, Pranati Bollapragada, head of nutrition and dietetics of Dharana at Shillim, a wellness retreat in Pune, informs us, "Saffron contains more than 150 volatile compounds which include carotenoids and safranal (also an antioxidant). It is rich in vitamin B that assists in elevating serotonin levels—which, in turn, help fight depression." Health experts believe that saffron contains such potent antioxidants as safranal and picrocrocin, which help in reducing insomnia. The presence of manganese, a nutrient known for its subtly sedative properties, helps in inducing sleep. Saffron also contains a compound called crocetin, which curbs the blood's cholesterol level, thereby putting heart-related ailments in check. But like all good things, saffron should be consumed in limited portions.
Culinary benefits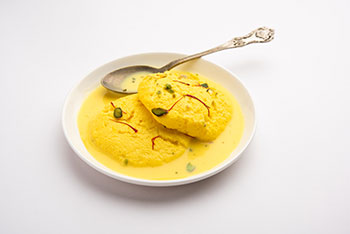 Saffron's resilience and adaptability has come a long way from just being an ingredient to foster good health. It finds a wide variety of applications in the culinary arts, too. Chefs and gourmand swear by the flexibility of its use and its ability to imbue a strong flavor, along with its ability to add a dazzling golden yellow hue to dishes like zafrani murgh (where chicken is cooked in aromatic Indian spices, with saffron being the key ingredient) or lend a delicate touch to sweet treats like shahi tukda (clarified butter-fried bread slices dipped in thick sweetened milk) or ras malai (small, flat cakes of curd cheese immersed in thickened milk). Sprinkling a few saffron strands into a dish can uplift the gourmand's culinary experience from delicious to sublime. Saffron's mainstays are milk- and rice-based dishes like turmeric latte, biryani, pulao, and meat dishes. Throwing light on its usage, Nilesh Limaye, chef culinaire of the entrepreneurial venture All About Cooking, says, "Traditionally, saffron must be mildly roasted to release its oils and then soaked in warm water or milk. I use this decoction to infuse flavor, colour, and texture to my saffron and ginger sauce." Amit Kocharekar, executive chef of Mumbai-based hotel The Resort, says, "Soak saffron in water and rub it on meat to obtain maximum flavor and desired colour." To get the most out of this pleasant spice, it is best to use it on its own and not with too many other zests. Chef Limaye specifies, "It must be used sparingly, and [at] the end. If mixed with other spices, its flavor can get masked. However, saffron works best when combined with ginger, lemongrass, rose water, cardamom, or nutmeg." Saffron is more than just another culinary ingredient in the kitchen. It is an all-around high performer. From possessing compounds and antioxidants that impart a host of health benefits, to possessing delectably delicious properties that elevate a dining experience, its use and benefits are truly unmatched. PM Modi's appeal to the nation to purchase Jammu- and Kashmir-produced saffron will not only help saffron cultivators but will also further the vision of Atma Nirbhar Bharat.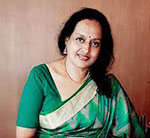 About the Author
Gita Hari curates healthy Sattvic cuisine for premium hotels. Her recipes have been featured in the health columns of leading newspapers. The recipient of Women Achievers' Awards, Hari has conceptualised, scripted, and hosted shows broadcast on television and digital platforms.
Jammu and Kashmir
Indian Prime Minister Narendra Modi
monthly radio address Mann ki Baat
Gita Hari explores several applications of saffron in everyday life
one of the most expensive spices in the world
saffron, Crocus sativus
kesar is the golden-hued stigma of the purple crocus flower
harvesting saffron is a labor-intensive process
strong exotic aroma
saffron is almost 4,000-year-old spice
Kashmir saffron
Geographical Indications Registry
cultural heritage of Jammu and Kashmir
crocin—the orange water-soluble carotene
the US-based National Center for Biotechnology Information
asthma attacks
digestive disturbances
fever
Dr. Shakkeel
chief medical officer of Viveda Wellness Village
Pranati Bollapragada
head of nutrition and dietetics of Dharana at Shillim
potent antioxidants as safranal and picrocrocin
curbs the blood's cholesterol level
Gita Hari curates healthy Sattvic cuisine for premium hotels
Women Achievers' Awards