Swami Ramdev Baba
Baba Ramdev is a renowned Yoga teacher. Through the medium of television, he has taken the art of yoga to each and every household far and wide. He is the host of a yoga based program named Divya Yog which has people from different parts of the country glued to their television sets, practicing yoga from the comforts of their home.
Swami Ramdev was born as Ramkishan Yadav in the Mahendragarh district of Haryana in 1953. After studying at school through the eighth standard, he joined a yogic monastery (Gurukul) in Khanpur village. It is here where he started learning the techniques of yoga, along with the Sanskrit language.
Eventually, he renounced worldly life and entered into Sanyas (monastic living) taking his present name of Ramdev. He then went to Jind district and joined the Kalva gurukul and offered free yoga training to villagers across Haryana. It is said that he traveled the Himalayas for several years before he settled in Haridwar. Later on, Ramdev joined the order of swamis after being initiated into the ascetic order by Swami Shankerdevji Maharaj. While training to be a Swami, Ramdev spent many years undertaking an intense and thorough study of ancient Indian scriptures. At the same time, he also practiced intense self-discipline and meditation.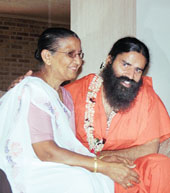 Ramdev believes that God resides in every human being and that the body is God's temple. Hence to serve God and be close to Him, every person must promote well-being, and this well-being can be best achieved through traditional Indian practices like yoga and meditation. With this view, in 1995, Ramdev established the Divya Yoga Mandir Trust. In this project, Acharya Karamveer and Acharya Balkrishna accompanied him. The headquarters of the trust are at the Kripalu Bagh Ashram of Haridwar. Baba Ramdev teaches yoga mainly at this ashram. He has also founded the Patanjali Yogpeeth Trust, an institution for treatment and research in yoga and ayurveda, in Haridwar. The trust provides several free services to all visitors.
Ramdev has taught several aspects of traditional Indian scriptures such as Ashtadhyayee, Mahabhashya, and Upanishads along with six systems of Indian philosophy in various Gurukuls. He has helped establish Gurukuls in Kishangarh, Ghashera, and Mahendragarh in India. In addition to helping people learn about yoga and spirituality, these institutions also provide a comprehensive facility that promotes the practice of ayurveda, the traditional system of holistic medicine developed in India.
However, despite all the benevolent work and the welfare measures he undertakes for the betterment of mankind, Ramdev often faces criticism from certain corners of society. In fact, controversies are an integral part of Ramdev's life. Allegations of unhealthly manufacturing practices like the use of human and animal bones in medicines as levelled by a leading politician of the country; non-conformity to labor practices in his factory; and strong protests against his claim of curing HIV/AIDS and cancer have bothered the saint from time to time, though they failed to make a permanent impact.
The faith of his millions of followers on his ways and practices have kept Ramdev much above such trivial matters, as he continues to help the ill, the poor, and the needy as well as the common man to live better through improved health techniques.
It is not without reason that Sri Sri Ravi Shankar, a world-renowned spiritual leader is quoted as saying "If an individual can be credited with reviving yoga in this country, it is solely Swami Ramdev. Yoga can cure even fatal diseases and Swami Ramdev has definitely proved it time and again. Swami Ramdev has spread yoga to such an extent that sooner or later, one has to embrace it."
Swami Ramdev Baba