Harshad Arora Confirms Dating Reel Mom But Denies Marriage Rumors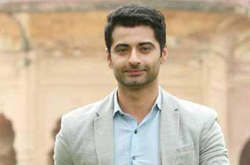 Mayavi Maling co-stars Harshad Arora and Aparna Kumar made headlines when they announced their romantic relationship in 2018. It was shocking for audiences because the pair play mother and son on screen. However, despite the controversy and the curiosity that has surrounded their relationship since the initial announcement both Arora and Kumar have been private about it.
A recent social media post on Aparna's Instagram of the smitten couple has led to rumors about their upcoming marriage to run life. What caught everyone's attention and caused the rumors was the sindoor on Aparna's forehead. Harshad dismissed it by revealing that it was simply makeup from shooting her show. When asked further about their plans to get married, Harshad assured his fans that they will be informed when they take that important decision.
Harshad Arora shot to fame with his role as Zain Abdullah in Beintehaa. He then went on to star as Angad in 2018's Mayavi Malang on the sets on which he met Aparna who played his mother on the show. She now appears as Iravati Parikh on the fan favorite Naagin 4.
Harshad and Aparna's special friendship on the sets of Mayavi Malang was much admired but sometimes questioned. The couple, however, has been going strong in their relationship, supporting each other's hectic careers and accomplishments. The lovely couple can't seem to get enough of each other and fans await the day they announce their wedding date.
Other Desi TV Duniya
MayaviMaling
Harshad Arora
Aparna Kumar
romantic relationship
Social media post
Aparna's Instagram
upcoming marriage
Zain Abdullah
Beintehaa
Angad
sindoor
Naagin 4
special friendship