Healthy Times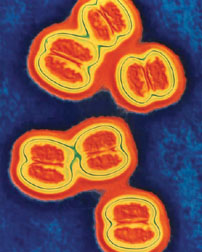 Researcher's study shows steroids not beneficial for kids with bacterial meningitis
According to a new study led by a scientist of Indian origin, corticosteroids given to children who are hospitalized for bacterial meningitis do not provide a benefit in survival or in reduced hospital stays. Meningitis is an inflammation of the protective membranes covering the brain and spinal cord, known collectively as the meninges. This finding stands in contrast to previous studies done on hospitalized adults, for which corticosteroids dramatically reduced mortality.
In the study, the research team analyzed medical records of 2,780 children with bacterial meningitis at 27 U.S. pediatric hospitals from 2001 to 2006 and found that there was no significant difference in mortality or time to hospital discharge, between children who received corticosteroids and those who did not.
Indian origin researcher finds way to make tumor cells easier to destroy
A team of scientists at Washington University School of Medicine in St. Louis have found a way to make tumor cells easier to destroy. They have found that tumors have a unique vulnerability that can be exploited to make them more sensitive to heat and radiation.
During the study, senior author Tej K. Pandita, Ph.D., associate professor of radiation oncology and genetics and researcher with the Siteman Cancer Center at Washington University School of Medicine, and his team discovered that tumors have a built-in mechanism that protects them from heat damage and most likely decreases the benefit of hyperthermia and radiation as a combined therapy.
Next, the researchers will test the effect of GRN163L on tumors in mice to see if it will enhance the cell-killing effect of hyperthermia and radiation. They are also working to develop chemicals that have heat-like effects to bypass the need to supply a physical heat source to tissue.
Indian scientists identify immune system pathway to fight allergens
Indian scientists at the University of Pittsburgh School of Medicine have identified genetic components of dendritic cells that play a crucial role in asthma and allergy-related immune response malfunction. The researchers say that targeting these elements could give rise to more effective drugs to treat allergic disorders and asthma. The team also attempts to shed light on a pathway that allergens use to act directly on dendritic cells to propel differentiation into the T lymphocytes that fight back.
The research is led by Anuradha Ray, Ph.D., co-author and professor of medicine and immunology in the Division of Pulmonary, Allergy, and Critical Care Medicine, University of Pittsburgh School of Medicine and also includes her husband and co-author Prabir Ray, Ph.D. The study can be found in the May 2008 edition of the journal, Nature Medicine.
More success for Indian researchers – now in HIV clinical trial
A team lead by an Indian researcher has just finished testing a new saliva-based HIV test that gives results in approximately 20 minutes. Usually the waiting period for the results of a HIV test can seem like an eternity, especially in emergency situations where results are needed immediately. Also it requires a blood sample, which is invasive and often painful.
Recognizing the urgent need for a faster and less invasive diagnostic method, Dr. Nitika Pant Pai, from Marina Klein's research team made the finding. To test this innovative technique under real world conditions, especially in pregnant women, Dr. Pant Pai carried out clinical trials in the labor ward of the Mahatma Gandhi Institute of Medical Sciences, Sevagram, Maharastra, India. In the study, 1,222 mothers were tested for HIV in the labor ward using both saliva and blood samples. The results from both kinds of tests corresponded in 100 percent of cases.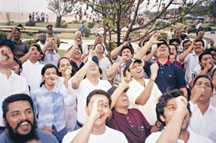 "Laughter Yoga" is the new mantra to good health
It starts with some chuckles, grows into giggles, and then launches into belly laughs. When mixed with yoga, it becomes 'laughter yoga' – the fun way to reduce stress. According to University of Michigan Health System fitness experts, laughter yoga, part of a growing trend in parts of the United States, India and other countries, can really make a difference in your overall health.
Barb Fisher, a certified laughter yoga leader and the instructor of the laughter yoga class offered by the University of Michigan Health System's health promotion division, said that laughter yoga can provide many health benefits, which include reduced stress, enhanced immune system, strengthened cardiovascular functions, improved circulation, and toned muscles.
Australian research offers hope to a perennial Indian health problem
Researchers from the University of Canberra in Australia have identified the cell and proteins behind the arthritic inflammation caused by mosquito-borne viral diseases like Ross river virus, which is endemic to Australia, and chikungunya, which India is grappling with on a large scale. The recent (2005-2007) outbreaks of chikungunya virus, which cause severe debilitating musculoskeletal disease, underscores the significance of the findings described in this research paper.
Suresh Mahalingaam, the dean of research and director of the Centre for Biomolecular and Chemical Sciences at University of Canberra, has been researching the virus for four years. Mahalingam says that his research in this area aims to discover new treatments and a clearer understanding of this disease. The drug, Sulfasalazine, is currently available commercially and can be used to combat the severity of the disease.
More achievements for Indian scientists and researchers
A new review led by an Indian-origin scientist has revealed that stun guns not only affect skeletal muscles, but may also stimulate the heart. The review of scientific data led by Dr. Nanthakumar and colleagues has revealed that stun guns could stimulate the heart in experimental models. The frequency and the shape of the pulses generated by stun guns are designed to incapacitate the target by electrically overwhelming his or her control of these muscles. The studies conducted with pigs by three independent groups of investigators confirmed that "a stun gun discharge can stimulate the heart" depending on the location of the stun gun barbs.
In a major breakthrough, a group of Indian researchers have identified a crucial protein that plays a vital role in regulating the survival, infectivity, and drug response of the parasite that causes visceral leishmaniasis, better known as 'kala-azar.' Reports said that Jitesh P. Iyer and co-workers from the National Institute of Immunology found that higher levels of an enzyme called cTXNPx made the L. donovani parasite more dangerous at certain times in its life cycle. Laboratory tests also showed a higher parasite burden in resistant cells.
A team of Indian origin researchers at the Virginia Bioinformatics Institute (VBI) at Virginia Tech have identified Heme Detoxification Protein (HDP), a unique protein encoded in the malaria genome that represents a potential target for developing new malaria drugs. They have characterized HDP and demonstrated that it plays a major role in protecting Plasmodium as the pathogen pursues infection of its host. The researchers discovered HDP as part of a functional genomics initiative that is focused on the identification of malaria proteins involved in disease pathology.
Daily life fruits and vegetables can make wonders to our health
Eating an apple a day or drinking a glass of apple juice can help keep early arteriosclerosis at bay, says a new study. The study, by European researchers at the Université Montpelier in France, found that apples and apple juice have similar cardiovascular protective properties as purple grapes and grape juice. The researchers are also of the opinion that processing apples into juice has the potential to increase the bioavailability of the naturally occurring compounds and antioxidants found in the whole fruit. The study demonstrates that processing apples and purple grapes into juice modifies the protective effect of their phenolics against diet induced oxidative stress and early atherosclerosis in hypercholesterolemic hamsters.
On the other hand, tomatoes may be the secret of eternal youth as they can help keep skin looking youthful, research shows. Tomatoes protect against sunburn and help keep the skin looking youthful, a new study found. While it has long been credited with cutting cholesterol and preventing some cancers, the fruit also benefits the skin a great deal, it revealed. The fruit's benefits are credited to lycopene, the pigment behind its distinctive red skin.
Again, researchers have found that vitamin C consumption help protect against the pain and progression of osteoarthritis in knee joints. The research showed that intake of 200 miligrams of vitamin C a day, equivalent to one orange, can prevent early bone damage in knee joints. The study also revealed that certainly a healthy diet, particularly in relation to oranges and vitamin C, has a beneficial affect on the joint.
A recent study conducted at the University of Illinois revealed that eating two dark chocolate bars a day had the effect of lowering systolic blood pressure and cholesterol. Lead researcher John Erdman, professor of food science and human nutrition, and his colleagues state that plant sterols and flavanols added to the bars is what helps them in lowering cholesterol and blood pressure respectively.
Finally, a daily dose of cod liver oil can help in easing the pain of arthritis in patients suffering from the condition, a new study has revealed. A team of researchers from Edinburgh University and Dundee University in the United Kingdom has found that taking 10 grams of cod liver oil every day can cut the use of painkiller drugs in arthritis patients by almost a third. According to lead researcher Professor Jill Belch, the study offers hope to many rheumatoid arthritis patients for whom cod liver oil supplements can offer a natural pain management treatment without the harmful side effects associated with the use of anti-inflammatory drugs.
Aspirin has many uses
Taking aspirin daily may reduce a woman's risk of developing a common type of breast cancer, say American researchers. The team, led by Gretchen Gierach, found that intake of aspirin was linked to a small reduction in oestrogen receptor – positive (ER+) breast cancers. The discovery is important as around 75 percent of cancers are oestrogen receptor-positive (i.e. the cancer cells have receptors for oestrogen on their surface). The researchers noted that daily aspirin use was linked to a 16 percent reduction in risk of ER+ breast cancer.
At the same time, taking aspirin and aspirin-like compounds called salicylates can also help increase the amount of insulin produced by otherwise healthy obese people, thereby reducing their chances of developing type 2 diabetes, according to a new study. The latest research reveals a beneficial effect among obese individuals by increasing the amount of insulin secreted into the bloodstream as the administration of a salicylate led to the lowering of serum glucose concentrations. In the study, the scientists evaluated the effects of triflusal (a derivative of salicylate) on 28 subjects (nine men and 29 women) and found that administration of triflusal led to decreased fasting serum glucose. Contrary to their expectations, insulin sensitivity did not significantly change during the trial. Insulin secretion, however, significantly increased in relation to the dose size.