The Holiday Weigh-In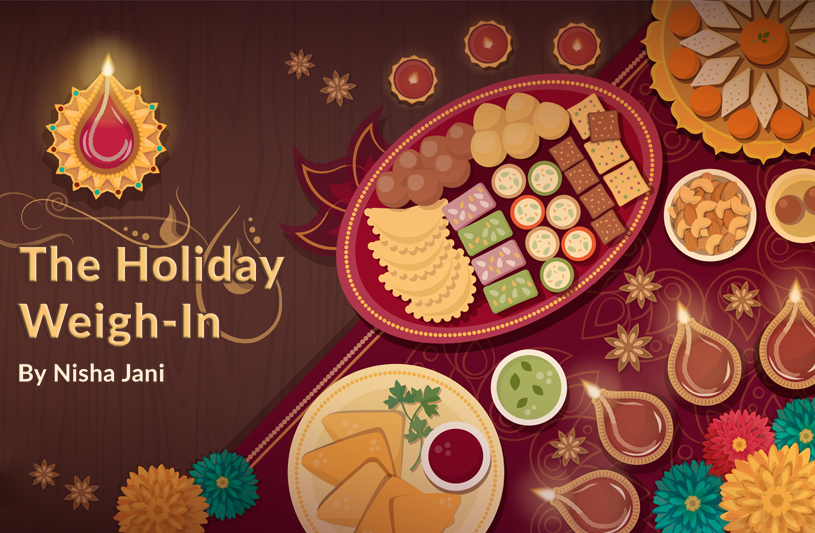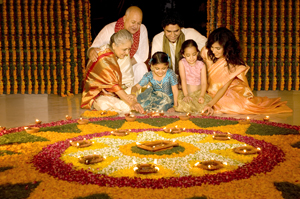 Holidays tend to bring about very rich memories for us, usually centering around the excitement of traveling and family members visiting. Every year it's a new blur of vivid colors, bright lights, and delicious aromas. Oh the aromas!! It's almost like every holiday has its own special scents. But the foods and drinks we indulge in don't have to be so calorically dense, nor do they have to add to our "holiday weight."
A useful trick is to keep a mild level awareness throughout the holidays about the foods you pick up to eat. Don't be afraid to question what it is you're ingesting! Think, is there a better alternative to what I'm about to put into my body? We do not have to give up sweets completely, but there are tasty variations that we may even grow to love more because they don't make us feel as groggy or bloated.
In trying to avoid buying a size up in my jeans and staying clear of acne breakouts (right before Navarati season, yikes!), I found alternatives to unhealthy holiday foods [inspired by GrowFit, TruWeigh & BoldSky blogs]. Here are some of the highlights to guide you.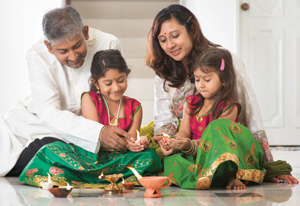 On Diwali and other holiday times, when you find yourself sitting idle and relaxing, stay clear of sweets high in saturated fats. Avoid the heavy samosas and go for chickpea dhokla instead. Leave the fried, caloric rich, fattening vada and stick to steamed idli sambar. Idli also has more protein than aloo puri. Instead of white rice, try your biryani with cauliflower rice. Watch for those glycemic indexes as well, especially if diabetic. Even ketchup, which has more sugar, can be substituted with mint chutney! Feeling a sweets craving? My mom makes amazing fruit salad with a little milk; it's healthier than the ladoos. I'm guilty – I love my poha with potatoes and sev; instead try grated coconut (a healthy fat), peas, & some lemon juice.
Still craving ladoo? Try making whey protein ladoo! Take poha, banana, oat powder, almonds, milk, and your favorite protein powder and combine them well. Make the ladoo balls then coat with a creamy mix of your protein powder & milk. Set it to cool and you'll have protein bites for Diwali.
Craving chaat? Neha Ghosh from Bold Sky introduces Spicy Corn Chaat, which is packed with antioxidants and fiber. She mentions the capsaicin in red chili powder, which aids in fat loss.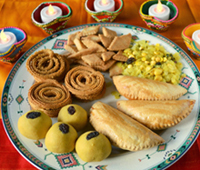 Longing for savory snacks? Paneer is one of my favorite things. Try roasting a paneer kabob with flax seed and cinnamon (or get creative)! Ghosh includes cinnamon in her recipe since it is also helps manage cravings and weight. Flax seeds contain omega-3's which we need to support critical functions in our bodies.
Think outside the box when it comes to food, especially during the holiday season. Stay aware, stay active, and embrace the holiday aromas in a health conscious way.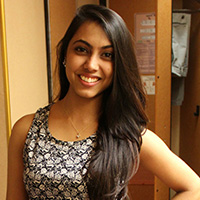 About the Author
Nisha Jani earned a Master's in Exercise Physiology and Sports Medicine from the University of Miami, where she also studied Psychology and Kinesiology. She uses her expertise in exercise & physiology to fuel her lifelong passions of dance, fitness, and teaching. She is passionate about bringing to the community an awareness about the benefits of preventative medicine in the form of exercise and diet, favoring a holistic approach to well-being. After working in cardiology, Nisha is now a Certified Strength & Conditioning Specialist, applying scientific principles towards improving athletic performance, injury prevention, and nutritional guidance.